Senior Fellow Edward Lazear on the Senate Immigration Bill
Hoover Senior Fellow Edward Lazear writes in the Wall Street Journal about the point system in the Senate immigration bill and how the House can fix and improve the bill: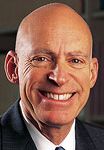 "Compared with the system in place now, the Senate's immigration reform is a big improvement. But the bill has flaws that make it less likely that the people with the most to contribute to U.S. society can get here legally. Still, the flaws can be fixed by the House."
Click here to read more.
Join the Conversation