Senior Fellow Gary Becker on Senate Immigration Reform Bill
Hoover Institution Senior Fellow Gary Becker weighs in on the Senate immigration bill: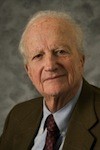 "The Senate immigration bill before the House of Representatives is the most thorough overhaul of the approach to illegal immigrants in a long time. That is a major step mainly in the right direction. The bill also expands the number of skilled immigrants who can enter if they have enough 'points' in a new merit-based system for admitting 250,000 immigrants annually. Although the bill on the whole should be applauded, it misses the opportunity to truly ease the entry of legal immigrants." 
Click here to read more.
Join the Conversation