In this episode of Battlegrounds, H.R. McMaster and former Prime Minister Oleksiy Honcharuk discuss the U.S.-Ukraine relationship, the Russian threat to security, and priorities for reform and strengthening governance in Ukraine.
H.R. McMaster in conversation with Oleksiy Honcharuk on Wednesday, November 17 at 9:00am PT.
---
WATCH THIS EPISODE @ 9AM PT, NOVEMBER 17, 2021
---
Former Ukrainian prime minister Oleksiy Honcharuk argued that his country's struggle against two decades of Russian aggression should not be viewed by the world as merely a conflict between Slavic nations but instead as a battle with global implications between two competing ideological concepts: democracy and authoritarianism.
Honcharuk's remarks were made during the first in-person episode of Battlegrounds, a Hoover Institution series in which Fouad and Michelle Ajami Senior Fellow H. R. McMaster interviews world leaders about their perspectives on global challenges and American foreign policy.
Honcharuk provided a brief history of Ukraine's nascent experiment with democracy, which has unfolded over the last thirty years after the collapse of the Soviet Union. He explained that a strong democratic culture took shape in the country during the 1990s, despite difficulties and corruption that arose as the nation's economy underwent a transition from central control toward privatization.
By the early 2000s, a revanchist Russia led by Vladimir Putin was determined to undermine Ukraine's democracy and manipulate its domestic political institutions. During national elections in 2004, democratic activists alleged fraud in Russian-backed Viktor Yanukovych's bid for a third term as president. They took to the streets in protests clad in orange, which was the color used in the campaign of opposition candidate Viktor Yushchenko, in what became known worldwide as the "Orange Revolution." The results of the election were nullified by the Ukraine's Supreme Court. In new runoff elections, Yushchenko, who during the campaign had been poisoned by his political opponents, defeated Yanukovich with 52 percent of the vote.
Honcharuk calls the period in Ukraine following the Orange Revolution an "economic renaissance." The country experienced unprecedented rates of economic growth and was positioning itself toward membership in the European Union and the North Atlantic Treaty Organization.
These ambitions started to deteriorate at the onset of the global financial crisis in 2008. Two years later, Yanukovych returned to power with support from Russia. In 2013, Yanukovych—under pressure from Putin—refused to sign the agreement that would have paved the path toward Ukraine's political and economic integration with Europe. Yanukovych's decision to reposition Ukraine toward Moscow resulted in demonstrations in Kyiv and other cities across the country. During the protests, more than one hundred people were killed in scuffles with Ukrainian security forces.
Amidst the instability, Yanukovych escaped to Russia and Putin deployed his forces to annex the Crimean Peninsula, which has strategically located ports on the shores of the Black Sea. A civil war then broke out in the Donbas region of Ukraine between the Kyiv government and Moscow-backed separatists that persists today.
Honcharuk first entered politics as these events unfolded. From 2014 to 2015, he was advisor to the minister of ecology and natural resources. For the next four years, he was chief of the Better Regulation Delivery Office. In 2019, he had a brief assignment as deputy head of the office of the president, where he focused on state economic policy. During his tenure as prime minister, from 2019 to 2020, he established Ukraine's land reform process, implemented health care and education reforms, expanded national support for small and medium-sized businesses, introduced the law on public-private partnerships, and set the nation on a path toward a digital transformation.
In Battlegrounds, Honcharuk argued that the political leadership in Moscow has conceptualized Russia as a vanguard against destructive liberal ideas generated from the West. He explained that the ethnic Slav and Orthodox Christian population of Ukraine bears a close resemblance to that of Russia. Thus, if Ukraine remains resilient as a strong liberal democracy, it may undermine Moscow's cultural influence in the region, and in turn, Russian society may start to demand greater political freedom.
"This is the biggest problem for Russia. How do they explain to their people that [Ukrainians], who are almost the same . . . can live in a free society?" Honcharuk said. "[The Russian government] is trying to undermine Ukraine at all levels to create chaos, to create uncertainty, and to show that democracy is a failed concept."
Honcharuk explained how Moscow, to prevent the expansion of liberalism, has engaged in sustained information campaigns against Ukraine and across Europe aimed at eroding trust in democratic institutions and sowing disunity among the nations' populations. As well, Moscow has asserted its leverage over the delivery of oil and natural gas to Western European democracies.
Honcharuk described how Moscow purposefully constrained its own energy supply to pressure European politicians into supporting the construction of the nearly completed Nord Stream 2 pipeline, which runs from Russia to Germany.  European officials who otherwise would have opposed Russian influence over its economy and politics did not do so, because they faced the risk of having their reputations besmirched by Russian-backed media or defending to constituents policy positions that might have resulted in higher prices at the gas pump and for heating oil in the winter months.
"Putin created the artificial shortage in Ukraine and Europe to show that 'guys, you are hostages . . . and if you do not work with me, I will undermine your influence. . . . I will criticize you, I will finance your opponents, and I will destroy your reputation,'" Honcharuk illustrated.
Honcharuk asserted that the current deployment of Russian troops along Ukraine's border will result in more pressure on its economy, thus placing constraints on its export supply and making it harder to attract investment.
Honcharuk maintained that the United States and European Union's current sanctions policy has thus far been ineffective in deterring Russia's aggression. He argued that as Moscow expands its economic influence in Europe and achieves more political leverage over the continent's democracies, the task of sustaining sanctions will become even more complicated.
"The existing model [of sanctions] creates a situation where the time is working against the victim. And the time, now, works against Ukraine," Honcharuk concluded. "In ten, twenty, to thirty years the Crimea annexation will become history. . . . It is critical to change the sanctions approach: to make it more predictable and to make sure that the model creates a situation when the time works against the aggressor."
---
ABOUT THE SPEAKERS

Oleksiy Honcharuk was Ukraine's 17th Prime Minister (August 2019 – March 2020). He also served as a Deputy Head of the Presidential Office of Ukraine, member of the National Reforms Council, and as an external advisor to the First Deputy Prime Minister - Minister of Economic Development and Trade of Ukraine. Prime Minister Honcharuk also headed Better Regulation Delivery Office (BRDO) a non-governmental organization. Previously he worked in law where he was as an arbitration manager and managing partner at Constructive Lawyers, a law firm he had founded and a lawyer at PRIOR-Invest investment company.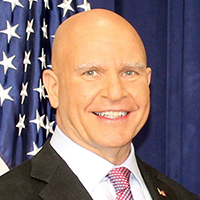 H. R. McMaster is the Fouad and Michelle Ajami Senior Fellow at the Hoover Institution, Stanford University and the Japan Chair at the Hudson Institute.  He is also the Bernard and Susan Liautaud Fellow at the Freeman Spogli Institute and lecturer at Stanford University's Graduate School of Business.  He was the 26th assistant to the president for National Security Affairs. Upon graduation from the United States Military Academy in 1984, McMaster served as a commissioned officer in the United States Army for thirty-four years before retiring as a Lieutenant General in June 2018.
---
Battlegrounds provides a needed forum with leaders from key countries to share their assessment of problem sets and opportunities that have implications for U.S. foreign policy and national security strategy. Each episode features H.R. McMaster in a one-on-one conversation with a senior foreign government leader to allow Americans and partners abroad to understand how the past produced the present and how we might work together to secure a peaceful and prosperous future. "Listening and learning from those who have deep knowledge of our most crucial challenges is the first step in crafting the policies we need to secure peace and prosperity for future generations."