In this episode of Battlegrounds, H.R. McMaster speaks to Battlegrounds guest and former Prime Minister of Ukraine, Oleksiy Honcharuk, who is in Ukraine now, fighting for the freedom of his country alongside fellow Ukrainians as they confront a continued assault by the Russian military and the indiscriminate bombardment of Ukrainian cities. 
H.R. McMaster in conversation with Oleksiy Honcharuk on Thursday, March 10, 2022.
---
WATCH THE EPISODE
---
RECAP
In this episode of Battlegrounds, Fouad and Michelle Ajami Senior Fellow H. R. McMaster welcomes back Oleksiy Honcharuk, the former prime minister of Ukraine, who originally appeared on the show in November of last year. Honcharuk describes the Ukrainian people's fight against Russian forces and argues that the conflict should not be viewed solely in its regional context but as a front line in a global struggle between democracies and authoritarian actors, such as the government of Russian president Vladimir Putin.
Honcharuk says that Putin decided to launch an attack against Ukraine because the growth of democracy in that country is a direct threat to his political control over Russian society and his influence over some of the surrounding states of the former Soviet bloc. He argues that if Putin is not stopped in Ukraine, he will be emboldened to threaten the Baltic countries of Estonia, Latvia, Lithuania, and even Poland.
Putin miscalculated in his invasion of Ukraine, Honcharuk explains. Putin didn't expect the Russian army to meet stiff resistance from Ukrainian forces. When large numbers of Ukrainians decided to stay in the country rather than retreat, Putin resorted to launching a terror campaign that has thus far resulted in severe damage to Ukraine's infrastructure and more than one thousand civilian casualties, according to a report by the United Nations.
A recent opinion poll shows that 90 percent of Ukrainians support their political leadership in Kyiv, which raises serious difficulties for Russian troops to occupy the most populous centers of the country. Nevertheless, Honcharuk calls on the West to increase sanctions, which have thus been very costly to the Russian economy, and to establish a no-fly zone over Ukraine to deter the Kremlin from expanding its military aggression. Honcharuk stresses that NATO fighter jets need not confront Russian planes over Ukraine's skies. An alternative would be for the West to supply Ukrainian forces with ground-based air defenses.
Despite aggressive attacks by Russian forces in ten zones of Ukraine, Honcharuk says, most of the country remains under control of the national government and local municipalities.
Much of the Russian bombardments are occurring in Kyiv, the eastern city of Karkhiv, and the south coast city of Mariupol. In particular, Mariupol is experiencing a large-scale human disaster. Capturing that city would be a strategic victory for Putin, because it would bolster Russian forces' efforts to secure a land belt connecting the Crimean Peninsula to Russia's southern border near the Black Sea.
Honcharuk concludes that Russia ultimately won't be able to win this conflict, because of the indomitable will of the Ukrainian people. However, this doesn't mean that Ukraine can fight alone. He stresses that the West must stop Putin now before Russia possibly attacks other parts of Europe. The cost of deterring the Kremlin now will be much less than in the future if the Russian military is able to expand on its gains.
---
ABOUT THE SPEAKERS

Oleksiy Honcharuk was Ukraine's 17th Prime Minister (August 2019 – March 2020). He also served as a Deputy Head of the Presidential Office of Ukraine, member of the National Reforms Council, and as an external advisor to the First Deputy Prime Minister - Minister of Economic Development and Trade of Ukraine. Prime Minister Honcharuk also headed Better Regulation Delivery Office (BRDO) a non-governmental organization. Previously he worked in law where he was as an arbitration manager and managing partner at Constructive Lawyers, a law firm he had founded and a lawyer at PRIOR-Invest investment company.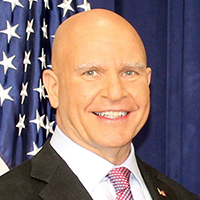 H. R. McMaster is the Fouad and Michelle Ajami Senior Fellow at the Hoover Institution, Stanford University and the Japan Chair at the Hudson Institute.  He is also the Bernard and Susan Liautaud Fellow at the Freeman Spogli Institute and lecturer at Stanford University's Graduate School of Business.  He was the 26th assistant to the president for National Security Affairs. Upon graduation from the United States Military Academy in 1984, McMaster served as a commissioned officer in the United States Army for thirty-four years before retiring as a Lieutenant General in June 2018.
---
Battlegrounds provides a needed forum with leaders from key countries to share their assessment of problem sets and opportunities that have implications for U.S. foreign policy and national security strategy. Each episode features H.R. McMaster in a one-on-one conversation with a senior foreign government leader to allow Americans and partners abroad to understand how the past produced the present and how we might work together to secure a peaceful and prosperous future. "Listening and learning from those who have deep knowledge of our most crucial challenges is the first step in crafting the policies we need to secure peace and prosperity for future generations."