On behalf of Taiwan in the Indo-Pacific Region and the Global Policy & Strategy Initiative on National Security, the Hoover Institution held a book talk: Divided Allies with Hsiao-ting Lin on Thursday, June 1, 2023, from 4:00 - 5:00 PM PT.
Professor Lin's book explores the challenges which faced the United States and Taiwanese alliance during the Cold War, addressing a wide range of events and influences of the period between the 1950s and 1970s. Tackling seven main topics to outline the fluctuations of the U.S.–Taiwan relationship, this volume highlights the impact of the mainland counteroffensive, the offshore islands, Tibet, Taiwan's secret operations in Asia, Taiwan's Soviet and nuclear gambits, Chinese representation in the United Nations, and the Vietnam War. Utilizing multinational archival research, particularly the newly available materials from Taiwan and the United States, it reevaluates Taiwan's foreign policy during the Cold War, revealing a pragmatic and opportunistic foreign policy disguised in nationalistic rhetoric.
learn-more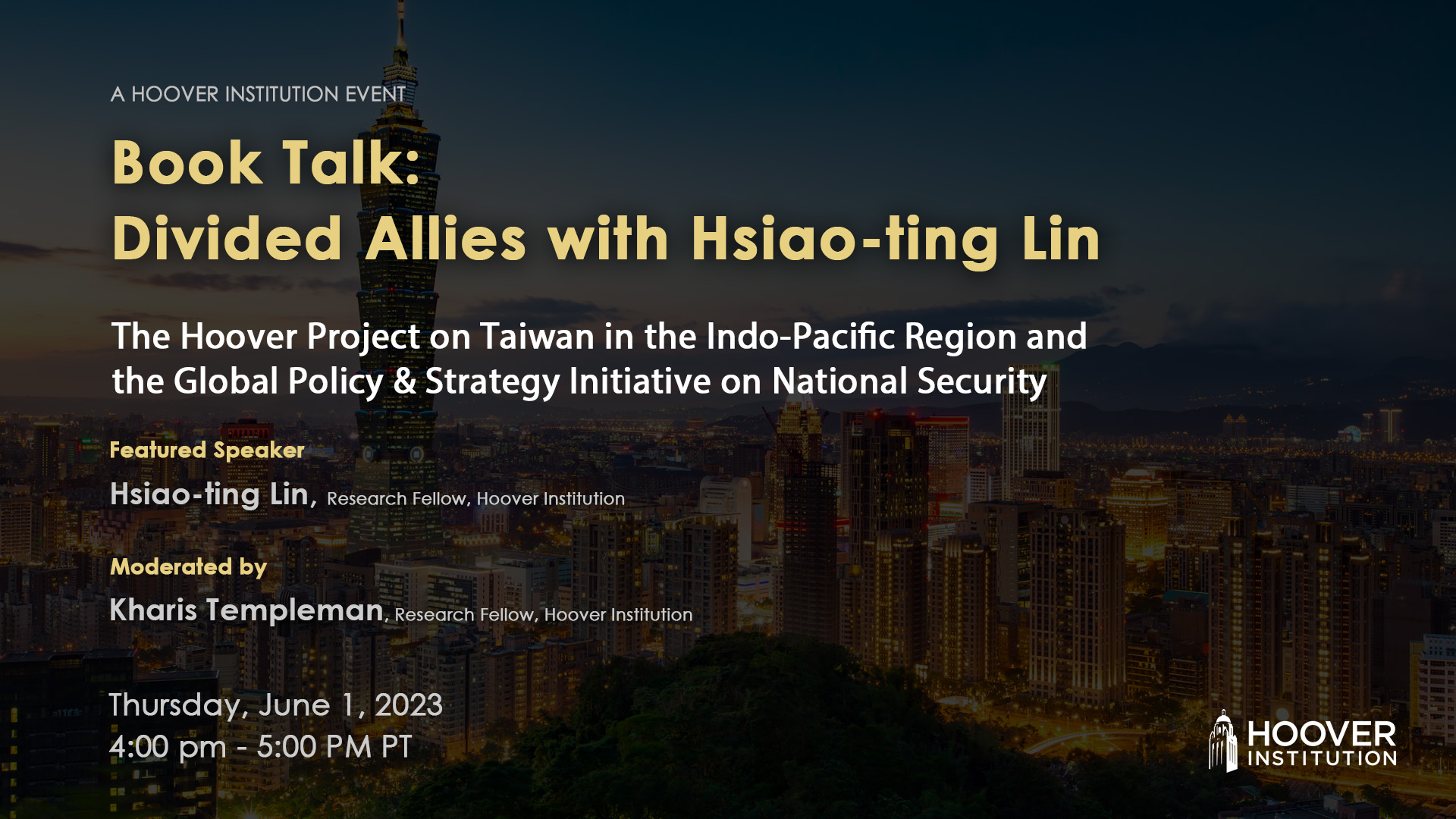 ABOUT THE PARTICIPANTS
Hsiao-ting Lin is a research fellow and curator of the Modern China and Taiwan collection at the Hoover Institution, for which he collects material on China and Taiwan, as well as China-related materials in other East Asian countries. He holds a BA in political science from National Taiwan University (1994) and an MA in international law and diplomacy from National Chengchi University in Taiwan (1997). He received his DPhil in oriental studies in 2003 from the University of Oxford. He has published extensively on modern Chinese and Taiwanese politics, history, and ethnic minorities, including Accidental State: Chiang Kai-shek, the United States, and the Making of Taiwan (2016); Modern China's Ethnic Frontiers: A Journey to the West (2011); and Tibet and Nationalist China's Frontier: Intrigues and Ethnopolitics, 1928–49 (2006).

Kharis Templeman is a research fellow at the Hoover Institution and part of the Project on Taiwan in the Indo-Pacific. Templeman is a political scientist (Ph.D. 2012, Michigan) with research interests in Taiwan politics, democratization, elections and election management, party system development, and politics and security issues in Pacific Asia.