The End Of "One Country, Two Systems" And The Future Of Freedom In Hong Kong

The Hoover Project on China's Global Sharp Power held an event on The End of "One Country, Two Systems" and The Future of Freedom in Hong Kong with Victoria Tin-bor Hu, University of Notre Dame, and Nathan Law, Democracy Activist, on Wednesday, November 18, 2020 at 4:00 PM PT. 
ABOUT THE SPEAKERS:

Victoria Tin-bor Hui is Associate Professor of Political Science and a Fellow of the Liu Institute for Asia and Asian Studies at the University of Notre Dame. Her essay, "Crackdown: Hong Kong Faces Tiananmen 2.0," was published in the October 2020 Journal of Democracy. Her writings have also appeared in numerous academic journals and in Foreign Affairs.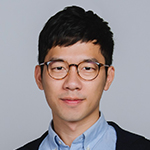 Nathan Law is a democracy activist who was one of the student leaders of the 2014 Umbrella Movement in Hong Kong. In 2016 he became the youngest person ever elected to Hong Kong's Legislative Council, but his election was nullified under pressure from Beijing the following year. He recently obtained an M.A. degree in East Asian Studies from Yale University.
 
---
WATCH THE DISCUSSION