Join the Hoover Book Club for engaging discussions with leading authors on the hottest policy issues of the day. Hoover scholars explore the latest books that delve into some of the most vexing policy issues facing the United States and the world. Find out what makes these authors tick and how they think we should approach our most difficult challenges. 
In our latest installment, watch a discussion between Terry Moe, a senior fellow at the Hoover Institution and the William Bennett Munro Professor of political science at Stanford University, and Philip K. Howard, author of Not Accountable: Rethinking the Constitutionality of Public Employee Unions on Tuesday, March 28, 2023 at 10:00 am PT/ 1:00pm ET.
WATCH HERE 
learn-more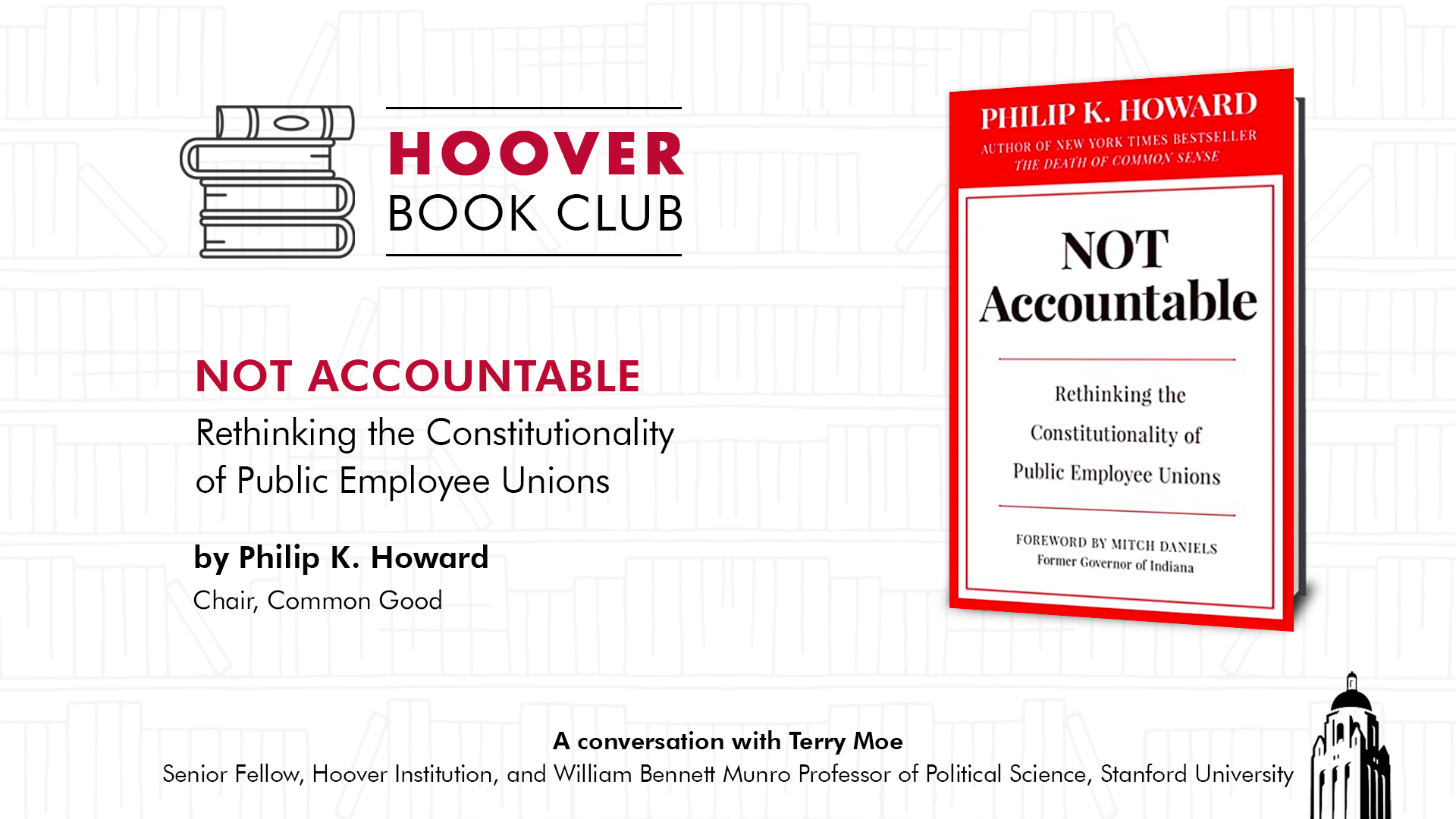 ABOUT THE AUTHOR 
Philip K. Howard. Philip is a leader of government and legal reform in America. He is Chair of Common Good.  In 2002, Philip formed Common Good, a nonpartisan coalition dedicated to simplifying laws so that Americans can use common sense in daily choices. His 2010 TED Talk has been viewed by more than 750,000 people. His 2015 report, "Two Years, Not Ten Years," exposed the economic and environmental costs of delayed infrastructure approvals, and its proposals have since been incorporated into federal law.  
ABOUT THE BOOK 
"Elected leaders come and go, but public unions just say no." Hiding in plain sight is a fatal defect of modern democracy. Public employee unions have a death grip on the operating machinery of government. Schools can't work, bad cops can't be fired, and politicians sell their souls for union support.
With this searing five-point indictment, Philip K. Howard argues that union controls have disempowered elected executives and should be unconstitutional.
Union power in government happened almost by accident in the 1960s, ostensibly to give public unions the same bargaining rights as trade unions. But government bargaining is not about dividing profits, but making political choices about public priorities. Moreover, the political nature of decision-making allowed unions to provide campaign support to friendly officials. Public bargaining became collusive. The unions brag about it: "We elect our own bosses."
Sitting on both sides of the bargaining table has allowed public unions to turn the democratic hierarchy upside down. Elected officials answer to public employees. Basic tools of good government have been eliminated. There's no accountability, detailed union entitlements make government largely unmanageable and unaffordable, and public policies are driven by what is good for public employees, not what is good for the public. Public unions keep it that way by brute political force—harnessing the huge cohort of public employees into a political force dedicated to preventing the reform of government.
The solution, Howard argues, is not political but constitutional. America's republican form of government requires an executive branch that is empowered to implement public policies, not one shackled to union controls. Public employees have a fiduciary duty to serve the public and should not be allowed to organize politically to harm the public.
This short book could unlock a door to fixing a broken democracy.