Participation in this event is by invitation only.
The Hoover Institution hosted Moneyball Military: An Alternative Force – Affordable, Achievable, Able to Deter China, A Case Study in the Application of History to Contemporary Policy Debates on September 26 at 4:00 pm PDT. The event featured speaker Christian Brose, a visiting fellow at the Hoover Institution.
Could Beijing be ready to invade Taiwan by 2027 or even before, as some U.S. leaders have suggested? Can the U.S. military deter Chinese aggression with our traditional force -- composed of a small number of large, expensive, manned platforms that our industrial base is struggling to produce? How would we generate an alternative force composed of very large numbers of smaller, low-cost, autonomous systems that can be fielded in this period of maximum vulnerability -- a Moneyball Military? Can the Pentagon's central planning system, dating to the 1960s and still operating, deliver the military forces we need to maintain deterrence? Or do we need a completely alternative process? At a time of unprecedented disruption to the U.S. military, how can our defense enterprise disrupt itself in time to matter?
Stephen Kotkin, director of the Hoover History Lab, moderated the discussion.
learn-more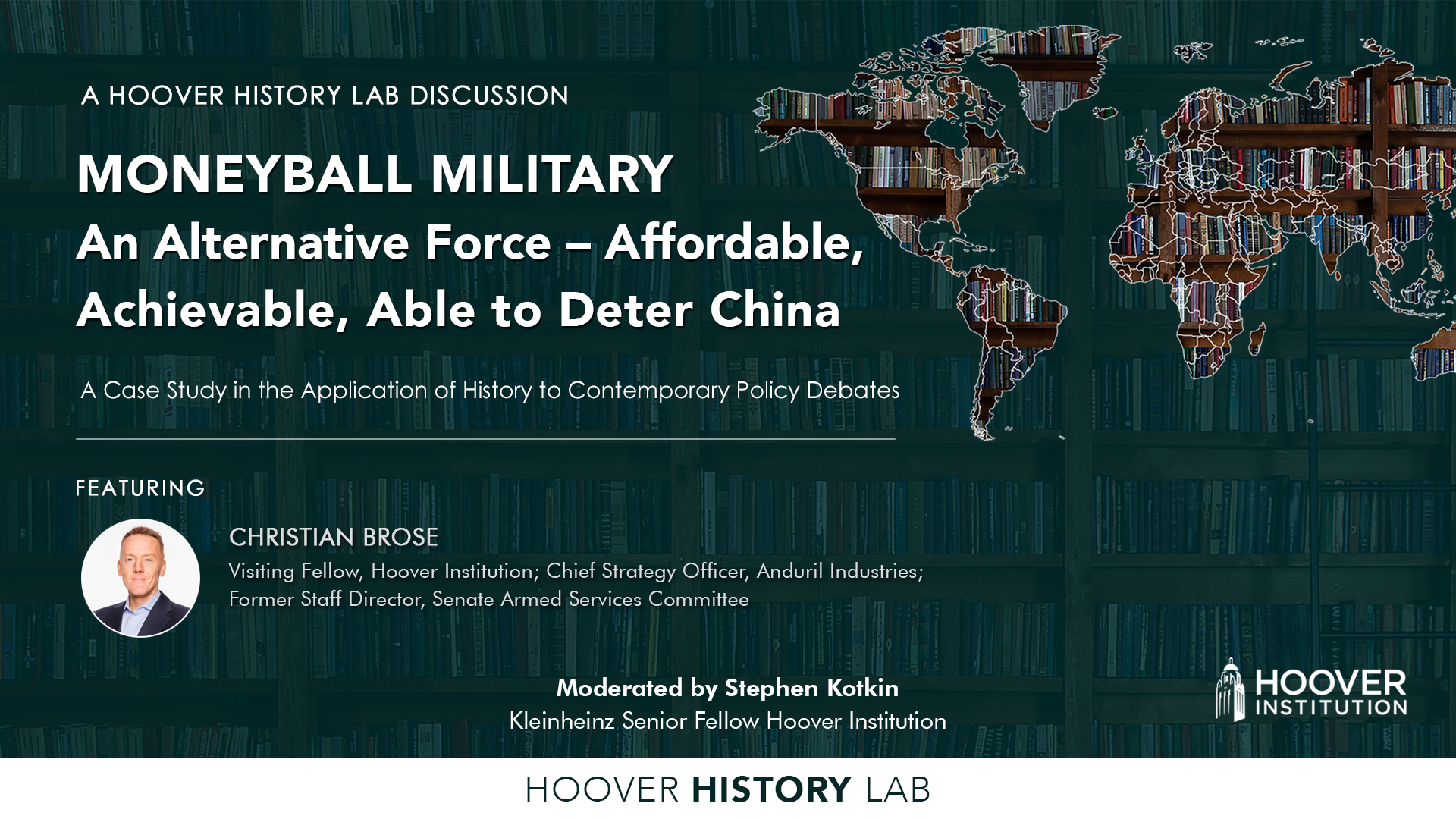 ABOUT THE SPEAKER
Christian Brose is a visiting fellow at the Hoover Institution, where he focuses on the intersection of national security, emerging technologies, and international affairs. He is also the chief strategy officer at Anduril Industries, a venture-backed defense technology company; a member of the Aspen Strategy Group; and the author of the acclaimed book The Kill Chain: Defending America in the Future of High-Tech Warfare (Hachette 2020). He previously served as the Staff Director of the Senate Armed Services Committee, under Senator John McCain.  He was also a speechwriter for Secretary of State Condoleezza Rice.