On behalf of Taiwan in the Indo-Pacific Region and its National Security Task Force the Hoover Institution held Narratives of Civic Duty and Taiwan's Democratic Trajectory on Thursday, January 26, 2023 from 12:30 - 1:45 pm PT.
In Narratives of Civic Duty, Aram Hur investigates the impulse behind a sense of civic duty in democracies. Why do some citizens feel a responsibility to vote, pay taxes, or take up arms for one's country? Civic duty is typically seen as the result of culture or character. Rather, Hur finds that it emerges from a force long seen as detrimental to democracy: strong national attachments. National stories—the folklore of the national people—embed relational legacies with the state that can harness, stunt, or even subvert the nation's powerful pull toward civic duty. The talk focused on the case of Taiwan and how its diverse national stories have shaped its democratic past and future.
learn-more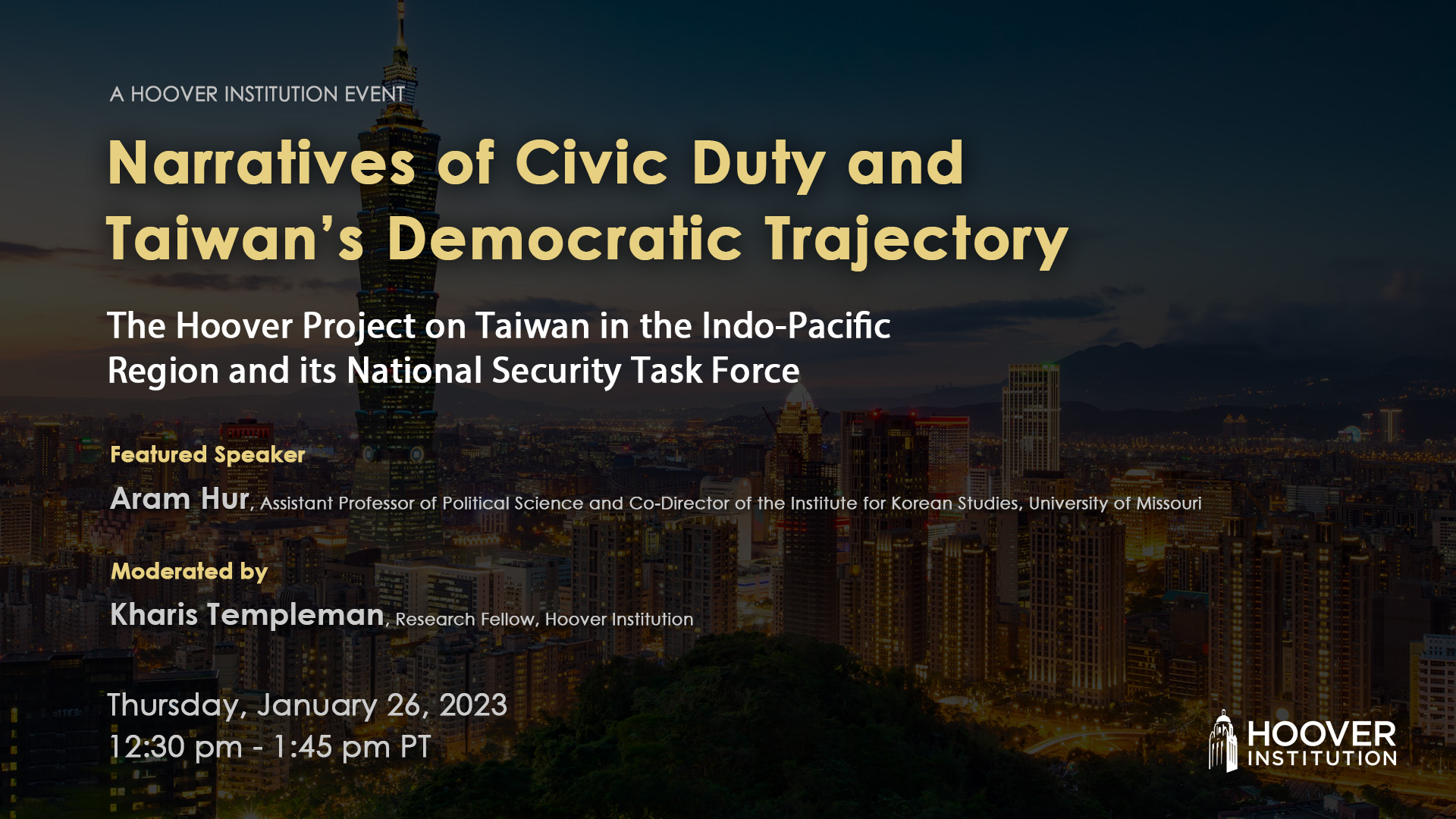 SPEAKER BIOS

Aram Hur is Assistant Professor of Political Science and Co-Director of the Institute for Korean Studies at the University of Missouri. Her research focuses on nationalism and democracy in East Asia, with special attention to issues of identity change, integration, and democratic support in the Korean peninsula and Taiwan. She is the 2021 Korea Society Sherman Emerging Scholar and a 2018-19 CSIS U.S.-Korea NextGen Scholar. She is the author of Narratives of Civic Duty: How National Stories Shape Democracy in Asia(Cornell University Press, 2022). She holds a PhD in Politics from Princeton University, MPP from the Harvard Kennedy School, and BA with honors from Stanford University.

Kharis Templeman is a research fellow at the Hoover Institution and part of the Project on Taiwan in the Indo-Pacific. Templeman is a political scientist (Ph.D. 2012, Michigan) with research interests in Taiwan politics, democratization, elections and election management, party system development, dominant party systems, and politics and security issues in Pacific Asia, among other topics.