New evidence has surfaced in the fifty years since President Nixon's resignation. This seminar gathers together three prominent authorities on Watergate, the biggest political scandal of the 20th century. 
For 50 years, we were taught a carefully curated history of Watergate. It was the nation's greatest political scandal: a White House-led cover-up, the only resignation of a sitting president, and the conviction of some two dozen members of Richard Nixon's administration. However, with the opening of new archival material, a fuller history emerges that prompts us to challenge what was previously known.
learn-more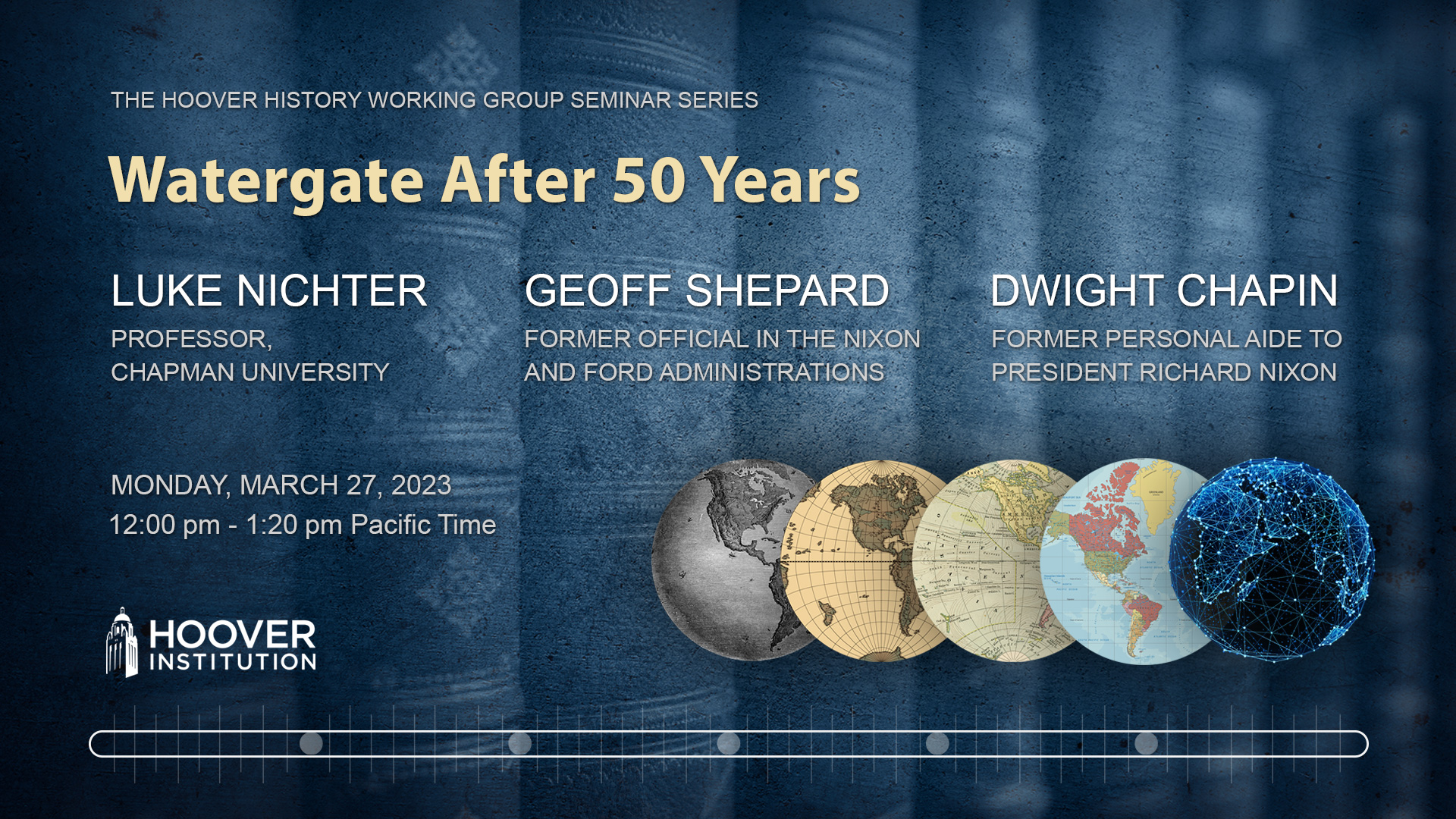 ABOUT THE SPEAKERS

Luke A. Nichter is a Professor of History and James H. Cavanaugh Endowed Chair in Presidential Studies at Chapman University. His area of specialty is the Cold War, the modern presidency, and U.S. political and diplomatic history, with a focus on the "long 1960s" from John F. Kennedy through Watergate. He is a noted expert on Richard Nixon's 3,432 hours of secret White House tapes, and a New York Times bestselling author or editor of seven books, the most recent of which is The Last Brahmin: Henry Cabot Lodge Jr. and the Making of the Cold War. 

Luke's next book project, under contract with Yale University Press, is tentatively titled The Making of the President, 1968: Lyndon Johnson, Hubert Humphrey, Richard Nixon, George Wallace, and the Election that Changed America, for which he was awarded a National Endowment for the Humanities Fellowship for 2020-2021. The book draws on interviews with approximately 85 family members and former staffers, in addition to extensive archival research involving first-time access to a number of key collections that will recast our understanding of the 1968 election.
 
Geoff Shepard is an attorney and former official in the Nixon and Ford administrations. He came to Washington in 1969 as a White House Fellow, after graduating from Harvard Law School. He then joined John Ehrlichman's Domestic Council staff at the Nixon White House, where he served for five years and worked closely with senior officials at the Department of Justice.  As a result, he knew and had worked with virtually all of the major Watergate figures. He also worked on President Nixon's Watergate defense team, where he was principal deputy to the President's lead lawyer, J. Fred Buzhardt. In that capacity, he helped transcribe the White House tapes, ran the document rooms holding the seized files of H. R. Haldeman, John Ehrlichman and John Dean, and staffed White House counselors Bryce Harlow and Dean Birch on Watergate issues and developments. 
Over the past decade, Geoff has uncovered internal documents within the Watergate Special Prosecution Force that call into question everything we've been told about Watergate. His first book, The Secret Plot to Make Ted Kennedy President (2008), focuses on the political intrigue behind the successful exploitation of the Watergate scandal by Kennedy administration loyalists. His second book, The Real Watergate Scandal, Collusion, Conspiracy and the Plot that Brought Nixon Down (2015), focuses on judicial and prosecutorial abuses in the Watergate prosecutions. His third book, The Nixon Conspiracy, Watergate and the Plot to Remove the President (2021), describes prosecutors' work with the House Judiciary Committee to bring about Nixon's impeachment.
 
Dwight Chapin worked as the Personal Aide to former Vice President Richard Nixon during his presidential campaign, becoming Special Assistant to the President after Nixon's election victory. He became Deputy Assistant to the President in 1971, and visited China three times: with Henry Kissinger in October of 1971, with Alexander Haig in January of 1972, and with President Nixon in February of 1972. Chapin served as "Acting Chief of Protocol" for these trips. Chapin remained in his role as Deputy Assistant until he left the White House Staff in March 1973.  
Chapin was also President and Publisher of Success Magazine for five years, and later served in Asia as Managing Director of Hill and Knowlton Public Relations. In 1988 Chapin established Chapin enterprises, an independent communications consultancy, which he operated for the next thirty years. 
Chapin published an in-depth memoirs about his time with Nixon, The President's Man (2022), which relates his memorable experiences and concludes with new insights about the break-in that brought down Nixon's presidency.