The Hoover Institution Press released Central Bank Governance & Oversight Reform, a book featuring distinguished scholars and policymakers who discuss key questions about the Federal Reserve. Going beyond the widely talked about decision of whether to raise interest rates, they focus on a deeper set of questions, including how the Fed should make decisions, how the Fed should govern its internal decision-making processes and what the trade-off is between greater Fed power and less Fed independence.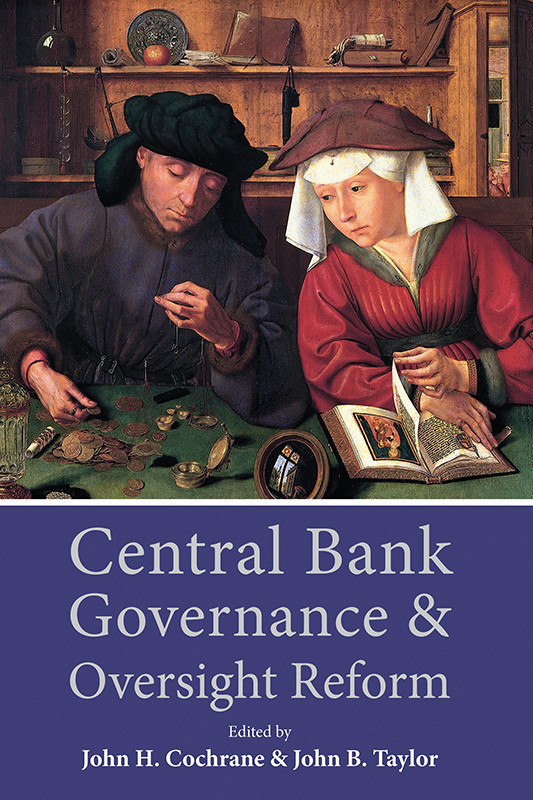 "Great attention is paid to the individuals atop the largest central banks. Monetary policymakers are tasked with keeping fidelity to their legislated mandates," said Hoover distinguished visiting fellow and contributor Kevin Warsh. "However, considerably less attention is paid to the institutional setting in which the policymakers meet, deliberate and decide on policy. The institutional dynamics influence policy decisions more than is commonly appreciated."
Based on a 2015 conference, the contributors discuss whether central banks can both follow rule-based policy in normal times but then implement a discretionary do-what-it-takes approach to stopping financial crises. They evaluate the Federal Reserve Accountability and Transparency Act of 2014 and the Financial Regulatory Improvement Act of 2015, which would require the Fed to describe its monetary policy rule and, if and when it changed or deviated from its rule, explain the reasons. They also discuss the best ways to structure a committee—like the Federal Open Market Committee, which sets interest rates—to make good decisions, as well as offer historical reflections on the governance of the Fed.
"The purpose of these conferences is not to sit and theorize about monetary policy but to shape and drive the discussion in order to influence public policy," said Hoover senior fellow and coeditor John Taylor. "The passage of the Federal Oversight Reform and Modernization Act in Congress late last year is proof that the scholars and economists that have convened at these conferences during the past two years are making a significant impact on monetary reform."
Central Bank Governance & Oversight Reform is the second volume of policy discussions based on an annual monetary policy conference hosted by the Hoover Institution. In January 2015, the Journal of Economic Dynamics & Control published Frameworks for Central Banking in the Next Century, a compilation of essays based on a May 2014 conference of the same title. The Hoover Institution will host International Monetary Stability - Past, Present, and Future on Thursday, May 5, 2016 at Stanford University. Next year's conference will be held on May 4, 2017.
Editors: John H. Cochrane is a senior fellow at the Hoover Institution. Before joining Hoover, he was a professor of finance at the University of Chicago's Booth School of Business.  He is also a research associate of the National Bureau of Economic Research.
John B. Taylor is the George P. Shultz Senior Fellow in Economics at the Hoover Institution and the Mary and Robert Raymond Professor of Economics at Stanford University. He chairs the Hoover Working Group on Economic Policy and is director of Stanford's Introductory Economics Center.
For more information on Central Bank Governance & Oversight Reform, visit HooverPress.org.  For more information on the Hoover Institution, visit Hoover.org or find us on Facebook, Twitter, and Scribd (keyword: Hoover Institution).
About the Hoover Institution:  The Hoover Institution, Stanford University, is a public policy research center devoted to the advanced study of economics, politics, history, and political economy—both domestic and foreign—as well as international affairs. With its eminent scholars and world-renowned Library & Archives, the Hoover Institution seeks to improve the human condition by advancing ideas that promote economic opportunity and prosperity and secure and safeguard peace for America and all mankind.
CONTACT INFORMATION:  Jenny Mayfield | Office of Public Affairs | Hoover Institution | jennymayfield@stanford.edu | 650-723-0603