Former Hoover Fellow At Helm of USS Stockdale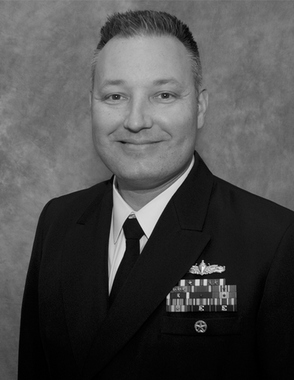 A former National Security Affairs Fellow from the Hoover Institution is now the commander of the USS Stockdale.
Commander Leonard "Leo" Leos assumed command of the USS Stockdale on November 1 while at sea in the Pacific Ocean. At Hoover, Leos represented the US Navy as a Robert and Marion Oster National Security Affairs Fellow from 2016 to 2017.
The USS Stockdale is a guided-missile destroyer in the Arleigh Burke Class assigned to the US Navy's Carrier Strike Group Three. That group is currently working with allies, partners, and friends in the Indo-Pacific Area.
Vietnam, Medal of Honor
The USS Stockdale is named for the legendary prisoner of war and Medal of Honor recipient Vice Admiral James "Jim" Bond Stockdale, a Hoover senior research fellow from 1981 to 1996 who earned a master's degree at Stanford prior to his imprisonment in Vietnam. In 1992, Stockdale was the vice presidential candidate for Ross Perot's Reform Party.
During the Vietnam War, Admiral Stockdale was the senior naval officer held in Hoa Lo Prison, the infamous "Hanoi Hilton." He immediately assumed a leadership role, organizing the prisoners' resistance. During eight years of imprisonment, he was tortured numerous times and kept in isolation for three years. Prior to a forced confession, he purposely beat his face to a pulp to prevent the North Vietnamese from using him as propaganda. In another instance, he deliberately inflicted a near-mortal wound to his person in order to convince his captors of his willingness to give up his life rather than capitulate. For this action, he was awarded the Medal of Honor.
Commander Leos said, "The toughness which Admiral Stockdale displayed is a source of inspiration for us all. He may have been knocked down, but he was never out of the fight. I think Admiral Stockdale would be extremely proud of the tough sailors I am blessed to command. Like him they love our country and what it stands for, work and train hard under tough conditions, and are ready for any contingency."
Following prison, Admiral Stockdale, like many of his fellow POWs, continued to serve his country and contribute in meaningful ways. Returning to academia, Stockdale was the president of the Naval War College and the Citadel in South Carolina immediately after retiring from the Navy.
Hoover fellows remember Stockdale fondly for his engaging conversation and love of Greek philosophy. Stockdale was the author of three works published by Hoover Institution Press: Thoughts of a Philosophical Fighter Pilot (1995), A Vietnam Experience: Ten Years of Reflection (1984), and Courage under Fire: Testing Epictetus's Doctrines in a Laboratory of Human Behavior (Hoover Institution Essays, No. 6, 1993).
Fellowship Memories, Bay Area Native
Commander Leos is a Bay Area native, having grown up in Mountain View.
"Being back in the Bay Area, at Hoover and Stanford, was a highlight of my career," said Leos. "Learning from senior foreign policy experts and former cabinet members such as Secretary George Shultz, Secretary Condoleezza Rice, and Secretary James Mattis was a once-in-a-lifetime opportunity for a naval officer."
He noted, "The senior fellows were really generous with their time, especially Admiral Gary Roughead, Admiral James O. Ellis, and Ambassador Karl Eikenberry. And the classes I took from Professors Amy Zegart and Kori Schake were crucial to my understanding of the United States' leadership in the post–WWII world order, which has led to unprecedented peace and prosperity."
While at Stanford, Leos co-authored a study with David Greenberg on "Senior United States Foreign Service and Naval Officer Attitudes toward China," published by Hoover Press.
The Robert and Marion Oster National Security Affairs Fellows (NSAF) Program began in 1969 and has been a vital part of the Hoover Institution ever since. The NSAF Program offers representatives of the US military and government agencies the opportunity to conduct independent research on topics relevant to their respective branches of government and to the practice of diplomacy. Admission to the program is based on direct nominations from each governmental branch.
---
MEDIA CONTACTS:
Clifton B. Parker, Hoover Institution: (650) 498-5204, cbparker [at] stanford.edu