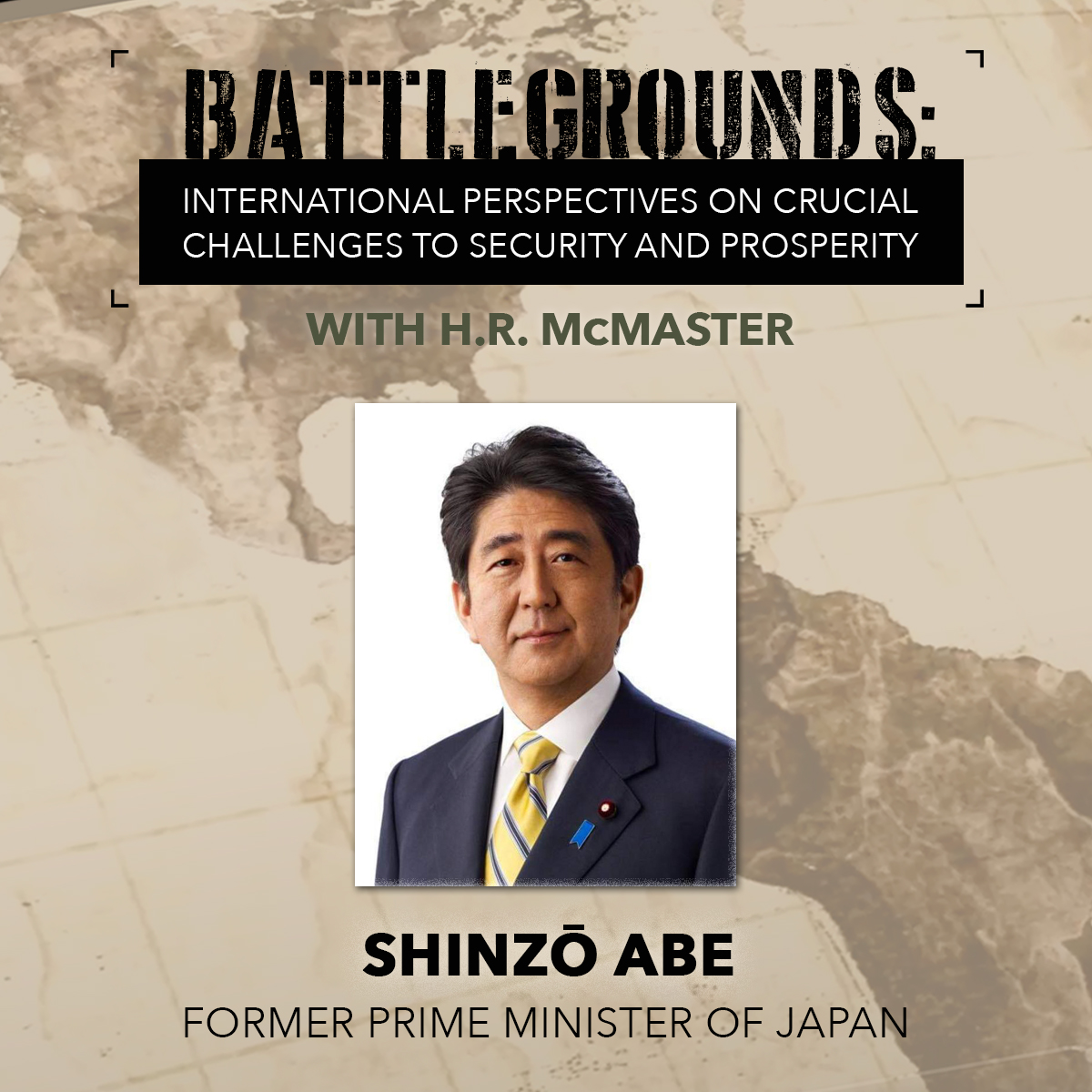 By Jonathan Movroydis
Hoover Institution (Stanford, CA) – Confronting China's aggression, and maintaining stability and promoting economic prosperity in the Indo-Pacific depends on like-minded democratic nations upholding a rules-based order in the region, argued Shinzō Abe, the longest-serving prime minister in Japan's history, in the latest episode of Hoover's Battlegrounds series, hosted by Fouad and Michelle Ajami Senior Fellow H. R. McMaster.
Abe began the conversation by describing China's military prowess in the region and its goal to up-end the status quo in the South and East China Seas. China has increased the size of its military by 42 times in the past 32 years; over the past decade, it has deployed its navy to patrol disputed waters and has undermined Japan's claims to the Senkaku Islands.
In response, Japan, after years of defense budget cuts, became determined in Abe's second administration, he said, to build up his country's military capacity and deter threats posed by China's People's Liberation Army. In July 2020, Japan's Self-Defense Forces acquired 147 F-35 joint-strike fighters and are now in the process of deploying long-range "standoff" missiles, which can strike adversaries beyond their ability to respond with force.
Abe explained that Tokyo's defense posture didn't cause its leadership to abandon strategic engagement and hard-headed diplomacy with Beijing. He stressed that frank dialogue is absolutely crucial in helping to avoid misunderstandings and underestimations made by either party.
"When I was prime minister, I had a direct conversation with President Xi of China. I specifically told him never to underestimate Japan's unwavering determination as to our right over the Senkaku Islands," Abe recalled.
Abe underlined recent developments in US-Japan security cooperation that he believes are imperative in protecting the interests of both countries. He explained how Japan's reinterpretation of its constitution in July 2014 enabled it to assume more authority over its collective self-defense. In addition, the United States and Japan doubled the quantity of joint military exercises in 2020; Japanese forces also provide protection for American military assets stationed in the region. Abe envisions security cooperation in new and emerging domains including cyberspace, outer space, and in the electromagnetic spectrum.
Abe was the first to frame the geography of the Indian and Pacific Oceans into a single political and economic entity. He describes how the concept of an "Indo-Pacific region" emphasized the confluence of the two oceans and their predominance in the flow of global trade, as well as the geostrategic importance of the states that occupy the region. Abe stressed that such a perspective enables policy makers to better view the nature of China's expansionist policies, as well as the public good that the United States, Japan, and other security partners can provide by helping to secure the region in faithfulness to democratic values, economic openness, and the rule of law.
Abe was also the original visionary of "the Quad," an informal regional framework of leading democracies (Australia, India, Japan, and the United States) which he believes form a critical component in deterring China from attempting to unilaterally impose its authoritarian and mercantilist model of governance across Asia. He was encouraged that the Quad held its first ministerial-level summit virtually in March 2021.
Abe asserts that the Quad should be viewed as more than just a maritime security partnership and move forward on other areas of practical cooperation, including enhancing competitiveness in technological innovation, securing supply chains, protecting intellectual property, and strengthening rules governing the use of individual consumer data. He said that the Quad's vision for a free and open Indo-Pacific is inclusive of any state that chooses to embrace comity among nations instead of servile relationships.
Abe added that this principle applies to Beijing as well. He explained, for example, that Japan would be a willing participant in Beijing's One Belt One Road initiative on a case-by-case basis so long as individual projects meet "quality infrastructure principles" of openness, transparency, economic efficiency, and debt sustainability.
"My firm belief is that if China is to respect and implement this four-pronged principle, then the whole international community will accept China as a critical partner, and that would eventually enable China's further growth," Abe said.  
Abe addressed the destabilizing presence of a nuclear-armed North Korea to the region, which is underscored by the erratic behavior of its leader Kim Jong-un. Abe advocated that the international community maintain a united front and continue to exert maximum pressure on North Korea under the terms of UN National Security Council Resolution 2375, aimed at persuading Kim to suspend all activities related to his state's nuclear program in a "complete, verifiable, and irreversible manner."
Abe also described Tokyo's diplomacy to advance peace and stability in the Middle East, a region upon which Japan is dependent for 90 percent of its crude oil imports. In securing its interests, Abe explained, Japan has maintained strong relationships across the Middle East's geopolitical divide: including with the leadership of Israel as well as that of Iran, the Arab states, and in the Palestinian territories. In one particular instance, Japan has led inventive efforts, along with Israel and Jordan, to promote economic development in Palestine.
"The key will be the mutual confidence between the four parties (Japan, Palestine, Israel, and Jordan), and we have to maintain perseverance and consistency [in this] joint endeavor," Abe said. 
---
WATCH THE LIVESTREAM