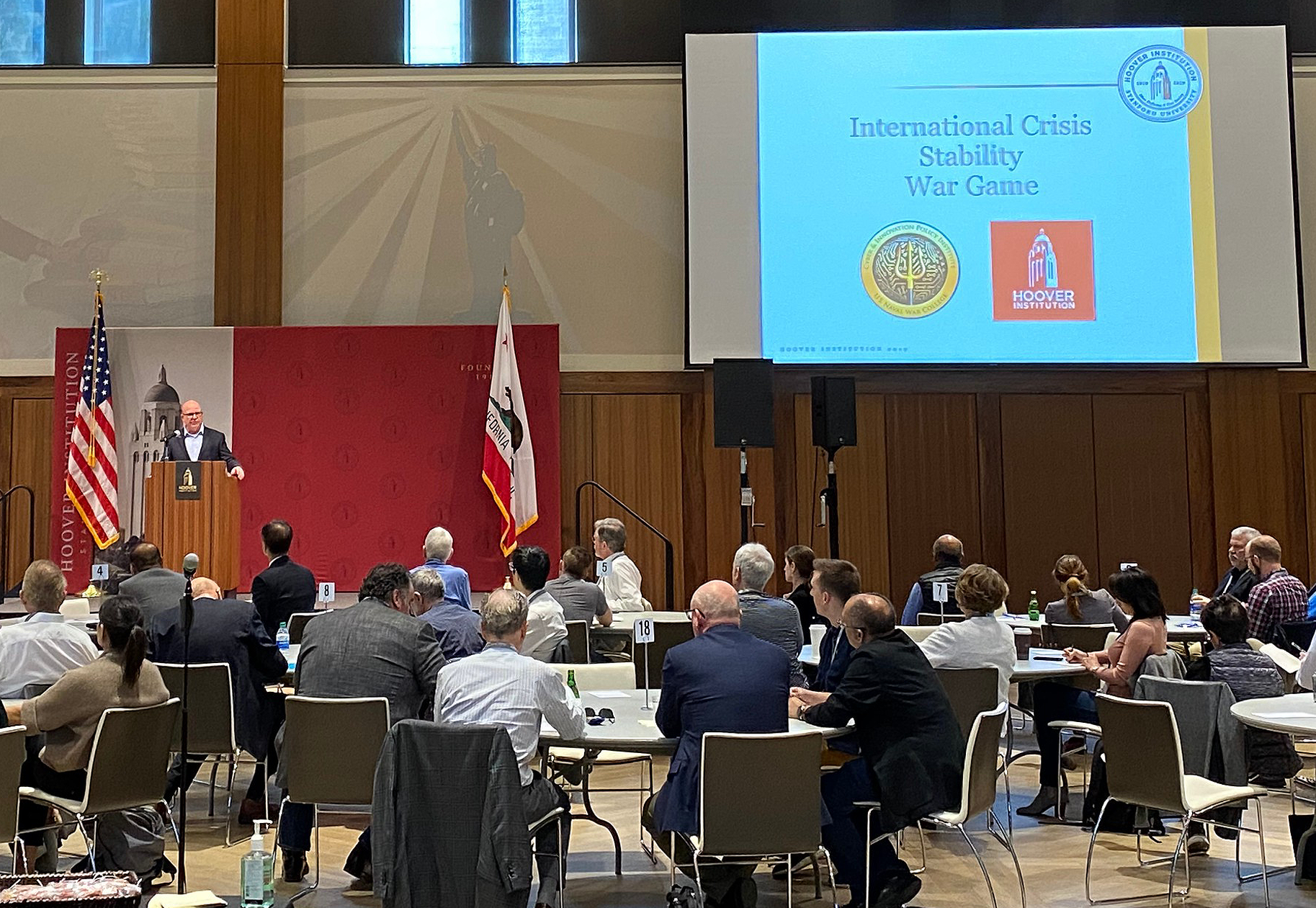 The Hoover Institution's Blount Hall was the venue Friday, March 6, for an international crisis war game about how conflict in the cyber domain impacts the risk of nuclear war.
The war game was coordinated by Jacquelyn Schneider, a Hoover fellow whose research focuses on the intersections of technology, national security, and political psychology. She developed the game with former colleagues at the US Naval War College in Newport, Rhode Island, as an alternative to traditional methods like surveys and interviews for studying rare and catastrophic scenarios.
Since launching the project two years ago, Schneider has conducted approximately one hundred games with a diverse group of players from around the world, including business and technology executives, senior military officers, and former defense and foreign ministers. In each game, players simulate a governing body's national security council and craft crisis responses to two scenarios involving two opposing nuclear-capable states.
The Stanford iteration included eighty players, including tech leaders, academics, government officials, diplomats, and experts in military, cyber, and nuclear policy representing the Hoover Institution, Stanford's Center for International Security and Cooperation, the Lawrence Livermore National Laboratory, the Defense Innovation Unit at the US Department of Defense, the Naval Postgraduate School, Google, the Hewlett Foundation, Business Executives for National Security, and consul generals from around the world.
H. R. McMaster, Hoover senior fellow and former US national security adviser, gave opening remarks during the session, telling players that war games help researchers, as well as practitioners in government and the private sector, better understand the nature of competition between states and nonstate actors in the modern, technologically driven, international environment.
McMaster explained that events in the last two decades demonstrate that rapid advancements in technology have shaped how particular states wage war and have prompted the United States to make significant changes to its nuclear strategy to strengthen deterrence.
He said that Russia's 2008 incursion into Georgia was the first time cyber operations were combined with conventional forces during the course of conflict. In a more dangerous scenario, he added, a country could use cyber tactics to "blind" adversaries by disrupting their communications, with the objective of launching a first nuclear strike.
"War games like this are where you acknowledge the interactive nature of these competitions," said McMaster. The game play "can really make clear that the future course of events in a situation of increasing tension involving the most destructive weapons on earth does not just depend on what we decide to do," but also on "reactions that are oftentimes impossible to predict."