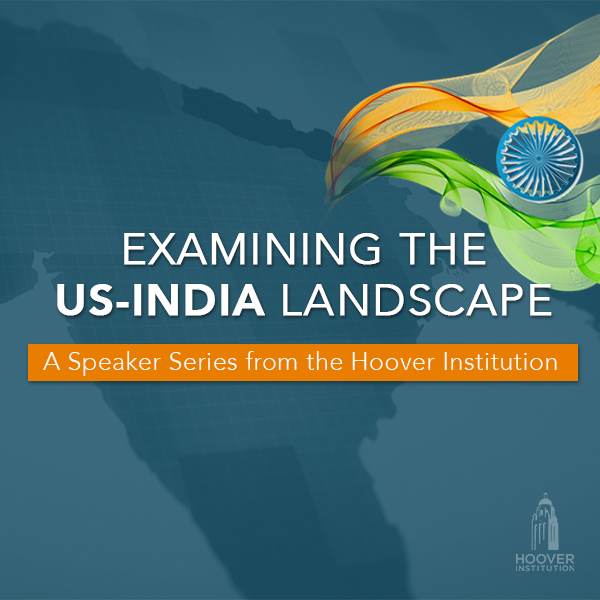 Hoover Institution (Stanford, California) – The Hoover Institution program on Strengthening US-India Relations has launched a new series on the opportunities for strategic and economic engagement between the world's two largest democracies.
The first event of the Examining the US-India Landscape series, "The Strategic Value of India" took place virtually and featured two former US ambassadors to India: David Mulford, a Hoover distinguished visiting fellow who chairs the US-India program; and Kenneth Juster, a distinguished fellow at the Council on Foreign Relations. The session was moderated by Larry Diamond, senior fellow at the Hoover Institution and co-chair of Hoover's projects on China's Global Sharp Power and Taiwan in the Indo-Pacific Region.
Ambassador Mulford described the geostrategic importance of India. The South Asian democracy shares a two-thousand-mile eastern border with China. Its surrounding waters provide its navy and commercial vessels easy access to the shores of the Middle East and East Africa, and the island nations in the seas of Southeast Asia. Over half of India's population is twenty-five years of age or younger. Its birth rate (18 per 1,000 people) is also nearly double that of China. India's GDP of $2.66 trillion ranks it as the sixth-largest economy internationally.
India's population is highly educated by global standards, especially in the fields of math and science. Currently, there are four times as many Indians studying engineering than Americans. The Indian government has effectively leveraged its society's intellectual capital and growing wealth to build up its armed forces into one of the strongest in the world.
Ambassador Juster provided a historical perspective on US-India relations. He explained that although India declared itself as a nonaligned nation during the Cold War, it forged closed ties with the Soviet Union. He said that many believed that US-India relations would warm in the post–Cold War era; but when New Delhi conducted a series of underground nuclear tests in May 1998, the Clinton administration immediately responded with sweeping economic sanctions.
Diplomatic relations remained strained until the administration of George W. Bush. In July 2005, the United States and India forged a Civil Nuclear Cooperation Initiative, allowing India to stimulate growth within its peaceful nuclear sector in compliance with safeguards provided by the International Atomic Energy Agency.
In the past two decades, immigration and trade also expanded between the United States and India. In 2000, there were 1.6 million Indians living in the United States. Today, that number has more than doubled, to 4 million. During that same period, bilateral trade has grown from $19 billion to $160 billion.
"Given the fact that the United States is the world's largest economy and India is the world's sixth-largest economy, that's really a fraction of what it should be," Juster said.
Juster explained that there are significant barriers to trade between both countries. Roadblocks remain, for example, on the exchange of agricultural products, steel and aluminum, and intellectual property. The Trans-Pacific Partnership (TPP) was supposed to help resolve these disputes and boost economic integration between the two countries. However, President Donald Trump withdrew from the TPP on his first day of office in January 2017, and the United States hasn't joined its successor, the Comprehensive and Progressive Agreement for Trans-Pacific Partnership.
New Delhi's enduring relationship with Moscow also worries Washington. India was one of the thirty-three member states of the United Nations General Assembly that abstained from voting on a resolution to condemn Russia for its invasion of Ukraine.
Mulford said that this decision is understandable given that Russia has been a large supplier of weapons to India for the past fifty years. In October 2018, India purchased $5 billion worth of S-400 missile defense systems from the Kremlin. India is also now buying oil from Moscow at a discount, despite comprehensive Western-led sanctions imposed on Russia. Moreover, as Juster explained, India's leadership also wants to maintain its close ties to Russia, in order to prevent the Kremlin from forming a deeper strategic partnership with China.
Nevertheless, Mulford believes that Russia's invasion of Ukraine will deal a lethal blow to the Putin regime and that India will likely move closer to the United States and democratic allies over the long term so that it can better focus on security threats posed by China.
Clashes between the Indian Armed Forces and members of the People's Liberation Army stationed along the Himalayan border, fifty thousand strong, have only strengthened India's engagement with the Quad group of countries (which also includes the United States, Australia, and Japan).
"If we follow our tested course of relationship building with India and a crisis develops at some point with China's ambitions in the region, there is every reason to believe that the US and India will stand together as allies with or without a formal treaty arrangement," Mulford said.
Click here for more information and events from the Strengthening US-India Relations program.