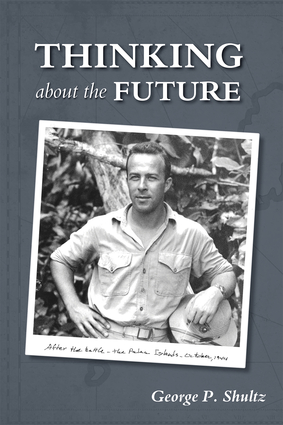 In his new Hoover Institution Press book, Thinking about the Future, George P. Shultz reflects on more than half a century of public service to offer solutions to some of America's most pressing contemporary problems.
Revisiting key speeches and articles spanning his distinguished career, Shultz considers America's role in the twenty-first-century world and addresses topics such as governance, technology, terrorism, drugs, and climate change. Shultz is the Thomas W. and Susan B. Ford Distinguished Fellow at the Hoover Institution. He is one of just two individuals to have held four different federal cabinet posts.
During his career, Shultz has aided presidents, confronted national and international crises, and argued passionately that the United States has a vital stake in promoting democratic values and institutions worldwide. In speeches, articles, congressional testimony, and conversations with world leaders, he has helped shape policy and public opinion on the same topics as covered in his book.
Now, Shultz applies his past thinking to America's most urgent present-day challenges. Taken together, they create a clear-eyed vision of a thriving American future. To flourish in the twenty-first century, he suggests, we must demand accountability of ourselves and others. We must build and maintain trust. And in a world defined by rapid change, disruption, and technological advancement, we must not only keep up but "think through this change in human terms."
Each chapter pairs Shultz's past work with new commentary from the author, providing context, color, and behind-the-scenes glimpses of how decisions are made in the halls of power—along with reminiscences of figures including Ronald and Nancy Reagan, Mikhail Gorbachev, and Margaret Thatcher.
In the more than half a century since Shultz entered public life, the world has changed dramatically. But he remains guided by the belief that "you can learn about the future—or at least relate to it—by studying the past and identifying principles that have continuing application to our lives and our world." In these pages, Shultz offers up his vision of an America firmly rooted in timeless ideals of humanitarianism, prosperity, decency, and strength.
---
Media Contacts
Clifton B. Parker, Hoover Institution: 650-498-5204, cbparker@stanford.edu