Spotlight On Unique Vietnam War Media Coverage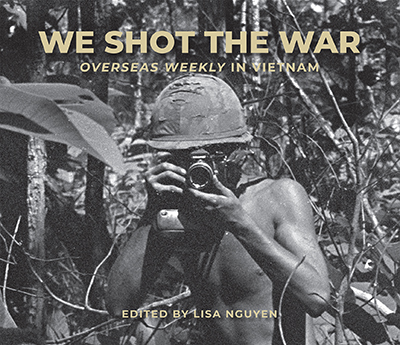 The new Hoover Institution Press publication, We Shot the War: Overseas Weekly in Vietnam, examines the legacy of one of the most popular and eccentric newspapers to cover the Vietnam War. 
With its mix of hard-hitting military exposés, pinups, and comic strips, Overseas Weekly earned a reputation as a muckraking truth teller. Time magazine called it "the least popular publication at the Pentagon." General William C. Westmoreland and Secretary of Defense Robert S. McNamara despised it for reporting on the underbelly of America's controversial and costly war.
From 1966 to 1972, the paper's reporters and photographers tackled controversial topics, including courts-martial, racial discrimination, drug use, and opposition to command. And they published some of the most intimate portraits of American GIs and Vietnamese civilians—taken with the specific purpose of documenting the daily life of individuals caught in the world's most grueling and disputed conflict.

Through striking photographs and personal essays, We Shot the War brings viewers behind the viewfinders of photojournalists who covered the conflict in Southeast Asia. It also introduces readers to two extraordinary women—founder Marion von Rospach and Saigon office bureau chief Ann Bryan—who together fought for the right of women to report in combat zones and argued against media censorship.

The 224-page book was edited by Lisa Nguyen, Curator for Digital Scholarship and Asian Initiatives at the Hoover Institution Library & Archives.
The photographs have been selected based on the physical condition of the negatives, visual impact, emotional resonance, and balanced representation of topical themes covered by the Overseas Weekly. They are given color and context by accompanying personal recollections of surviving photojournalists of the Overseas Weekly's Saigon bureau. Their stories—of one-way tickets to Saigon, of youthful curiosity and daring, and especially of determination to see the truth of a distant war for themselves—testify to the uniqueness of Overseas Weekly's contribution to Vietnam War reporting.
The exhibition, We Shot the War: Overseas Weekly in Vietnam, is now open at the Hoover Institution through Dec. 8, 2018.
---
Media Contacts
Clifton B. Parker, Hoover Institution: 650-498-5204, cbparker [at] stanford.edu