Pompeo, Mattis Talk Indo-Pacific Security At Hoover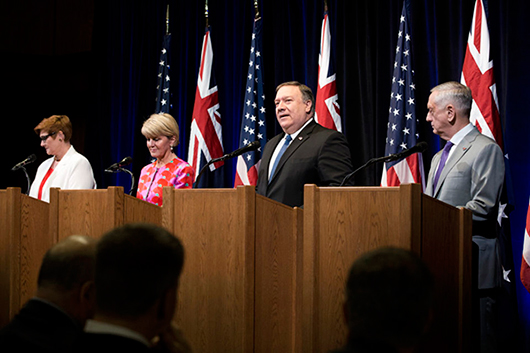 Indo-Pacific" security was top of mind this week when U.S. Secretary of State Mike Pompeo and Secretary of Defense James Mattis met their Australian counterparts for talks at Stanford University's Hoover Institution.
A free and open Indo-Pacific region – defined as encompassing both the Pacific and Indian oceans – is important to the strategic and economic interests of the United States, Australia and other countries in the area, said the secretaries and ministers. Toward this, the Australia-U.S. Ministerial Consultations (AUSMIN) represent a critical annual event in the alliance between America and Australia.
At the July 23-24 consultation, both countries signed a memorandum pledging support on a wide range of other pressing issues, such as China in the South China Sea, the North Korean nuclear program, cybersecurity research and Iranian-backed terrorism.
The bilateral talks included five working groups and direct discussions among Mattis, Pompeo, Australian Minister for Foreign Affairs Julie Bishop, and Minister for Defense Marise Payne, as well as their staff delegations.
World issues
Asked at a press conference about the Trump-Putin summit last week, Pompeo said he had spoken with President Trump about the one-on-one meeting with Putin and said the president was clear about what was discussed. The secretary of state voiced his support for holding the Helsinki talks – "the world will benefit from it," Pompeo said.
On July 25, Pompeo is slated to testify before the Senate Foreign Relations Committee to answer questions about Trump's meetings with Russian President Vladimir Putin and North Korean leader Kim Jong Un.
Pompeo said that North Korea needs to completely and fully denuclearize as agreed by Kim at the June 12 Singapore summit. Meanwhile, the U.S. will continue to work with partners like Australia to enforce strict sanctions against North Korea, he added.
"The United States and Australia speak with one voice in calling for a denuclearized North Korea," Pompeo said, adding that he plans to release a visioning document next week on Indo-Pacific security.
Regarding China's militarization in the South China Sea, Pompeo answered one reporter's question by saying that no one should underestimate the U.S. commitment to a free and open Indo-Pacific region.
On the U.S. relationship with Australia, Pompeo and Mattis said they expect each country to further strengthen the alliance. "We can count on each other constantly," Pompeo said.
Mattis said that over the past 12 months, both nations have strengthened their defense cooperation in many tangible ways, citing as an example the cybersecurity agreement that emerged from this week's talks.
"The U.S. and Australia will walk the walk," Mattis said about security in the Indo-Pacific region.
Mattis touted the defense research and industry cooperation between Australia and the U.S. He also reminded people that Australia was the first ally to support the American invasion of Afghanistan following the 9/11 attacks.
"We do not forget the families of your soldiers who have fallen alongside us," Mattis said.
Like Pompeo, he emphasized the importance of keeping pressure on North Korea's government. On Iran, Mattis described the country as a "destabilizing influence" in the Middle East, from Bahrain to Saudi Arabia.
"It's time for Iran to shape up and show responsibility as a nation" by not continuing to export terrorism, he said.
As to any possible agreement between the United States and Russia about the conflict in Syria, which was raised at the July 16 Trump-Putin meeting in Helsinki, Mattis said that the U.S. works only with Russia to "deconflict" military operations, not to coordinate. Nothing will change unless a change in policy is set, he said.
Stanford, Hoover connections to Australia
Julie Bishop, the Australian foreign affairs minister, said it was fitting that Stanford and the Hoover Institution hosted the AUSMIN conference.
Bishop explained that Herbert Hoover – a former U.S. president, Stanford alum, and the founder of the Hoover Institution – spent his formative years in Australia, where he became a key player in that country's mining and other resource industries.
Today, the great appeal of the U.S. is its strong alliances and partnerships all around the world, Bishop said.
"We are aligned in so many important ways" on issues of stability, security and prosperity in the Indo-Pacific region, Bishop said.
Bishop noted that the U.S.-Australian relationship is so deep and enduring that changes in the White House cannot dent the relationship.
In 1951, the U.S. and Australia signed a collective security agreement known as the ANZUS treaty in nearby San Francisco. A separate agreement, AUSMIN was established in 1985 in order to encourage Australia-U.S. cooperation on strategic, foreign and defense policies. The conferences alternate between Australia and the United States each year.
This year's event marked 100 years since U.S. and Australian soldiers first fought as common allies in World War I.
Among those also participating in the two-day event were Australian Secretary of Defense Greg Moriarty; Australian Chief of the Defense Force General Angus Campbell; and U.S. Deputy Assistant Secretary of Defense for South and Southeast Asia Joe Felter, who formerly held appointments at the Hoover Institution and Stanford's Center for International Security and Cooperation.
The event was a return to campus for Mattis, who in 2013 was named the Davies Family Distinguished Visiting Fellow at the Hoover Institution. In 2017, he was confirmed as U.S. secretary of defense.
Click here to watch the press conference on video.
---
Media Contacts
Clifton B. Parker: (650) 498-5204, cbparker [at] stanford.edu
---
FOR MORE INFORMATION
US, Australian Officials Tout Cooperation On North Korea
mentioning Hoover Institution via The Seattle Times
2018 Australia-U.S. Ministerial Consultations (AUSMIN) Fact Sheet
mentioning Hoover Institution via Australian Department of Foreign Affairs and Trade
Press Availability With Secretary of Defense James Mattis, Australian Foreign Minister Julie Bishop, and Australian Defense Minister Marise Payne
mentioning Hoover Institution via the U.S. Department Of State
2018 Australia-U.S. Ministerial Consultations
mentioning Hoover Institution via the U.S. Department Of State
Joint Statement Australia-U.S. Ministerial Consultations 2018
mentioning Hoover Institution via the U.S. Department Of State
Secretary Pompeo Reaffirms Strong Ties to Australia
mentioning Hoover Institution via DipNote
Talks Bolster U.S.-Australia Security Relationship, Mattis Says
mentioning Hoover Institution via U.S. Department of Defense