H.R. McMaster in conversation with Vera Songwe, Chair of the Liquidity and Sustainability Facility and co-chair of the High Level Panel on Climate Finance, on Wednesday, January 18, 2023 at 9:00am PT.
In this episode of Battlegrounds, H.R. McMaster and Vera Songwe discuss the future of the United Nations and security, economic growth, and development on the African continent.
Learn more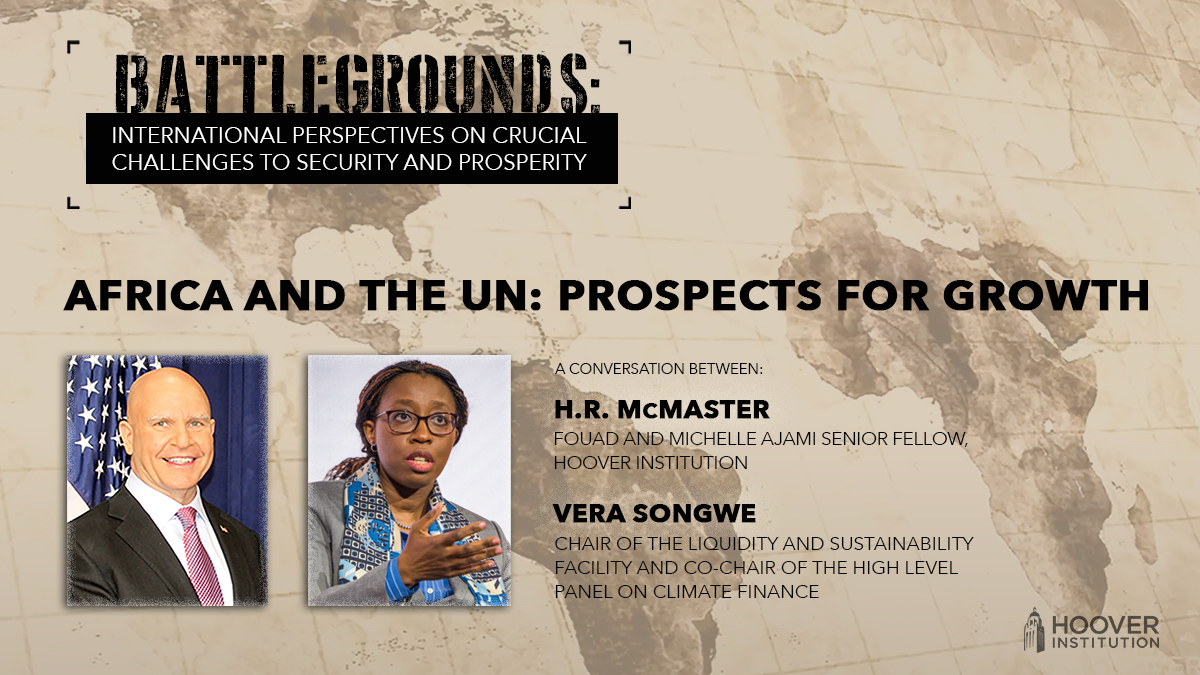 RECAP
In this edition of Battlegrounds, Vera Songwe, former under-secretary-general of the United Nations and secretary general for the UN Economic Commission on Africa, talks to Fouad and Michelle Ajami Senior Fellow H. R. McMaster about security, economic growth, and development on the African continent.
Songwe opens the conversation by describing security challenges in Africa, especially those posed by Islamic extremist groups in the Sahel region and in Somalia. She stresses that it would be wise for political leaders to keep and build the peace on the continent because the price of that effort is much less costly than engaging in war.
Her work at the UN Economic Commission on Africa, she explains, focused on building institutions and infrastructure that enable market economies to thrive. She maintains that in attaining respect from the international business community, governments should continue to take steps to eliminate graft and other forms of public corruption.
Songwe explains that partnerships between developed economies and African nations would reap enormous benefits for people on both sides. The United States and other Western nations, for example, can provide capital to expand employment opportunities and innovative capacity to economically empower Africa's young and growing population. Meanwhile, Africa possesses 70 percent of the minerals the world demands.
To this end, Songwe argues that the US government needs to design better incentives for American businesses to invest in Africa. For example, a provision in the Dodd Frank Act (2010) punishes firms from doing business in markets that employ child labor. While well intended, the act offers no mechanism to accurately determine whether such illicit activities are taking place. Fearful of risks that they may unintentionally violate the law, many businesses have decided to forfeit investments in the continent altogether.
Alternatively, she says, the dilemma presents an enormous opportunity for a forward-thinking entrepreneur to audit and certify compliance for businesses participating in the supply chain of this $300 billion market of mineral commodities. She adds that the Inflation Reduction Act of 2022 has created incentives in the amount of $65 billion to source minerals, another potential opportunity for American firms to partner with their African counterparts to utilize these raw materials in the manufacturing of valuable products such as batteries, semiconductors, and other technologies.
Private investment is much more favorable than developmental aide, Songwe asserts. While in many cases developmental aide has been critical in supporting the needs of the poorest Africans, in other cases it has crowded out and forced the closure of private financial institutions that are crucial to the continent's economic growth over the long term.
Songwe emphasizes the need to facilitate liquidity in the African market. Efforts are under way, she explains, to more easily convert bonds into cash and collateralize assets to service debt obligations. Another area where Africa should modernize is in its highway infrastructure, she explains, as the continent needs to catch up in supporting the demands of its growing middle-class economy.
Songwe also stresses that Africa can play a pivotal role in helping to solve global energy shortages, as well as in mitigating the effects of global climate change, which she calls the defining crisis of the current era. She postulates that African nations, which largely run on diesel, can triple the output of natural gas. This much cleaner source of energy could serve as a bridge for the continent's transition to renewables and would only marginally raise Africa's share of global emissions. Meanwhile, African gas exports would help Europe further reduce dependence on gas from Russia, which has used its leverage in energy markets to support its act of aggression in Ukraine and spread its influence in European politics.
Finally, Songwe argues that education of Africa's young people (which make up 42 percent of global youth), especially in the areas of technology, engineering, and medicine, is critical for the continent's long-term development and security. For example, COVID-19 has revealed a glaring need for greater self-sufficiency in the manufacturing of pharmaceuticals. During the height of the pandemic, up to 95 percent of such products were imported to Africa from non-African countries.
ABOUT THE SPEAKERS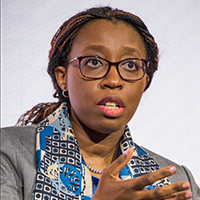 Vera Songwe is chair of the Liquidity and Sustainability Facility and co-chair of the High Level Panel on Climate Finance.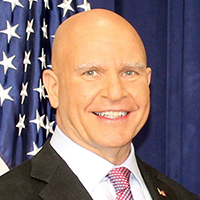 H. R. McMaster is the Fouad and Michelle Ajami Senior Fellow at the Hoover Institution, Stanford University. He is also the Bernard and Susan Liautaud Fellow at the Freeman Spogli Institute and lecturer at Stanford University's Graduate School of Business. He was the 25th assistant to the president for National Security Affairs. Upon graduation from the United States Military Academy in 1984, McMaster served as a commissioned officer in the United States Army for thirty-four years before retiring as a Lieutenant General in June 2018.