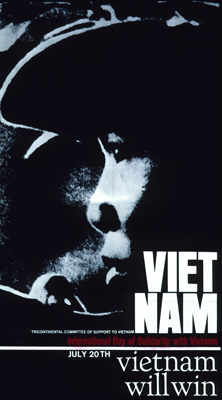 No Asian country carries more relevance and significance to the history of the United States than Vietnam in the post-WWII era. The political ethos, military institutions, and social mores of America were fundamentally altered by the war in Vietnam. Thirteen times more Americans died in that conflict than in the two Iraq wars combined; nearly 25 times more Americans were killed in the jungles and rice paddies of the Southeast Asian country than in the armed conflict in Afghanistan, America's longest foreign war.
Yet more than four decades after the end of the Vietnam War, the United States government is moving full speed ahead to re-engage Vietnam in hopes of forging a new strategic and geopolitical relationship. For its part, Vietnam responded without hesitation to America's eagerness to form a partnership vital to its announced Pivot to Asia. In June 2015, the Vietnamese Communist Party chief Nguyen Phu Trong made a historic visit to the White House. This month, President Barack Obama visited Hanoi for the first time and lifted a long-standing U.S. ban on exporting weapons to Vietnam.
The accelerated Washington-Hanoi tango has not been primarily motivated by a desire for mending historical wounds, nor is it signaling America's embrace of the authoritarian communist governance Vietnam still practices. The primary reason for the recent robust American pivot to Vietnam is the two countries' shared discomfort and loathing of China's expansionism in Southeast Asia in general, and in the South China Sea in particular.
There are fourteen countries that share land borders with China, and eight share maritime boundaries. One way or another, China has territorial and maritime disputes with nearly all of them. Of all China's neighbors, the country that resents and resists China the most, with which China has waged more wars and other forms of armed conflict is Vietnam. Since 1979, China and Vietnam have been involved in more than half a dozen armed conflicts ranging from a full scale war of invasion by China (February 1979), to fierce land and naval battles (e.g., the Battle of Hill 400 or Fakashan [1981], the Battle of Vi Xuyen or Laoshan [1984], and the Battle of Johnson South Reef [1988]), to sustained shelling with enormous amounts of explosives. In 1985 alone, China fired one million shells into Vietnam's Vi Xuyen region, followed by another long series of artillery bombardments during the subsequent two years, accompanied by Chinese attacks on Vietnamese positions involving at least fifteen PLA divisions. In just five years between 1985 and 1989, China fired more than two million shells into Vietnam.
One would think that such an abysmal record of bilateral carnage would make Vietnam China's Public Enemy Number One, especially considering that since 2012, when China's new Supreme Leader Xi Jinping dramatically firmed up his country's unilateral claims for almost the entire South China Sea as China's sovereign waters, Vietnam has demonstrated fiery resistance involving numerous clashes at high seas between Chinese and Vietnamese vessels.
But that has not been the case because China does not view Vietnam as its most dangerous challenger in the region. Instead, Beijing has singled out two countries as its chief targets of cantankerous provocations: the Philippines and Japan, which share something China dreads the most, i.e., collective defense arrangements with the United States, under which an armed attack on the Philippines or Japan will bring the U.S. armed forces into the fight against China.
Vietnam does not have such a bilateral defense arrangement with the U.S., the only country of consequence militarily in the region. As such, despite Vietnam's record of violent reactions against China's expansionism in the region, especially in the South China Sea, China has in recent years chosen to tolerate Vietnam's resistance. In 2015, China first enraged Vietnam by drilling oil near the disputed Paracel Islands off the coast of Vietnam, leading to violent clashes at sea between the two countries' vessels. China uncharacteristically backed off by moving the gigantic oil rig elsewhere. In November 2015, Supreme Leader Xi Jinping swallowed China's pride and paid a lavish visit to Vietnam, with a state banquet and a rare occasion of addressing the Vietnamese National Assembly that stressed the otherwise illusive "bilateral friendship" and economic co-prosperity.
All this tactical hobnobbing is a result of one preponderant consideration: the fear of Vietnam becoming another ally of the United States in the region, thus greatly impeding China's move southward to claim the South China Sea. And the astute comrades in Hanoi certainly understand this Beijing psychology and have played the Washington card admirably well, with frequent dalliances with the Obama administration on enhancing maritime security and strengthening the collective backbone of the ASEAN nations in the face of China's aggressive stance.
Which is why President Obama's visit to Hanoi is of great strategic importance. The lifting of the Vietnam arms embargo is just a first step toward an American pivot to Hanoi, a step nevertheless key to safeguarding peace, stability, freedom of navigation, and America's long-standing commitment to the Asia Pacific region.
Or as the president put it in Hanoi:
"With this visit, we have agreed to elevate our security cooperation and build more trust between our men and women in uniform. We'll continue to offer training and equipment to your Coast Guard to enhance Vietnam's maritime capabilities. We will partner to deliver humanitarian aid in times of disaster. With the announcement I made yesterday to fully lift the ban on defense sales, Vietnam will have greater access to the military equipment you need to ensure your security. And the United States is demonstrating our commitment to fully normalize our relationship with Vietnam."
"America's new partnership with Vietnam is rooted in some basic truths. Vietnam is an independent, sovereign nation, and no other nation can impose its will on you or decide your destiny... Nations are sovereign, and no matter how large or small a nation may be, its sovereignty should be respected, and its territory should not be violated. Big nations should not bully smaller ones. Disputes should be resolved peacefully... In the South China Sea...we will stand with partners in upholding core principles, like freedom of navigation and overflight, and lawful commerce that is not impeded, and the peaceful resolution of disputes, through legal means, in accordance with international law. As we go forward, the United States will continue to fly, sail and operate wherever international law allows, and we will support the right of all countries to do the same."
Here Mr. Obama does not mention China by name. And he does not have to.