China in the Mediterranean and Implications for the United States and Europe
"One Belt, One Road is like a symphony involving and benefitting every country."
—Chinese Foreign Minister Wang Yi
"Seen from Beijing, Europe is an Asian peninsula."
—Angela Merkel
Two decades ago, the strategist Mac Owens wrote a seminal essay on classical geopolitics. He described geopolitics as "the study of the political and strategic relevance of geography to the pursuit of international power," adding that it involved the control of spatial areas that have an impact on the security and prosperity of nations. China's Belt and Road Initiative (BRI), of which the Mediterranean is a key part, has forced the United States and Europe to think more seriously about geopolitics for the first time since the Cold War. Geopolitical competition requires the orchestration of political, economic, and security instruments—a "symphony" in the words of China's Foreign Minister. The challenge for the United States and Europe going forward will be to agree on the problems posed by BRI, and then to develop a set of integrated strategies in response. The Mediterranean would be a good starting point, though any such strategy would first need to recognize and overcome several key challenges.
First, China has a head start. It will thus be quite difficult to chart a path to reverse course on its existing infrastructure projects and investments—all designed to link China more closely to Europe. Since 2012, China has created a network of port and other coastal infrastructure projects, and invested in key information-related projects. Greece has become a focal point for these investments, with Beijing having invested more than $10 billion there. In 2016, a Chinese company acquired a controlling 51-percent stake in Greece's principal port, Piraeus. Two major Chinese entities, Cosco and China Merchants Port Holdings, have been buying other terminals in the Mediterranean. In addition, most recently, Cosco finalized the takeover of a terminal in Belgium's second-biggest port, marking the Chinese firm's first bridgehead in northwestern Europe. Overall, China controls one-tenth of all of Europe's port capacity.
Second, China's presence and active investments in the region have divided friends and provided them with alternatives to the EU and the United States. Several examples are now in play. China has siphoned EU members away from cooperation with the United States and Japan on WTO suits against China. Recently, Greece successfully blocked a European Union statement at the United Nations that criticized China's human rights record—the first time the EU was not able to issue a unified statement at the UN Human Rights Council in Geneva. Perhaps more importantly, countries are asserting their national sovereignty in different ways. Greek Foreign Minister Nikos Kotzias characterized himself as a Europeanist who looked "forward to building bridges with the new emerging world." The head of the Greek Parliament's foreign affairs and defense committee noted that while "the Europeans are acting towards Greece like medieval leeches, the Chinese keep bringing money." In a 2017 public opinion survey in Greece, a majority of respondents listed the EU as the most important foreign power, but when asked which ranked second, more respondents (53 percent) listed China than the United States (36 percent). China's active investments in the region likely will also eventually create tensions with one of the America's closest allies, Israel. Israel and China's "comprehensive innovation partnership" and China's growing investments in Israel's high-tech sector could, over time, create problems—at the very least strain information sharing—between the U.S. and Israel.
China's strategic investments in the Mediterranean are similar to its incremental investments in island building in the South China Sea—which over time, created a new status quo. This new status quo, combined with current tensions within NATO and the EU, will make it much harder for the West to reverse China's gains. A starting point requires first, the political will to develop a counterstrategy. One step might be for the United States and its allies (it should be a joint initiative) to undertake a serious and detailed study of China's "hard investments" as well as its "soft" or "sharper" instruments (such as high levels of engagement by Chinese companies, political and diplomatic leaders, and universities). Such an assessment will require granular economic information about existing and emerging connectivities in the region.1 Complementing such an assessment would be an analysis of the resources available across the Multilateral Development Banks, and the U.S.'s new Development Finance Institution. At the very least, such assessments can provide a common operating picture for concerned states.
But given that, as Jakub Grygiel noted in his paper for Hoover's fall Military History workshop, the nature of the Mediterranean Sea favors continental control—"it is a sea of passage and a sea of land powers"—and that its unity and stability depend on the ability of one power—or a group of friendly powers—to control its shores and access points, any successful strategy will require steps to restore the political cohesion of states in the region. Given the current climate, this author is not feeling especially hopeful.
---
1 In Belt and Road: A Chinese World Order (London: Hurst Publishers, 2018), Bruno Maçães describes (p. 52) the concept of an economic corridor approach, which is more than merely a transportation corridor, but rather about more complex economic geographies that take "advantage of both specialization and connectivity to bring about superior economic outcomes."
---
Get the new issue of Strategika
What will China look like as an economic and political superpower after the coronavirus pandemic—and what does it mean for the future of America? The new issue of Hoover Institution's Strategika provides important insight into these questions. Get your free copy now.
Get your free copy now »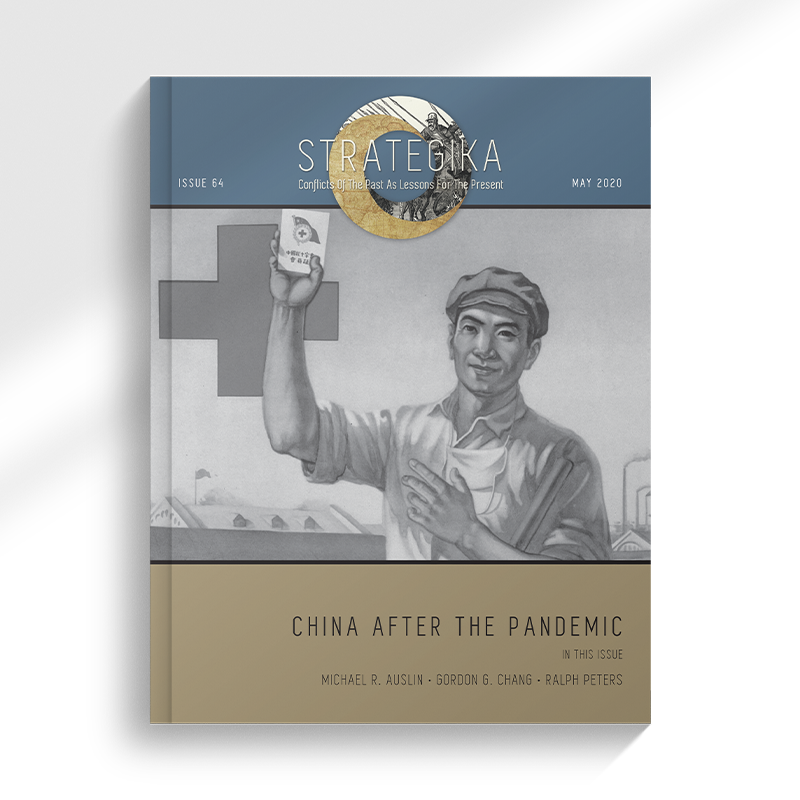 Join the Conversation