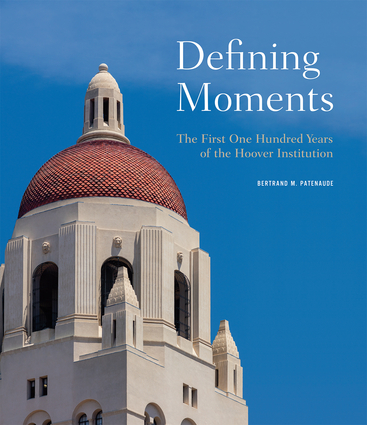 A century ago, amid the devastation of World War I, Herbert Hoover established a collection of library and archival materials at Stanford University devoted to the causes and consequences of war. Founded as the Hoover War Collection in 1919, the institution has evolved into one of the world's premier research centers devoted to the advanced study of politics, economics, and international affairs.
Defining Moments charts the origins and growth of what is today the Hoover Institution over the course of a century of global upheaval, from World War I and the Russian Revolution, through World War II and the Cold War, to the rapidly developing challenges we face today. The connecting thread is the notion encapsulated in the institution's slogan, Ideas Defining a Free Society: that American values of democracy, capitalism, and freedom can serve as a blueprint for improving lives around the world. 
Richly illustrated with rare photographs, political posters, and archival gems, Defining Moments traces the growth over the past century of Hoover's unparalleled collections on war, revolution, and peace and chronicles Hoover's emergence, beginning in the 1960s, as a public-policy research center whose mission is to foster prosperity, maintain democracy, and preserve peace.