In this episode of Battlegrounds, H.R. McMaster and General Carter discuss his experiences in the British military, the war in Ukraine, the implications of the US and Coalition withdrawal from Afghanistan, and the future of warfare.
Reflecting on his vision of the world today, former chief of the UK Defense Force Nick Carter discusses the world order in terms of Ukraine and the challenges that democracies face. Institutions and alliances from the first half of the 20th century are ripe for reexamination in light of current strategic developments. Leaders should learn from the goals of nation building and the withdrawal from Afghanistan to determine how to support budding but challenged regions. McMaster and Carter discuss how the West can move forward in this period of renewed great power competition.
H.R. McMaster in conversation with General Sir Nick Carter, Former Chief of UK Defense Force, on Wednesday, May 3, 2023.
Learn more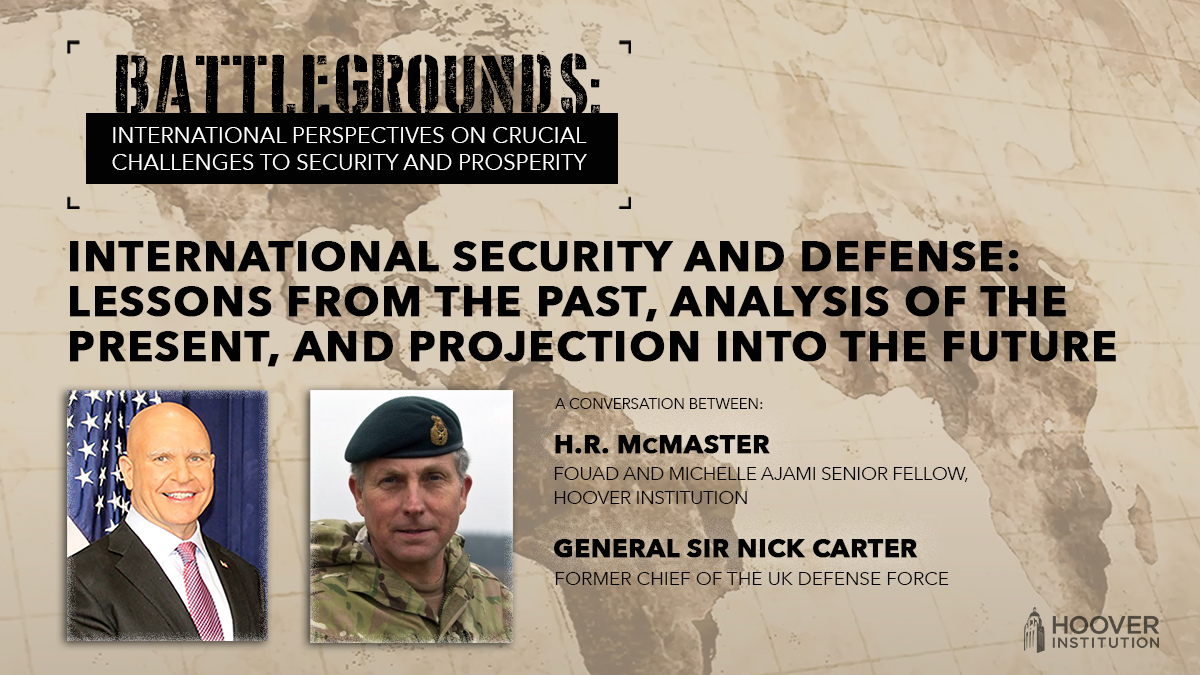 ABOUT THE SPEAKERS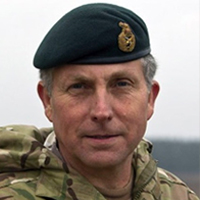 General Sir Nick Carter GCB CBE DSO - General Sir Nick Carter is an accomplished strategic leader with over 45 years' military experience. General Carter served as the United Kingdom's Chief of the Defence Staff from 2018 to 2021 where he was the principal military advisor to the Prime Minister, the National Security Council, and the Secretary of State for Defence, and the Head of the UK Armed Forces. In this role he also served as the professional Head of the British Army. General Carter has commanded military operations at every level of command and in a variety of different contexts, including the Troubles in Northern Ireland, UN peacekeeping in Cyprus, NATO peace enforcement in both Bosnia and Kosovo, and commanding the UK-led Brigade in Iraq in 2003-04. He has multiple years of experience in Afghanistan since 9/11, commanding 55,000 US and NATO troops in Afghanistan in 2009-10, and in 2013, he was Deputy Commander of the International Security Assistance Force, ISAF.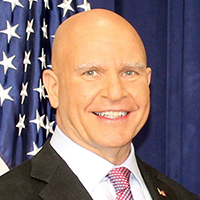 H.R. McMaster is the Fouad and Michelle Ajami Senior Fellow at the Hoover Institution, Stanford University. He is also the Bernard and Susan Liautaud Fellow at the Freeman Spogli Institute and lecturer at Stanford University's Graduate School of Business. He was the 25th assistant to the president for National Security Affairs. Upon graduation from the United States Military Academy in 1984, McMaster served as a commissioned officer in the United States Army for thirty-four years before retiring as a Lieutenant General in June 2018.