Raj Choudhury joins Steve to talk about work from home and other flexible working arrangements. They discuss Raj's study of the transition to remote work by U.S. patent examiners, including its effects on productivity and employee morale. Next, they consider which jobs and organizations are suited for remote work, which are not, and what it takes to successfully manage a remote workforce. To close, they remark on the potential of remote work to revitalize smaller cities.
Learn more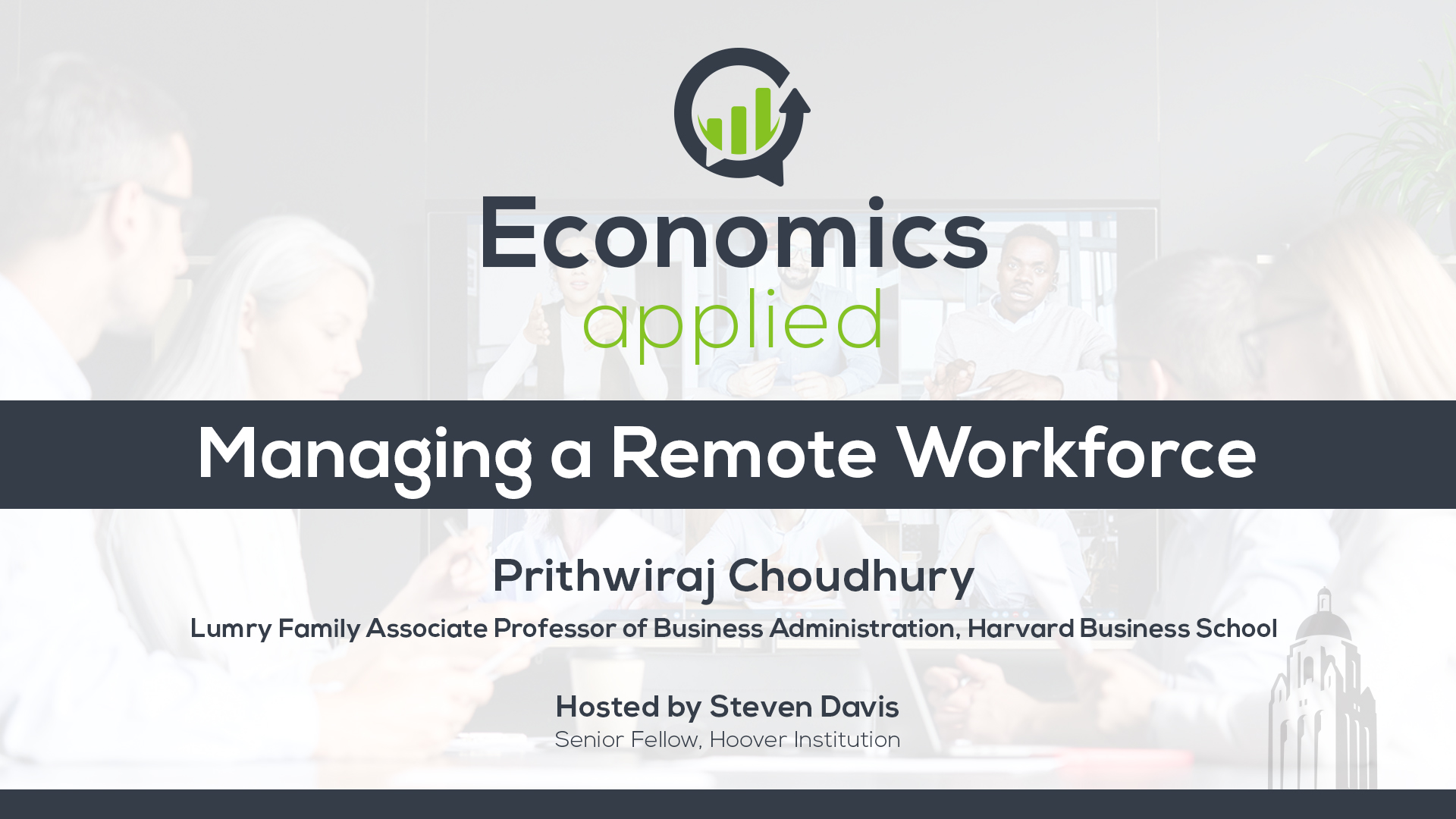 ABOUT THE SPEAKERS
Prithwiraj Choudhury is the Lumry Family Associate Professor of Business Administration at Harvard Business School and an expert on work-related management practices. His publications include articles in Management Science, Organization Science, Strategic Management Journal, Review of Financial Studies, and the Harvard Business Review. He earned his doctorate from Harvard and has degrees from the Indian Institute of Technology and the Indian Institute of Management. Before life as an academic, he worked at McKinsey & Company, Microsoft, and IBM.
Steven J. Davis is the Thomas W. and Susan B. Ford senior fellow at the Hoover Institution and senior fellow at the Stanford Institute for Economic Policy Research (SIEPR). He is an economic adviser to the U.S. Congressional Budget Office, elected fellow of the Society of Labor Economists, and consultant to the Federal Reserve Bank of Atlanta. He co-founded the Economic Policy Uncertainty project, the U.S. Survey of Working Arrangements and Attitudes, the Global Survey of Working Arrangements, the Survey of Business Uncertainty, and the Stock Market Jumps project. He co-organizes the Asian Monetary Policy Forum, held annually in Singapore. Before joining Hoover, Davis was on the faculty at the University of Chicago Booth School of Business, serving as both distinguished service professor and deputy dean of the faculty.