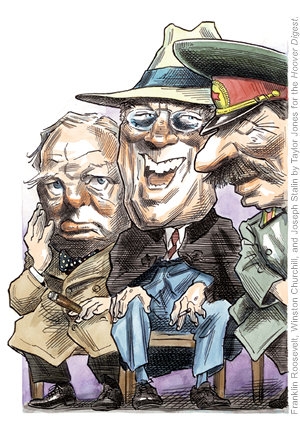 Since the end of the Cold War there has been considerable reviewing of President Roosevelt's policies toward the Soviet Union. Most notable has been the essay of Professor Arthur Schlesinger Jr., who has argued that the 1989 counter-revolution in Central Europe vindicates President Roosevelt's wartime diplomacy, which, he says, had been criticized for its "naiveté" about Stalin.
However, I argue that, from the time he took office in 1933, FDR ignored informed assessments from within the State Department of the nature of Soviet diplomacy and that, consequently, the peoples of Central Europe for some four decades paid the price. As sources for my rebuttal of Schlesinger, I cite the writings and memoirs of American diplomats Charles Bohlen, Averell Harriman, Loy Henderson, and George Kennan, participant-observers in the development of Soviet-American diplomacy between 1933 and 1945. I begin with a discussion of Professor Schlesinger's article, as he is the most authoritative of FDR's defenders.
The eminent Pulitzer Prize–winning historian's op-ed essay in the Wall Street Journal (June 21, 1990) was titled "FDR Vindicated." Professor Schlesinger's theme was that, despite longtime disparagement of President Roosevelt's wartime diplomacy, especially the 1945 Yalta agreement, the successful counter-revolutions in Central Europe were really "the fulfillment of Roosevelt's purposes at the Yalta conference."
"Roosevelt was much criticized too for naiveté," wrote Professor Schlesinger, "in supposedly thinking that he could charm Stalin into amiable postwar collaboration. . . . FDR's determination to work on and through Stalin was, it seems in retrospect, founded on shrewd insight. As Walter Lippmann once observed, Roosevelt was too cynical to think he could charm Stalin."
I argue to the contrary that President Roosevelt was naive about Stalin and about communism from 1933 until some days before his death in 1945. I argue from the published record that Professor Schlesinger's essay is a piece of a historical revisionism aimed at restoring FDR's blemished reputation as a statesman. Those I quote in rebuttal of Professor Schlesinger's thesis, such as Kennan, Bohlen, Henderson, and Harriman, can in no way be described as representing a rightist viewpoint.
I do not intend to argue about President Roosevelt's "purposes" at Yalta. Obviously the coauthor of the Atlantic Charter could not have wanted Central Europe to fall prey to Stalin's postwar designs. The question, then, is not the virtuousness of FDR's purposes but the quality and intelligence of his diplomacy in seeking the fulfillment of those purposes.
I begin by examining President Roosevelt's decision to engage in personal diplomacy in 1933 on the question of recognition of the Soviet Union.
In the early years after the Bolshevik revolution, some U.S. diplomats who had begun to specialize in Soviet affairs believed that we should have as few dealings with the USSR as possible. Loy W. Henderson, a longtime career diplomat and one of the principal architects of twentieth-century U.S. diplomacy, opposed the establishment of diplomatic relations with the Soviet Union until it could give credible guarantees that it would not interfere in U.S. internal affairs.
In his memoirs Bohlen says that Henderson "led the quiet struggle in the [Roosevelt] administration against the soupy and syrupy attitude toward the Soviet Union. A man of the highest character, absolutely incorruptible, he always spoke his mind, a practice that did not make him popular."
Henderson was concerned that Lenin's revolutionary ambitions had rendered the USSR institutionally incapable of fulfilling the international accords it had signed, let alone of abiding by the private assurances it had given. He wrote:
It was my belief that since leaders of the Kremlin eventually were intending to contribute to the violent overthrow of all the countries with which the Soviet Union maintained relations, they considered Soviet relations with every country to be of a temporary or transitional character, subject to change at any moment.
The fundamental continuity of Soviet foreign policy vis-à-vis the Western democracies, which was luminously clear to Henderson and his subalterns from day one of the Bolshevik revolution, was apparently not so clear to President Roosevelt or to those around him like Harry Hopkins, who simply did not, could not, or would not understand the meaning of Marxism-Leninism-Stalinism.
A few months after his March 4, 1933, inauguration, the State Department's Eastern European Division presented FDR with a paper on how he might proceed in the negotiations for recognition of the Soviet Union. The memorandum, dated July 27, 1933, contained this prescient paragraph:
The fundamental obstacle in the way of the establishment with Russia of the relations usual between nations in diplomatic intercourse is the world revolutionary aims and practices of the rulers of that country. . . . It would seem, therefore, that an essential prerequisite to the establishment of harmonious and trustful relations with the Soviet Government is abandonment by the present rulers of Russia of their world revolutionary aims and the discontinuance of their activities designed to bring about the realization of such aims. More specifically and with particular regard to the United States, this prerequisite involves the abandonment by Moscow of direction, supervision, control, financing, et cetera, through every agency utilized for the purpose, of communist and other related activities in the United States.
Little attention was paid in the White House to this memorandum, which dealt with other bilateral issues as well. President Roosevelt was as determined to recognize the USSR as he was to ignore the openly avowed purposes of the Communist International (the Comintern). Even though the documents leading up to recognition contained a Soviet concession that it would refrain from subversive and propaganda activities in the United States, the document failed to mention the Comintern by name. Within a week after the announcement of the establishment of diplomatic relations in 1933, the Daily Worker, the Comintern voice in the United States, was boasting that any claim that "the Litvinov Pact applies to the Communist International will meet with defeat."
It was an ominous event; the Soviet Union was flouting its agreements even before the ink was dry. In the ensuing decades, Soviet disregard of its agreements would be repeated over and over again, which American policymakers usually shrugged off with a what-can-you-do-about-it frown, often seeking to conceal the violations from the American public.
The United States government was fully warned, almost prophetically, by its diplomats who had studied the Soviet Union and understood what recognition entailed. As late as 1953, George Kennan wrote that the United States "should never have established de jure relations with the Soviet
government." Yet FDR, with willful ignorance, embarked on a recognition policy without even seeking an enforceable quid pro quo. American recognition of the USSR, formally announced on November 16, 1933, only strengthened that totalitarian state.
What else but this same willful ignorance would account for the foolish White House statements about Stalin during World War II? What else but a frightening opportunism could account for President Roosevelt's silence on the Katyn Forest massacre when he knew from Winston Churchill that Stalin was responsible for this atrocity? Despite Professor Schlesinger's ex post facto apologia, one observer at Yalta, Charles Bohlen, the president's interpreter, sharply criticized FDR:
I did not like the attitude of the President, who not only backed Stalin but seemed to enjoy the Churchill-Stalin exchanges. Roosevelt should have come to the defense of a close friend and ally, who was really being put upon by Stalin. . . . [Roosevelt's] apparent belief that ganging up on the Russians was to be avoided at all cost was, in my mind, a basic error, stemming from Roosevelt's lack of understanding of the Bolsheviks. . . . In his rather transparent attempt to dissociate himself from Churchill, the President was not fooling anybody and in all probability aroused the secret amusement of Stalin.
Bohlen, who was at Yalta, said that President Roosevelt didn't understand the great gulf that separated the thinking of a Bolshevik from a non-Bolshevik. President Roosevelt, wrote Bohlen, "felt that Stalin viewed the world somewhat in the same light as he did, and that Stalin's hostility and distrust, which were evident in wartime conferences, were due to the neglect that Soviet Russia had suffered at the hands of other countries for years after the Revolution. What he did not understand was that Stalin's enmity was based on profound ideological convictions. The existence of a gap between the Soviet Union and the United States, a gap that could not be bridged, was never fully perceived by Franklin Roosevelt."
W. Averell Harriman, Roosevelt's ambassador to the Soviet Union, was also critical of the president, describing him as a statesman who had "no conception of the determination of the Russians to settle matters in which they consider that they have a vital interest in their own manner, on their own terms. . . . The President still feels he can persuade Stalin to alter his point of view on many matters that, I am satisfied, Stalin will never agree to."
Had political leaders like President Roosevelt (who, at war's end, held the world in his hands) and his éminence grise, presidential adviser Harry Hopkins, understood Lenin's revolution, they would have understood Stalin's resolution. Thus they would not have mindlessly and naively misjudged the imperialist treaty diplomacy of the Soviet Union, quondam ally of Nazi Germany. Here, for example, are the words of Harry Hopkins, after Yalta 1945:
In our hearts we really believed a new day had dawned, the day we had for so many years longed for and about which we had talked so much. We were all convinced we had won the first great victory for peace, and when I say we, I mean all of us, all civilized mankind. The Russians had proved that they could be reasonable and far-sighted and neither the President nor any one of us had the slightest doubt that we could live with them and get on peaceably with them far into the future. I must, however, make one reservation—I believe that in our hearts we made the proviso that we couldn't foretell how things would turn out if something happened to Stalin.
And listen to the words of FDR himself talking about Stalin: "I think that if I give him everything that I possibly can and ask nothing from him in return, noblesse oblige, he won't try to annex anything and will work for a world of democracy and peace." Noblesse oblige, indeed!
By the time FDR realized he had failed at Yalta, it was too late to do anything about it. On March 23, 1945, nineteen days before he died, President Roosevelt confided to Anna Rosenberg, "Averell is right. We can't do business with Stalin. He has broken every one of the promises he made at Yalta." In other words, FDR had really believed that Stalin would keep his promises and treaty engagements.
Watching what was going on during and after the war, Kennan deplored "the inexcusable ignorance about the nature of Russian communism, about the history of its diplomacy." He wrote in 1960:
I mean by that FDR's well-known conviction that although Stalin was a rather difficult character, he was at bottom a man like everyone else; that the only reason why it had been difficult to get on with him in the past was because there was no one with the right personality, with enough imagination and trust to deal with him properly; that the arrogant conservatives in the Western capitals had always bluntly rejected him, and that his ideological prejudices would melt away and Russian cooperation with the West could easily be obtained, if only Stalin was exposed to the charm of a personality of FDR's caliber. There were no grounds at all for this assumption; it was so childish that it was really unworthy of a statesman of FDR's standing.
To paraphrase Kennan, there are no grounds at all for Professor Schlesinger's assumption that the Central European revolutions of 1989 vindicate President Roosevelt's wartime diplomacy. On the contrary, had President Roosevelt not been naive as well as close-minded about Stalin, Central Europe might have escaped Stalin's yoke.
A much later verdict on FDR comes from Professor Simon Schama, who has written that "Roosevelt's amiable characterization of 'Uncle Joe' had an effect on American perception, turning a sinister and murderous dictator into a character from Main Street."
Causality in history is not easy to prove, certainly not with any conclusiveness and not without the risk of oversimplification. Still I think we can say with some justification that Roosevelt's negotiations with Stalin had little to do with the eventual liberation of the Soviet satellite states in the late 1980s. If anything, FDR unwittingly helped Stalin enforce his domination over Central and Eastern Europe.