Social Security: The Unfinished Work
My new book, "Social Security: The Unfinished Work," is now available on Amazon.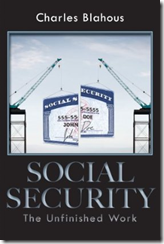 And just in time for the gift-giving season, no less.  Truly, nothing invokes the holiday spirit like a crackling fire, the scent of pine, a mug of hot chocolate and a 375-page book about the fiscal shortfall in our national pension program.  Trust me, your loved one will thank you for it.
But in all seriousness, I wrote this book because I was dissatisfied with the state of the national discussion over Social Security, and in particular with the failure of policy experts to fairly and accessibly explain the relevant issues to the public.  The story of how Social Security got into its present condition is, I believe, a truly fascinating one, and I hope that I have done it some justice. 
I'll be speaking about the book at a Monday, December 6 event at the Heritage Foundation. 
Join the Conversation