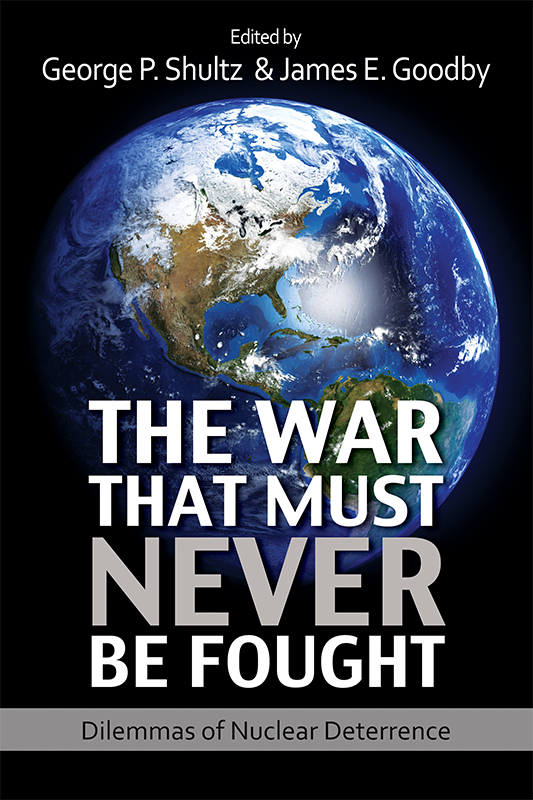 The War That Must Never Be Fought borrows its title from President Ronald Reagan's State of the Union message of 1984 in which he declared "a nuclear war cannot be won and must never be fought."  He was prepared to challenge theories about nuclear deterrence, which were even then outdated. The essays in this book reveal how much more complex the issue that Reagan raised has become. His message was directed to the people of the Soviet Union. Today there are nine nations that evidently possess nuclear weapons and at least a rudimentary means of delivering them. This book makes it clear that deterrence concepts need a fresh look. Can ideas about deterring war that were generated in a bipolar world still be relevant in changed circumstances? Can a policy of deterrence be more safely and effectively practiced if it is decoupled from nuclear weapons?
Some authors of this book argue that a world without nuclear weapons--- President Reagan's goal--- is desirable and that it is in the national security interests of the United States. They point to the existential dangers of even a "small" nuclear war between nations in one of the troubled regions of the world. They point to the risks of forever relying on the hope that an accident will never occur or that stability can be achieved in a world with even more nuclear-armed states in unstable parts of the world.
Other authors hail from regions where neighbors are seen as enemies, memories of war remain a vivid presence in the public mind, and armed conflict is an imminent possibility and an ever-present fear. In such places, these preoccupations foster a different assessment of priorities and risks. These points of view emerge quite clearly in several of the essays. This is why George Shultz, Henry Kissinger, William Perry, and Sam Nunn, in several articles published in recent years in The Wall Street Journal, have emphasized that efforts to address regional confrontations and conflicts must be redoubled, and that a world without nuclear weapons will not simply be today's world minus nuclear weapons.
Without exception, though, the authors of these essays point to signs of hope or suggest potential areas for international cooperation. Many point to the need for new frameworks for organizing global and regional cooperation and identify how to go about establishing pathways that might create the conditions for a world without nuclear weapons. Some offer detailed prescriptions for escaping from the nuclear trap in which nations, especially in regions where hostilities are endemic, have been stuck for years. The book concludes with a chapter that provides a road map for a global joint enterprise to create the conditions for a world without nuclear weapons.
Readers will note the implicit dialogue that is taking place in this book between well informed and well placed experts on nuclear policies from many parts of the world. In the description of the contents of chapters that follows, we have organized the presentation to assist readers in tracking the several debates that are going on in this book.
Themes of the Book
Preface
Challenging the Assumptions of Classical Nuclear Deterrence Theory
Europe and Russia
The Middle East
South Asia
China
Northeast Asia: Japan and Korea
The Global Commons: Building a New Cooperative Security Regime
Editors
George P. Shultz served in the Reagan administration as chairman of the President's Economic Policy Advisory Board (1981–82) and secretary of state (1982–89). Since 1989, he has been a distinguished fellow at Stanford University's Hoover Institution; in 2001, he was named the Thomas W. and Susan B. Ford Distinguished Fellow.  He is honorary chairman of the Stanford Institute for Economic Policy Research, Advisory Council, and chair of the Precourt Institute Energy Advisory Council at Stanford, the MIT Energy Initiative External Advisory Board, and the Shultz-Stephenson Task Force on Energy Policy at the Hoover Institution. 
James E. Goodby has served as US ambassador to Finland, vice chairman of the US delegation to the Strategic Arms Reduction Talks, and chief US negotiator for the safe and secure dismantlement of nuclear weapons. He is currently the Annenberg Distinguished Visiting Fellow at the Hoover Institution. In 1994, he received the first Heinz Award in Public Policy from the Heinz Family Foundation.
Contributors
Nobumasa Akiyama, Steven P. Andreasen, Shlomo Brom, Michael S. Gerson, James E. Goodby,  Karim Haggag, Peter Hayes, Peter Jones, S. Paul Kapur, Katarzyna Kubiak, Li Bin, Oliver Meier, Chung-in Moon, Benoît Pelopidas, Steven Pifer, Pavel Podvig, George P. Shultz, Isabelle Williams