One of the consequences of having a volunteer military, and a relatively small one at that, is that few Americans any longer have experience of war. The United States armed forces ended conscription in 1973; we are now two full generations from the expectation by young men that they would serve. Ending the draft substantially improved our fighting force by eliminating the problems that come with people who do not want to be there, but it also allowed us to separate ourselves from the experiences of those who fight for our country. For the past thirteen years, we have been a military at war, but most Americans have been little affected by it.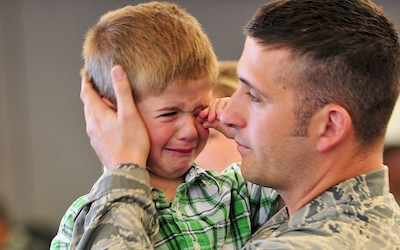 Photo credit: The National Guard
Americans have a cultural predisposition to support our troops, thanking them for their service, putting yellow ribbons and bumper stickers on cars, offering prayers in church and recognition at sporting events, sending care packages those who are deployed. But few Americans have much understanding of what the experience of combat is like, whether and how soldiers, sailors, airmen, coast guardsmen, and Marines think about the killing we rely on them to do for us, how they come to terms with their actions and the consequences of those actions; few Americans have the faintest idea how to help them reacclimatize to society when they come back from their combat experiences.
We are so far removed from the experience of our veterans that we tend to stereotype them either as comic book heroes or as victims. Most of our combatants are neither of these things. They are well-trained men and women thrust into what General James Mattis terms "the morally bruising environment" of combat, doing their best to accomplish their mission, protect each other, and do the least harm to others in the process. But those of us with no experience of combat cannot even imagine what it is like. And this unfamiliarity leads to expectations that the military can be as progressive as our society despite its very different functions, causes harmful stereotypes of veterans as though all were dangerous or disabled, and leads to difficulties for combat veterans in reconnecting with American society.
The last large-scale academic study of gaps between American civilians and our military was conducted in 1998; the Hoover Institution is now sponsoring a series of nation-wide surveys to inform scholarship on the gaps (for there are many) between our military and civilian society. But scholarship is only part of the essential connective tissue; art serves powerfully to bring other lives to life for us. Singer and writer Josh Ritter often returns to the subject in his work, like in the novel, Bright's Passage and in the song "Girl in the War" from his latest album. Veterans give a sharply funny window into their perspective at the Duffle Blog. Journalist Dan O'Brien has written a book of poems titled War Reporter. Veterans  are also producing literature of a very high caliber, including Brian Castner's memoir The Long Walk, Kevin Powers' novel The Yellow Bird, and now a magnificent book of short stories by Phil Klay titled Redeployment.
The stories in Redeployment are sequential, beginning with a Marine returning from the Iraq war and progressing through the experiences of other veterans who reflect back on their lives as they move further away from their combat. Klay has a wonderful eye for the telling detail: Marines on the flight home with their rifles between their knees, the bayonets removed because you can't carry weapons on an airplane; a mortuary officer gently asking a Marine to wear his wedding band on his dog tags because taking them off bodies is the saddest part; the way a man savors the softness of his wife after the hardness of war; the difficulty of dialing down once home the alertness that keeps them alive in combat; how Marines in combat watch dying dogs lap up blood. He also conveys the cadences of their language and humor, raunchy and rough.
One of the most riveting stories in the book is about two veterans, close friends, one disfigured from burns. They are meeting up with two girls, one of whom, also a disabled veteran, the disfigured vet is yearning for. She persuades him to tell the story of his injury to an acquaintance who is writing an anti-war play. He does, but the uninjured vet gets more and more aggravated that the playwright has no interest in anything but the IED attack—she wants sensationalism and to make an object of pity out of what remains of the men. She does not want to understand how he has coped and made himself psychologically strong again. Out of a deep protectiveness, the uninjured vet moves aggressively to confront the playwright's condescension. Asked to describe the disabled vet before the attack, he says "to be perfectly honest, he's was a worthless piece of shit. No subject for a play, that's for sure." I smile. "Good thing he caught on fire, right?"
The book is full of moments in which veterans realize they are being patronized by civilians. Some use it to their advantage, some withdraw from contact, some become unmoored and self-destructive. What is so wonderful about Phil Klay's book is that it conveys not one veteran's experience, but a window into a multitude of veterans and their experiences. Klay engages seriously and repeatedly on that most morally and practically difficult problem of combat: how to induce soldiers to risk their lives and kill, without them either unraveling from the experience or becoming evil. He vividly shows successes and failures of leadership, which are the consequences of split-second decisions on the Marines as a war-fighting machine and as individuals—but he does not condemn them.
Even the graphic design of the book is thought provoking. On the cover, the title is written in black with the "deploy" in "Redeployment" highlighted in white, emphasizing that it is the deployment that is most consequential. The title page dissects the word differently into four letter lines (itself an interesting subtlety, that they become four letter words). The visual arrangement places the emphasis on "ploy," leaving open many interpretations—recruitment contracts could be the ploy (a standard joke among troops), the wars could be the ploy, and the ability to ever fully redeploy could be the ruse. It is a great metaphor for the book.
The best story in the book is called "Psychological Operations," and is about a veteran attending a small liberal arts college getting into a confrontation with another student. He sums himself up this way:
The weird thing with being a veteran, at least for me, is that you do feel better than most people. You risked your life for something bigger than yourself. How many people can say that? You chose to serve. Maybe you didn't understand American foreign policy or why we were at war. Maybe you never will. But it doesn't matter. You held up your hand and said, "I'm willing to die for these worthless civilians."
Initially the veteran is attracted to the other student's feistiness, but her conversion to Islam ruins her appeal. Her questioning of how he could "kill his own people" (she wrongly believes him to be Muslim) brings a sharp response that she characterizes to the college leadership as a threat of violence. The vet wends his way out of rebuke by manipulating prejudices about PTSD, but then confronts the student again:  "'You think the big bad war broke me,' I said, 'and it made me an asshole. That's why you think I said those things. But what if I'm just an asshole?'"
It's a great moment, his insistence on being judged as an individual not as a veteran. It leads to an extended conversation—monologue, really, since the veteran isn't much interested in her story; he is so self-absorbed that he needs to tell his. The two proceed to have an awkward and difficult conversation, him telling her the truth about his experience of combat and disorientation with other people projecting their beliefs onto him. The story ends with her giving him a benediction of sorts: "Maybe we'll talk another time."
Phil Klay's book is filled with imperfect people trying to make their peace with what they have experienced. It shows the real difficulty of connecting to our veterans and weaving them back into civilian society. It also conveys how important that is to do. What our veterans deserve of us is more than thanking them for their service. They also deserve us listening to what they want to tell us, creating a safe space for what they do not or cannot say, and tugging them gently and insistently back into our broader civilian society. This wonderful book of stories is a great place to start trying to understand who the men and women that defend our country actually are.