Israel: Perspective On Diplomacy, Defense, And Shared Security
In this episode of Battlegrounds, H.R. McMaster and Yair Lapid, chairman of the Yesh Atid party and opposition leader in the Israeli Parliament discuss challenges to Israel's security, the Abraham Accords, and the prospects for enduring peace in the Levant and the broader Middle East.
H.R. McMaster in conversation with Yair Lapid, chairman of the Yesh Atid party and opposition leader in the Israeli Parliament, on Wednesday, March 3 at 9:00am PT.
---
WATCH THE LIVESTREAM @ 9AM PT
---
In this episode of Battlegrounds, Fouad and Michelle Ajami Senior Fellow H. R. McMaster interviews Yair Lapid, chair of Israel's Yesh Atid party and candidate for prime minister in that country's upcoming March elections. Topics in the conversation include how Israel is managing the crisis of the COVID-19 pandemic; prospects for an Israeli-Palestinian peace process; the threat of a potentially nuclear-armed Iran; the impact of the Abraham Accords signed between Israel and a succession of Arab states, including the United Arab Emirates, Bahrain, Morocco, and Sudan; political strife in Lebanon; and the ongoing civil war in Syria.
Lapid explains that, like the United States, Israel remains strong despite a polarized political climate, because its people are able to resolve problems through democratic institutions and processes. Regarding Israel's peace prospects with the Palestinians, Lapid argues that the future of the country's Jewish and democratic character hinges on a two-state solution, in which the Israelis achieve peace and security and Palestinians realize full nationhood. He adds that the recently forged Abraham Accords could potentially help apply diplomatic leverage on the Palestinian leadership to restart peace talks. 
Lapid expresses concern about Lebanon because of its dysfunctional government, continually worsening economy, and violent extremism, which is sustained by Iranian-backed Hezbollah forces. He maintains that Israel is doing all it can to provide aid to the Lebanese people. Similarly, Lapid contends that Iran also presents a threat to Israel in Syria, where it is supporting proxy forces.
Lapid addresses Iran's nuclear program and maintains that he would support the United States' renegotiating the JCPOA (Joint Comprehensive Plan of Action) with Iran's leadership, but only if they agree to abandon uranium enrichment and discard their ballistic missile cache.
Finally, Lapid stresses that even though the United States has achieved energy independence, he believes it should not disengage from the Middle East and give space to other actors—principally Iran—and allow them to disrupt the region. He advocates that US policy makers work closely with allies to protect mutual security and economic interests. 
---
ABOUT THE SPEAKERS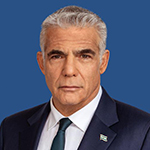 Member of Knesset Yair Lapid is the Leader of the Opposition and the Founder and Chairperson of Yesh Atid, Israel's largest centrist party. Lapid served as Israel's Finance Minister and a member of the Political- Security Cabinet during the 19th Knesset.  Before entering politics, Lapid anchored the main Friday evening news program for 4 years and prior to that, hosted his own show for 8 years on Israel's Channel 2. Between 2002 and 2013, Lapid wrote a weekly column in Israel's leading daily newspaper, Yediot Ahronot. He is the author of 12 books and a two-time recipient of the "Platinum Book Award" by the Israeli Union of Publishers.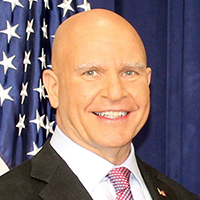 H. R. McMaster is the Fouad and Michelle Ajami Senior Fellow at the Hoover Institution, Stanford University.  He is also the Bernard and Susan Liautaud Fellow at the Freeman Spogli Institute and lecturer at Stanford University's Graduate School of Business.  He was the 26th assistant to the president for National Security Affairs. Upon graduation from the United States Military Academy in 1984, McMaster served as a commissioned officer in the United States Army for thirty-four years before retiring as a Lieutenant General in June 2018.
---
Battlegrounds provides a needed forum with leaders from key countries to share their assessment of problem sets and opportunities that have implications for U.S. foreign policy and national security strategy. Each episode features H.R. McMaster in a one-on-one conversation with a senior foreign government leader to allow Americans and partners abroad to understand how the past produced the present and how we might work together to secure a peaceful and prosperous future. "Listening and learning from those who have deep knowledge of our most crucial challenges is the first step in crafting the policies we need to secure peace and prosperity for future generations."