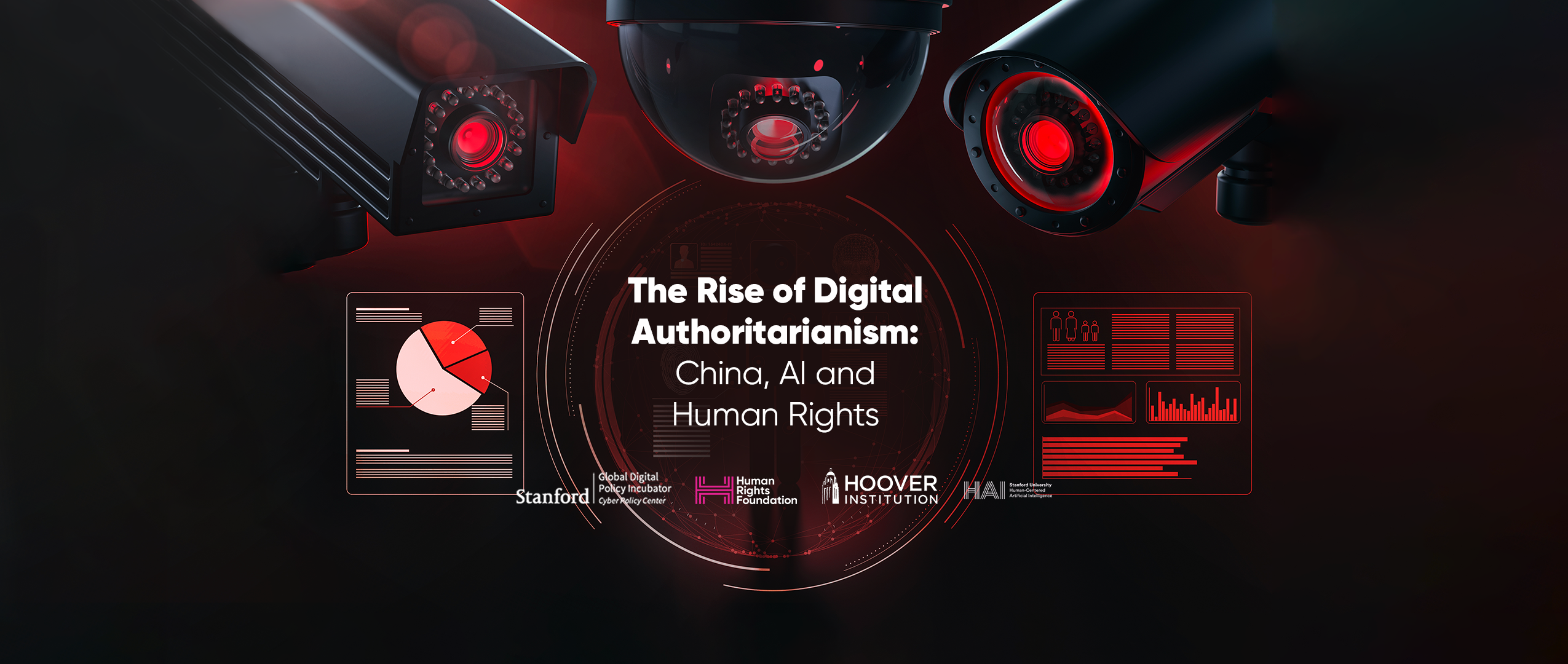 Hoover Institution (Stanford, CA) – The Hoover Institution's new director,
Condoleezza Rice
, provided opening remarks on Tuesday, September 29, to a Hoover-partnered virtual conference about the Chinese government's application of artificial intelligence and other cutting-edge technologies, arguing that they pose a unique and far greater challenge than Soviet military ambitions during the Cold War.
The four-day conference, The Rise of Digital Authoritarianism: China, AI, and Human Rights, which runs on select dates through October 9, is copresented by Hoover's project on China's Global Sharp Power, chaired by Senior Fellow Larry Diamond and managed by Research Fellow Glenn Tiffert; Stanford's Global Digital Policy Incubator; the Stanford Institute for Human-Centered Artificial Intelligence; and the Human Rights Foundation. Programs include keynote conversations with Eric Schmidt, former Google chairman and CEO; Michael Brown, director of the Defense Innovation Unit at the US Department of Defense; and Audrey Tang, Taiwan's digital minister. Panels cover how AI is powering China's domestic surveillance state, the ethics of doing business with China and Chinese companies, competing in the superpower marathon with China, and how democracies should respond to China's emergence as an AI superpower.
An expert on the history of the Soviet Union and Russia, Rice explained that Moscow was a less formidable adversary than Beijing, because the Soviet economy could not sustain support for its global military ambitions. The Soviet Union was largely isolated from world trade and made up a paltry 1 percent of international GDP in the 1980s.
"We thought of it as a military giant, but it was in fact a technological midget," Rice said. "We were able to defeat the Soviet Union on our values, of course, but also because its technological deficit eventually caught up with it."
Rice explained that since Premier Deng Xiaoping's market reforms in the 1980s, the United States has hoped that China's economic integration with the free world and the growth of its middle class would lead to more rights for its citizens and perhaps political liberalization. She added that in 2005 her then deputy secretary of state, Robert Zoellick, underlined these hopes by asserting that China should become a "responsible stakeholder" in the liberal economic order from which it was deriving enormous economic benefits.
Instead of assuming the obligations of a "responsible stakeholder," China has used its rapidly accumulated wealth and exploited its engagement with American technological innovation to invest in high-tech surveillance capabilities against its citizens and ethnic minorities, such as the Uighur Muslims. Beijing has also become increasingly capable militarily, as evident in its assertiveness in the South China Sea and the Strait of Taiwan.
"[China has] pushed its own technological frontiers by a very determined desire to be the leader," Rice said.
Rice believes that in Silicon Valley there is an attitude that technological innovation always provides good for society. She asserts, however, that technology should be seen as neutral, neither good nor bad. Its advancement should be informed by America's democratic values and institutional constraints that account for ethics, individual liberty, and concerns over personal privacy.
"Human beings have generally been a lot better at the knowledge part of technology than at the wisdom part," Rice held.
She maintains that for authoritarian regimes like the Chinese Communist Party (CCP), an unrestrained application of such technology allows them to "dream big." Beijing has not only created an Orwellian state apparatus that oppresses its people and leaves them no place to hide but also aims to export this mode of governance and interfere in the political affairs of democracies across the world.
A lack of institutional constraints, Rice concludes, provides the CCP and other authoritarians strategic advantages over the free world. However, she cautions that Americans should avoid imitating China and surrendering its democratic values to meet this challenge.
"We need to have a concerted effort on behalf of free peoples to make sure that the digital authoritarians don't win," Rice said. "They can't win the race for this technology, because whoever wins this race is going to have a leg up on shaping the international system."
The complete video coverage of this virtual conference will be available at Hoover.org. Click here to view the full schedule of keynote conversations and panel discussions.
---
Watch the Discussion