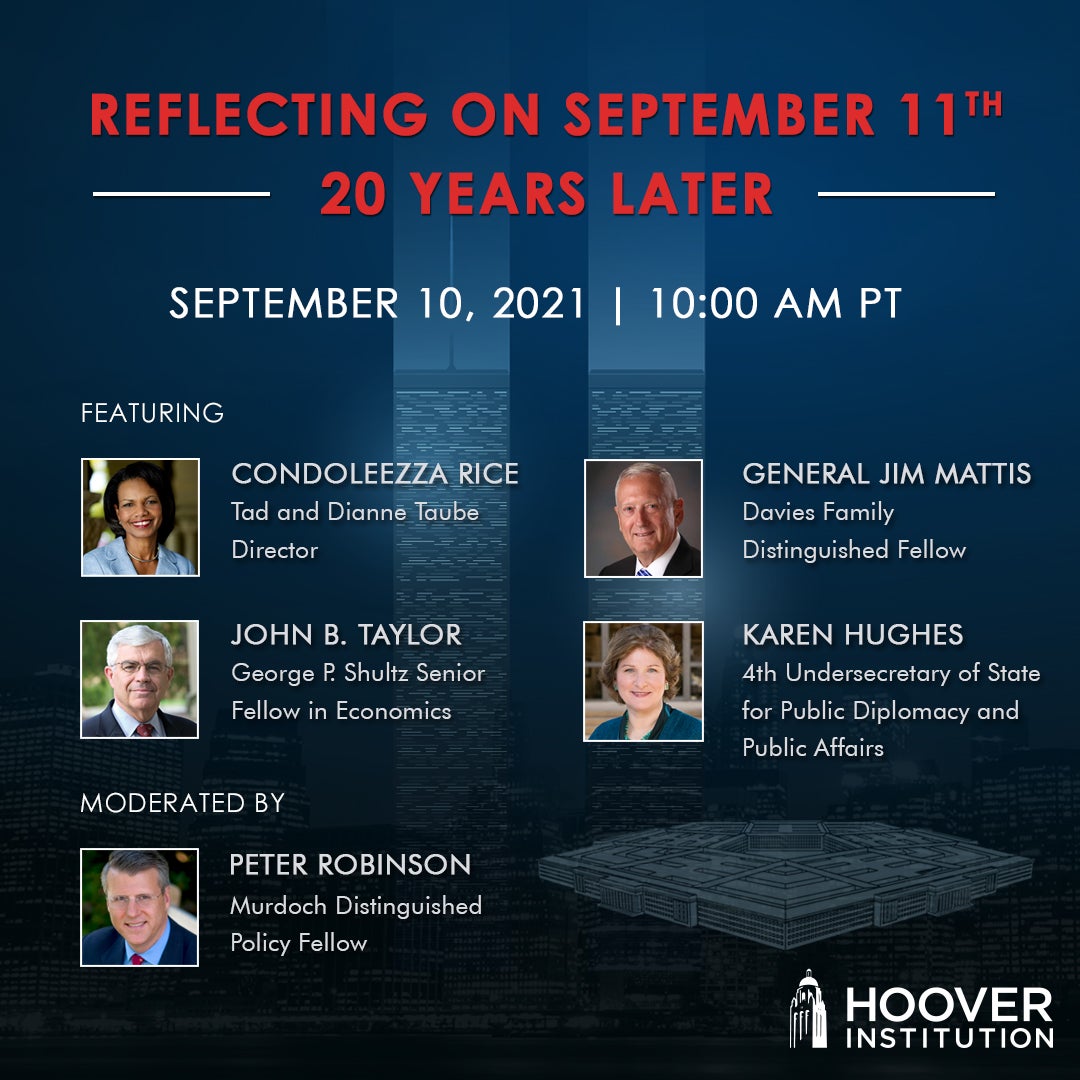 Hoover Institution (Stanford, CA) – A cohort of Hoover fellows, all of whom served in prominent leadership and military positions in the administration of George W. Bush, reflected on their personal experiences during the terror attacks of September 11, 2001.
Participants in the conversation included Condoleezza Rice, White House national security advisor from 2001 to 2005; John B. Taylor, under secretary of the Treasury for international affairs from 2001 to 2005; and James Mattis, who then was serving as a US Marine brigadier general and deputy commander of the First Marine Expeditionary Force. The conversation also included Karen Hughes, the White House communications director from 2001 to 2002. The program was moderated by Peter Robinson, Murdoch Distinguished Policy Fellow and host of Hoover's flagship public affairs interview hour, Uncommon Knowledge.
Rice recalled the events of that fateful day that began when her assistant alerted her that a commercial plane had struck the north tower of the World Trade Center in New York. Shortly thereafter, she was escorted to the White House bunker. Rice explained that at the time, the president was visiting a school in Florida. Meanwhile, Secretary of State Colin Powell was in Peru for a meeting of the Organization of American States. Rice was unable to reach Secretary of Defense Donald Rumsfeld by phone. An hour after the second plane hit the south tower, another commercial jet exploded on impact at the Pentagon and people working in the fortress building were forced to evacuate. In the bunker, Vice President Dick Cheney had a phone conversation with President Bush that concluded with the president providing the authorization to shoot down any aircraft that wasn't communicating with air traffic control centers.
"For an awful few minutes when that plane went down in Pennsylvania, we thought we'd shot it down," Rice remembered.
Resolve and Response
Hughes explained how she and Rice worked with the White House staff to draft a televised presidential address to the American people for that evening. They decided that the president should express calm and convey resolve, and not explicitly declare war. Despite their restraint, Hughes and Rice explained, President Bush went ahead and inserted the line, "If you harbor a terrorist, we will treat you as a terrorist."
"That was the one thing he felt he had to say immediately," Rice recalled. "That couldn't wait. That was a policy decision."
John Taylor described how, down Pennsylvania Avenue at the Treasury department, he was charged with formulating a strategy of tracking and disrupting the financing of al-Qaeda and other terror groups.
"Within a matter of hours, we had an action plan," Taylor said.
In his book Global Financial Warriors: The Untold Story of International Finance in the Post-9/11 World, Taylor details, among other accomplishments, how his team at the Treasury Department worked to freeze terrorists' assets and assist in the financial reconstruction of Afghanistan after the fall of the Taliban.
Mattis explained how immediately after the 9/11 attacks he was deployed to Egypt to lead a military exercise that was intended to demonstrate that the United States was not abdicating the Middle East. He then immediately transitioned to Bahrain to begin the planning for the invasion of Afghanistan that October.
He said that eleven nations immediately signed on as coalition forces and were united in purpose to reduce the threat of jihadism. Regarding respect for allies, Mattis remembered that as a newly promoted brigadier general he was instructed on the subject by Rice, along with other military officers of similar rank.
"She told us, 'We do things with our allies, not to them,'" Mattis said.
Rice echoed Mattis's point about the importance of allies in the fight against terrorism. On September 12, 2001, US Ambassador to NATO Nicholas Burns was notified by other organization members that they would invoke, for the very first time, Article 5 of the 1949 Washington Treaty, which states that "armed attack against one or more of them in Europe or North America shall be considered an attack against them all."
Rice said that Burns was shocked by the gesture, because it was widely accepted that it would likely be the United States who would be the first to invoke the Cold War–era article in defense of Europe.
"I remember Nick saying, 'You think it's okay?' It's something we never actually thought about," Rice said. "I remember thinking, it's good to have friends."
Understanding the Threat of al-Qaeda
Rice explained that the Bush administration understood the threat posed by al-Qaeda in the lead up to the 9/11 attacks. The jihadist group had bombed the US embassy in Tanzania in August 1998 and attacked the USS Cole in Yemen in October 2000. She said, however, the administration failed to imagine that a large-scale attack would be deployed within US borders through the weaponization of passenger airline jets. Furthermore, she described how concerns over civil liberties and lack of information sharing between the FBI and CIA made it more difficult to detect and thwart terror cells in the United States.
Failure to Think Long Term about Afghanistan
Rice argued that the wrong narrative has become dominant in the public debate about the justification for withdrawal from Afghanistan. While there has been increasing domestic pressure for US forces to never engage again in so-called "endless wars," there is much less criticism about America's 70-year effort to defend democratic South Korea against takeover by the communist North. Despite South Korea's 500,000-strong force, the United States still deploys 28,000 servicemen and -women to effectively maintain a stalemate between North and South.
Is America Safe?
All the panelists agreed that while the effort in Afghanistan helped deter an attack on US soil over the past two decades, much more needs to be accomplished in the fight against jihadist terrorism. At the conclusion of the program, Mattis maintained that America is safer in terms of revamping and better coordinating its agencies in defense of the homeland. However, the lack of trust in American society and between international partners makes the nation more vulnerable to being exploited and attacked by adversaries.
"Words are no longer sufficient, we need to demonstrate action to restore trust," Mattis asserted.
---
WATCH THE DISCUSSION