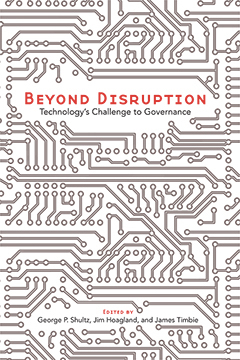 In Beyond Disruption: Technology's Challenge to Governance, George P. Shultz, Jim Hoagland, and James Timbie present views from some of the country's top experts in the sciences, humanities, and military that scrutinize the rise of post-millennium technologies in today's global society.
The thinkers contemplate both the benefits and peril carried by the unprecedented speed of these innovations—from genetic editing, which enables us new ways to control infectious diseases, to social media, whose ubiquitous global connections threaten the function of democracies across the world. Click here to view individual chapters in Beyond Disruption. Examples of topics include:
measures to assess the potential of cyber warfare and ways to implement protections against attacks,
personal data collection and how governments and corporations should approach information sharing practices,
policies and codes of conduct to deter conflict between countries,
methods for managing transitions to new jobs for displaced workers, and
the ways governments should utilize and regulate artificial intelligence.
Contributors include Niall Ferguson, John Taylor, James O. Ellis, Jr., Lucy Shapiro, Harley McAdams, Raymond Jeanloz, Christopher Stubbs, William Drozdiak, Nicole Perloth, David M. Kennedy, Charles Hill, and James Trimbie. Contents are based on a 2017 conference at Stanford University's Hoover Institution.
In Shultz's description, "The world ahead of us is not going to be anything like the world behind us." The authors provide strategies on how to harness these new technology's god-like powers and insight on what governments could be doing better to protect their citizens against its adverse effects.
As Shultz continues, "This profound change is driven not by the humanities, but by technology. But we have to react to it in a humanities way—we have to think it through in human terms."
This esteemed group of researchers have come together to analyze every realm of emerging technology—information technologies, biotechnologies, space technologies, manufacturing robotics, and autonomous software—to help us better understand and manage these rapid developments.
What people are saying
"I think we've got to have a balance between optimism about what we can do with this technology but also realism about the dark side."

– Sam Nunn, Former US senator
"George Shultz, Jim Hoagland, and James Timbie have assembled a remarkable series of commentaries that make clear there is a way to get "Beyond Disruption" in the 21st century."
—Leon E. Panetta, Former US secretary of defense
"As modern technology advances at accelerating warp speeds, bringing dynamic improvements for the human condition, the authors predict potentially serious consequences that could threaten global stability unless they are recognized and addressed."
—James A. Baker, III, Former US secretary of state
About the editors
George P. Shultz is the Thomas W. and Susan B. Ford Distinguished Fellow at the Hoover Institution and former US Secretary of state, Treasury, and labor. He is the author of Learning from Experience (Hoover Institution Press, 2016).
Jim Hoagland is a Pulitzer Prize winner and Annenberg Distinguished Visiting Fellow at the Hoover Institution. For five decades he was a editor and reporter for the Washington Post.
James Timbie is an Annenberg Distinguished Visiting Fellow at the Hoover Institution. He was previously a senior advisor at the State Department between 1983 and 2016.
For more information on the book, visit this page on Hoover Press.  For more information on the Hoover Institution, visit Hoover.org or find us on Facebook, Twitter, and Scribd (keyword: Hoover Institution). 
---
Media Contacts
Clifton B. Parker, Hoover Institution: 650-498-5205, cbparker@stanford.edu