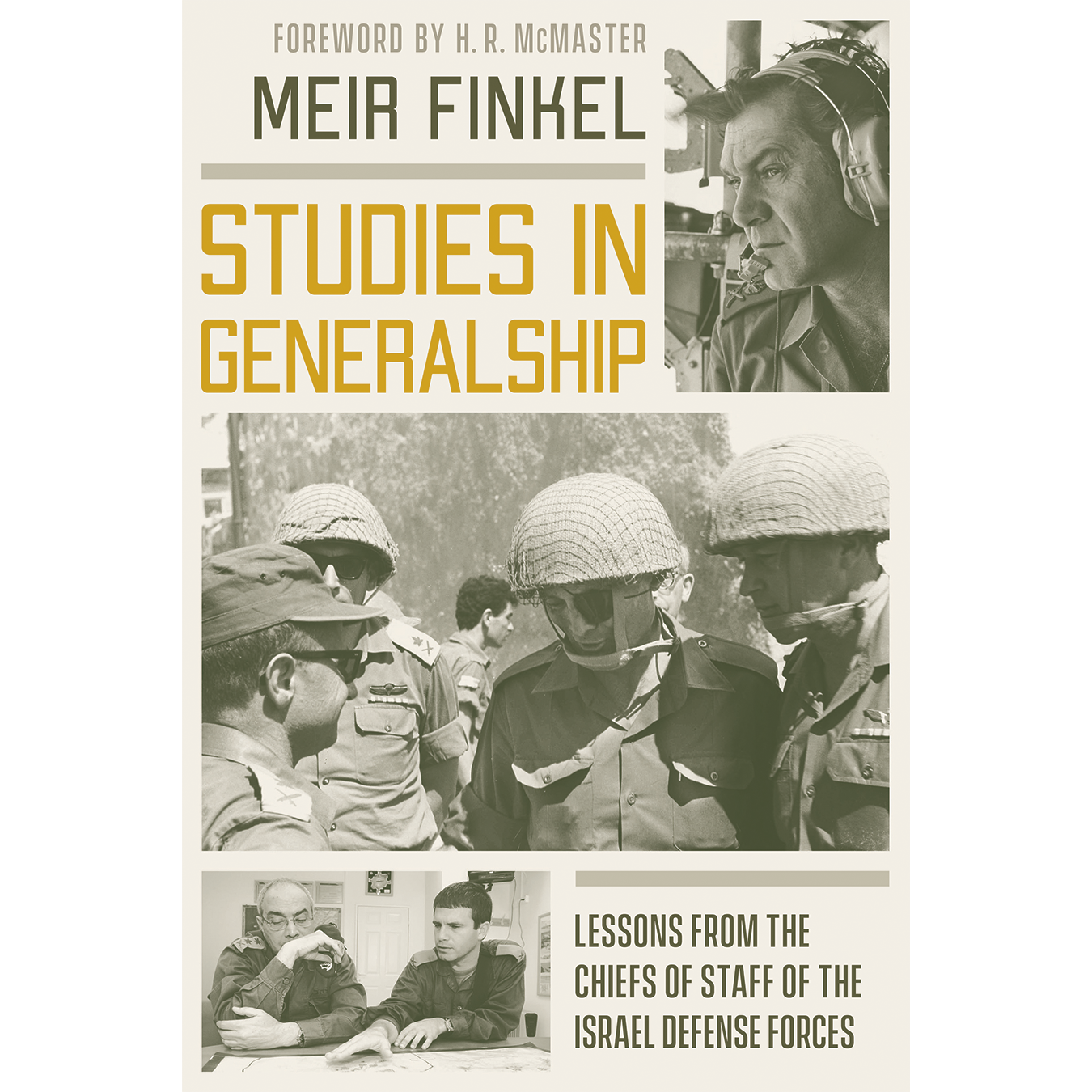 Hoover Institution (Stanford, CA) – The Hoover Institution has published Studies in Generalship: Lessons from the Chiefs of Staff of the Israel Defense Forces, written by Meir Finkel, a retired brigadier general of the Israel Defense Forces (IDF) and formerly director of the organization's ground forces concept development and doctrine department.
The commander, or chief of staff, of the IDF is a prominent public figure in Israel. His decisions, advice, and persona are held in high regard by Israel's public and leadership, and have indirect impacts on social, economic, and foreign affairs. The challenging and critical role of the chief of staff demands profound knowledge and authority in a vast and diverse range of fields.
In this in-depth study on IDF chiefs of staff throughout Israel's modern history, Meir Finkel offers a robust and original comparative perspective on six key topics: identifying change in the strategic environment, developing familiarity with all military domains, managing crises with wartime generals, rehabilitating the army after a botched war, leading a transformation in force design, and building relationships with the political echelon.
Finkel offers insights and case studies that may assist current and future high-ranking leaders worldwide in carrying out their important work and offers lessons to students everywhere of strategy, military history, and military transformation. These include the qualities needed to succeed in a position of the chief-of-staff level; the organizational history and structure of the IDF and its main headquarters; and decisions and actions of chiefs of staff at turning points in IDF force design and in key conflicts, including the 1956 Sinai War, the 1973 Yom Kippur War, and the 2006 Second Lebanon War.
Studies in Generalship: Lessons from the Chiefs of Staff of the Israel Defense Forces is available in hardcover and e-book formats. Click here to purchase.
Advance Praise for Studies in Generalship
"Finkel's genuine research thoroughly analyzes one of the most demanding military leadership positions around the world. The decisions and actions of the IDF chief of staff—taken within a complex politico-military sphere—exemplify the immense challenges of the senior military echelon in democratic nations. I strongly recommend this book for statesmen, military leaders, and scholars alike."  
—Lt. Gen. Ehud Barak, former prime minister and minister of defense of Israel and the fourteenth chief of staff of the IDF
"Finkel provides a lucid and analytic investigation of the role of the chief of staff of the Israel Defense Forces, enriched by close examinations of key historical moments, such as the Yom Kippur War, the Lebanon Wars, and changes in the Golan Heights associated with the Syrian Civil War. The volume has important lessons for scholars of military history as well as for students of Middle East studies in general."
—Russell A. Berman, senior fellow and codirector, Working Group on the Middle East and the Islamic World, Hoover Institution, and Walter A. Haas Professor in the Humanities, Stanford University
"Everybody knows that Israel's armed forces have their own peculiar operational style, so that their combat actions, large or small, very often surprise their enemies as well as friends and bystanders. Meir Finkel's book has finally uncovered how they actually work, by focusing with great precision on single episodes of generalship. It makes for highly interesting reading."
—Edward N. Luttwak, historian, author of Strategy: The Logic of War and Peace, and coauthor of The Israeli Army
About the Author
Meir Finkel, brigadier general (res.), was an armor brigade commander in the Second Lebanon War and is current head of research and former director of the Dado Center for Interdisciplinary Military Studies/IDF J3. He is the author, most recently, of Military Agility: Ensuring Rapid and Effective Transition from Peace to War. Finkel holds an MA in neurobiology and PhDs in evolutionary biology, political science, and prehistoric archaeology.
For coverage opportunities, contact Jeffrey Marschner, 202-760-3187, jmarsch@stanford.edu.