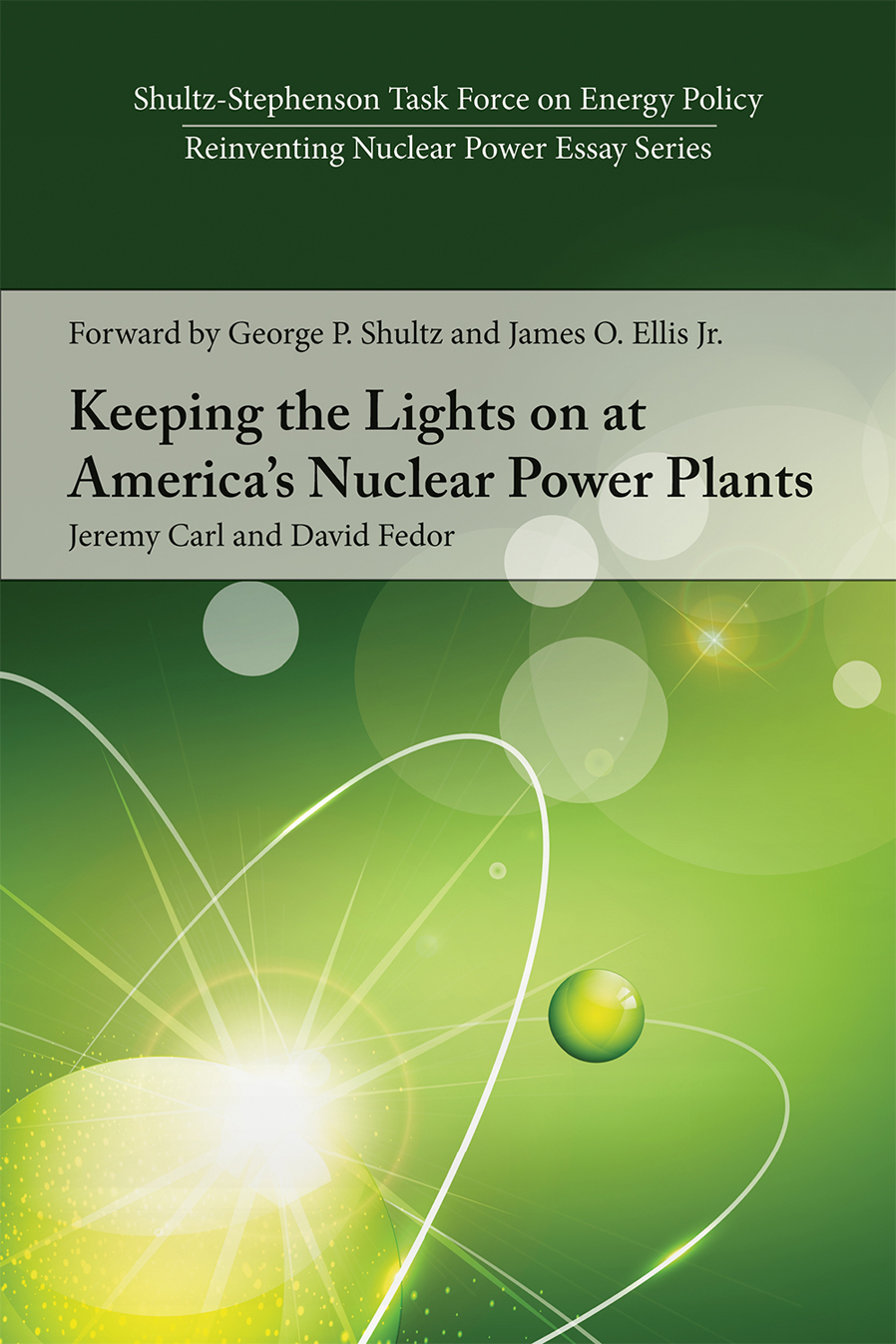 As President Trump recently announced efforts to revive nuclear energy, the Hoover Institution Press released Keeping the Lights on at America's Nuclear Power Plants, which examines nuclear power plant closures in America during a period of economic instability and fundamental policy challenges. Faced with an unprecedented rate of plant closures and an erosion of U.S. expertise and capability in the nuclear sector, Jeremy Carl and David Fedor argue that permanently opting out of the nuclear enterprise would compromise American technology leadership, security, and the environment.
"Retaining America's leading role in commercial nuclear energy is vital to our national security. Our leading position as a nuclear power generator allows us to also lead in shaping the non-proliferation order that protects our security. This book serves as a useful guide to various policy options facing today's civilian nuclear enterprise," said John J. Hamre, President and CEO of the Center for Strategic and International Studies and former U.S. Deputy Secretary of Defense.
The authors advocate for continued investment in the nuclear enterprise, while warning of the strategic dangers that threaten America's near and long-term nuclear viability. In Keeping the Lights on at America's Nuclear Power Plants, Carl and Fedor offer an array of policy options with the goal of re-invigorating nuclear energy in America. Recognizing the current dilemmas in the sector, Carl and Fedor foresee a closing window for America to preserve its status as the international role model for nuclear development and expansion.
"Building on work at Stanford University, the authors discuss the immense benefits that the United States realizes from its current world leadership in nuclear energy and related technologies, and paint a grim picture of the impending loss of that position through failure to reform today's electricity markets. A comprehensive set of reform options at the industry, state, and federal levels are presented," said Peter B. Lyons, former U.S. Assistant Secretary of Energy for Nuclear Energy and NRC Commissioner.
This is "an outstanding study on why nuclear electricity is important and how to keep it going in today's crazy quilt of subsidies," said Burton Richter, Stanford Professor and Director Emeritus of SLAC National Accelerator Laboratory and 1976 Nobel laureate in physics.
Keeping the Lights on at America's Nuclear Power Plants is the latest installment in Hoover's "Reinventing Nuclear Power" research series, edited by the Honorable George P. Shultz and Admiral James O. Ellis, Jr. (USN, ret.): www.hoover.org/reinventing-nuclear-power
About the Authors
Jeremy Carl is a research fellow at the Hoover Institution, where he focuses on energy policy and US politics. He has served as a policy adviser on energy issues to many national political figures.
David Fedor is a research analyst on the Hoover Institution's Shultz-Stephenson Task Force on Energy Policy. He has worked in energy and the environment across China, Japan, and the United States.
For more information on Keeping the Lights on at America's Nuclear Power Plants, visit HooverPress.org. For more information on the Hoover Institution, visit Hoover.org or find us on Facebook, Twitter, Instagram, and Scribd (keyword: Hoover Institution).
About the Hoover Institution: The Hoover Institution, Stanford University, is a public policy research center devoted to the advanced study of economics, politics, history, and political economy—both domestic and foreign—as well as international affairs. With its eminent scholars and world-renowned Library & Archives, the Hoover Institution seeks to improve the human condition by advancing ideas that promote economic opportunity and prosperity and secure and safeguard peace for America and all mankind.
CONTACT INFORMATION:  Marlon Bateman | Office of Public Affairs | Hoover Institution | bateman@stanford.edu | 650-723-0603