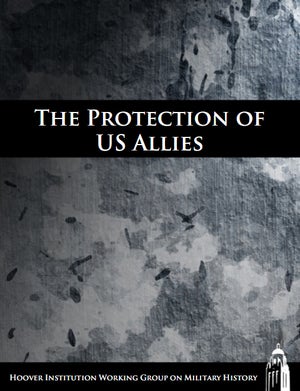 This essay series considers whether alliances are different from merely ad hoc and temporary coalitions of those willing to share the burden of fighting in particular places for a set time. If they are, how should the United States strengthen its current alliances and reassure our long-time allies across the globe that we still entertain mutual concerns that will translate into shared efforts to protect friends and punish enemies? Furthermore, if traditional U.S. security guarantees to our major allies are insufficient, do they have the ability to develop their own deterrent forces?
ESSAYS
A Single British Soldier: On Extended Deterrence and Security Guarantees for America's Allies
by Josef Joffe
Reliable guarantees do not come on paper, as the protector can always opt out. The most effective pledge in history, by the United States to Cold War Europe, did not rest on the NATO treaty, which contains no automatic obligation. The real commitment was embodied in 300,000 US troops plus their nuclear weapons on the firing line. These kept the peace because they spelled out to the Soviet Union that an attack on the allies was an attack on America itself. This lesson holds for the future, as well. The guarantor must tie his hands, and he does so with maximal credibility by putting his own forces in harm's way.
Are Traditional US Security Guarantees Still Sufficient?: Quis Custodiet Ipsum Custodem
by Angelo M. Codevilla
To defend allies against nuclear-armed nations we must become able to protect ourselves against missile attack. Our missile defense programs are not serious about that and cannot lead to that. To avoid defending ourselves, we defend allies badly. The United States has shelved the technologies that make for seriousness in missile defense: launching surface-based interceptors on the basis of data from orbit and striking missiles as they rise into space with orbit-based lasers. Taking these technologies off our shelf before others develop them is essential if our guarantees are to safeguard rather than endanger all concerned.
Alliance, Engagement, and America's Indolent China Strategy
by Miles Maochun Yu
The central pillar of America's predominance in world affairs in the past seven decades is the Unites States' ability to maintain and lead a system of alliances. In the Asia-Pacific region, the US-led alliance centered on the Washington-Tokyo-Seoul axis of democracies has been a credible guarantee of peace and stability. With China's rise as a militarized revisionist state bent on changing the status quo, the US-led alliance is facing its gravest challenge since its formation. Yet America's response to the challenge has been anemic and indolent, primarily as a misguided China policy that puts the premium on engagement without confrontation, a policy that has split the unity of the alliance and emboldened China.
The Protection of US Allies
by Andrew Roberts
Alliances have historically never been an ideal option, but the United States needs them in order to keep Chinese, Iranian, and Russian ambitions in check. The Obama administration's woeful record of nurturing and protecting America's global alliances has led to the likelihood of key allies acquiring nuclear weapons to protect themselves in a new and dangerous world, but that should now be encouraged. The disturbing part of this article is the revelation of a shocking new potential chink in the West's armor, in an area that absolutely no one had hitherto considered might ever be a possible source of danger.