An Album of Romanian Images from the Hoover Archives
George I. Duca, 1905–1985, Romanian Diplomat, Postwar Exile
Much of the wealth of the Romanian collections in the Hoover Institution Archives is the result of 10 years of collecting by the former Romanian diplomat George I. Duca, who was born in Bucharest in 1905 and died in Palo Alto in 1985. His father was Ion Duca, leader of the National Liberal Party between the two world wars, and his mother was Princess Alexandrine Moruzi. After receiving a law degree from Bucharest University, George Duca entered the diplomatic service in 1928.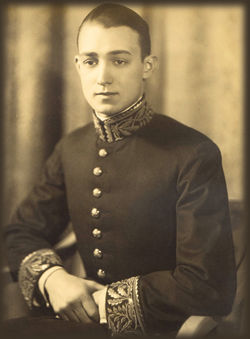 1. A youthful George Duca in the diplomatic uniform of interwar Romania. He served two tours of duty at the Romanian embassy in Washington and held posts in Tokyo and Rio de Janeiro. In November 1942, while chargé d'affaires in Finland, Duca met informally with some close American friends who worked at the U.S. embassy in Stockholm. During their discussions, Duca informed them of Romania's willingness to break its alliance with the Nazis. Duca reported these discussions to the king and ministry of foreign affairs.
In August 1943, Duca was assigned to the Romanian legation in Sweden, where he was entrusted by the leaders of the democratic opposition parties and the king to secretly contact the American legation and let it know of their plans to overthrow Romania's fascist government, led by Ion Antonescu. Duca carried out negotiations with both the American and the Soviet embassies until the coup on August 23, 1944, in which King Michael had Antonescu arrested. The new government immediately announced that Romania was joining the Allied forces.
When the Communists consolidated power in Romania, Duca was forced to emigrate to the United States, where he became a citizen in 1954.
---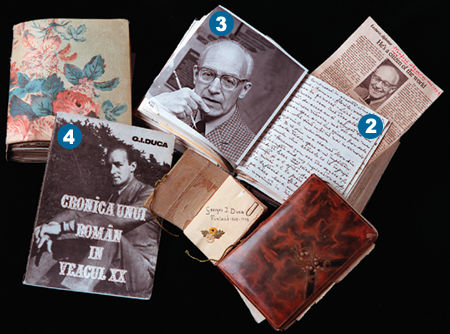 2. George Duca began keeping a daily diary in 1919 at the age of 14. More than 120 thick volumes bound in colorful fabric, now in the Hoover Archives, contain vivid descriptions and observations on the public figures he met and the historic events he witnessed. The diaries also provide insight into the experience of emigration and exile. Duca's papers, which fill more than 100 boxes, contain correspondence with the Romanian royal family, politicians, diplomats, and leading members of Eastern Europe's interwar society. The photographs that accompany the diaries and letters record the lifestyle of a lost world. "My Romania has disappeared and never will be alive again," Duca lamented in a 1978 interview.
3. George Duca in his mid-seventies while he was working in the Hoover Archives.
4. While working in the Hoover Archives, Duca edited and published a three-volume memoir, Chronicle of a Romanian in the Twentieth Century, based on his extensive diaries and photograph collection.
---
Join the Conversation