Cuba's Tortured Transition
America's post-Cold War embargo on Cuba is a clear example of failed international interventionism. Making sanctions work, Henry Kissinger wrote in the Los Angeles Times, "depends on the ability to define an achievable objective." Since the fall of the Berlin Wall, the United States has not had such an objective in its policy toward Cuba. Our policy, intended to isolate Cuba, has isolated the United States.
This has been most blatantly demonstrated for the past twenty-one years by the United Nations General Assembly's annual call to lift the embargo—which Havana demagogically calls a "genocidal blockade"—because it adversely affects Cubans and the freedom of international trade. (The vote in 2012 to condemn the embargo was 188 to 3.) Cuba today does not warrant this extraordinary isolation. In 2010, former Senator Richard Lugar, then the top-ranking Republican on the Foreign Relations Committee, correctly noted: "We must recognize the ineffectiveness of our current policy and deal with the Cuban regime in a way that enhances U.S. interests."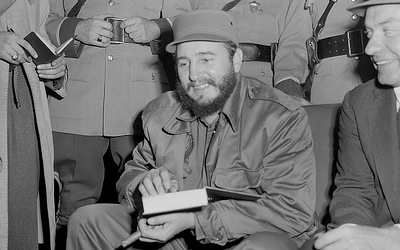 Fidel Castro in his younger days. Photo credit: Boston Public Library
 The Original Embargo Re-tooled
 The Eisenhower administration recognized Fidel Castro's government in early 1959 but soon broke diplomatic relations and imposed an economic embargo—tightened in 1962 by President John Kennedy—because Cuba nationalized American properties and became an ally of the Soviet Union. The embargo was an integral part of U.S. Cold War strategy against the Soviet bloc and should have been lifted after the bloc collapsed, but wasn't. Though some security concerns exist today, including the gathering of Chinese intelligence from the island, and extensive Cuban meddling in Venezuela, these challenges are not lessened by the embargo.
Post-Cold War embargo supporters included some in government and think tanks, but most were Cubans who had fled to Miami after Castro took power. It seemed possible that given Cuba's economic crisis following the sudden end of massive bloc aid, a little more pressure might bring Fidel down, but that required shifting the embargo's focus from U.S. national security to nation building in Cuba. The key document was the revealingly titled, Cuban Liberty and Democratic Solidarity (Libertad) Act of 1996, which still forms the core of U.S. policy.
The embargo will be lifted only after decisive steps are taken toward democracy, respect for human rights, and a market economy. The departure of the Castros is also required. Only one of the six stated "purposes" of the Act referred (unconvincingly) to national security. One of the co-authors, Senator Jesse Helms, said that Fidel was sustained by foreign money and that his "Helms-Burton Act" would "choke off" the "life-support system keeping him in power." He said that eighteen years ago.
President Bill Clinton signed legislation to tighten the embargo in 1992 and 1996 and President George W. Bush did so a decade later. But living conditions for Cubans did not improve. Instead Fidel used U.S. "proactive" measures to justify the further harassment and imprisonment of dissidents because of alleged traitorous links to Washington. The most dramatic instance was in 2003 when 75 were arrested and given long prison terms. 
Conditions in Cuba Today
In 2006, sickness forced Fidel, now 86, to informally pass power to his brother Raúl. Raúl, now 81, became President in 2008 and head of the Cuban Communist Party (CCP) in 2011. A source close to Cuban intelligence now reports that Fidel has Alzheimer's and will not survive long. Fidel's passing, analysts expect, will heighten domestic tensions and perhaps spark another mass migration by sea. Raúl has always been the more pragmatic brother and, unlike Fidel, is eager to learn from the serious and systematic economic reforms of recent decades in China and Vietnam. On taking power, he immediately highlighted some of Cuba's critical but previously unmentionable economic disasters under Fidel, and set out to "update the economic model," a feel-good phrase that masks criticism of Fidel. The CCP adopted an "updating" blueprint in 2011.
The dean of Cuban-American economists, Carmelo Mesa-Lago, considers these reforms "the most extensive and profound" ever undertaken by the government. And yet the author of Cuba en la era de Raúl Castro (2012) added that they fall far short of those in China and Vietnam. New York Times correspondent Damien Cave has characterized Raúl's reforms as "handcuffed capitalism."
Specific problems range from inadequate infrastructure and pervasive corruption to disincentives imposed by officials who don't understand or really support the "updating." Thus more than five decades of stagnation and atrophied ideological dogmatism still impede Cuba's morphing from a retrograde family dynasty dictatorship into a more modern nation. In general the opening undermines CCP control, as would an absence of reforms. Castroite leaders also fear the loss of oil handouts if Venezuelan President Hugo Chavez's cancer gets the better of him.
There have not been equally significant non-economic reforms, though there has been a drift to somewhat greater freedom of expression than during the Cold War. Most of Fidel's political prisoners have been released, but government critics under Raúl are still harassed and arrested and pro-democracy advocate Oswaldo Payá died in an automobile "accident" last July. Still, some changes may improve life, the most recent being the liberalization of laws on foreign travel.
Castro's Legacy
When Fidel seized power in 1959 he formed an anti-American, anti-capitalist regime that quickly twisted one of Latin America's most relatively advanced countries into a repressed and economically stagnant backwater. The still iconic and untouchable caudillo is responsible for his own legacy, with the only exceptions to his miserable failures being somewhat impressive programs in education and health.
Fidel had an unfailing talent for choosing allies, ideas, and policies that inflated his own international image above the interests of the Cuban people or other nations. The head of Vietnam's Communist Party zeroed in on Cuba's basic challenge last year when he said his visit to the island had convinced him that Cuba's greatest need is "changing the mentality [of the people], from the highest level to the grassroots." 
One tragic irony is that the Cuban exiles that hate Fidel have propped him up by supporting the embargo, providing him with a scapegoat for his failures. Younger Cuban-Americans, and recent arrivals from the island, are usually less supportive of sanctions than the earlier refugees whose compulsion to "get even" with the Castros has often seemed dictated more by vengeance than logic or reality. This is shown by the fact that while a majority of Cuban-Americans still support the embargo, almost 85 percent believe it hasn't worked well or at all, according to a 2011 poll by Florida International University.
A New Policy to Cuba
Since the early 1990s U.S. "proactive" policies have done more to stoke than reduce domestic tensions in Cuba, though we profess to seek a "peaceful transition." Most U.S. legislators have supported pro-embargo Cuban-Americans even though Gallup polls have long shown that most Americans favor diplomatic relations with Havana and lifting the embargo. On balance, politicians don't think Cuba policy is important enough to be worth stirring up the hornets in the still fairly militant and well-financed pro-embargo lobby. Not only have all presidential candidates including Obama supported the embargo, most have resisted even seriously discussing it.
This U.S. commitment to a failed policy has given Washington a "special stake" in the island's so-called "independent" sector whose goals appeal to Americans. But tragically, paraphrasing journalist Scotty Reston, Americans will do anything for these dissidents except listen to them. My talks with many in Cuba and abroad suggest that most oppose the embargo and three have co-authored articles with me saying so. If these dissidents come under focused government fire in the years ahead, many Americans will feel compelled to intervene even more directly—perhaps militarily—on their behalf.
Two points stand out: Cuba is not the security threat that our current policy treats it as; and our sanctions do not advance the desirable political, economic, and humanitarian improvements that we say we seek on the island. The bottom line is that we must base our policy on national security interests and realities, not unattainable dreams, however noble those dreams may seem. 
During his second and final term, and after having drawn unprecedented electoral support as a Democrat from Cuban-Americans in Miami, President Obama is in a position to make serious reforms, if he has the will to do so. He might begin by resurrecting a 1998-99 proposal—then endorsed by former secretaries of state Kissinger and George Shultz, but killed by President Clinton—for convening a Presidential Bipartisan Commission on Cuba to seriously examine the pros and cons of the policy. It would certainly see the need for change and its findings would give Obama cover for action.
Many significant changes can be made now without the support of Congress, though since 1996 the latter's backing has been necessary to fully lift the embargo. Immediate reforms should include: securing the release of Alan Gross, the American contractor arrested in 2009 for doing his "proactive" U.S. government-funded job; ending provocative "proactive" programs; allowing more visits to Cuba by all Americans, not just largely Cuban-Americans; expanding trade beyond the foods and medicines now allowed; bringing our Cuba immigration policy into line with our policies toward immigrants from other countries; increasing discussions with Cuba's political and military leaders on affairs of mutual interest; and looking objectively at the reforms under way today and deciding how Washington can promote change while defusing rather than stoking domestic conflict and tensions.
Whatever else we do, we must jettison our quid pro quo approach that holds essential U.S. policy changes hostage to repeated "vetoes" by both Cuban-Americans in the States and Castroites in Havana.
Join the Conversation