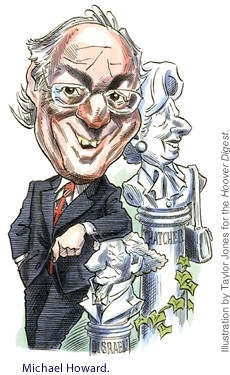 Tony Blair has recently suffered through his most difficult period as prime minister. After enjoying a brief upward "Baghdad bounce" in popularity when it appeared that the Iraq war had been won quickly, his poll numbers dropped considerably in the months afterward. Further, opinion polls now report that Blair's stature has suffered considerably, especially in the vital areas of "respect" and "trust." The current period of difficulty in postwar Iraq, along with the failure so far to find weapons of mass destruction, has clearly transformed Tony Blair's political image from invincibility to vulnerability.
Amazingly though, these same polls report that if a national election were to be called tomorrow Tony Blair and his Labour government would still defeat their main opposition, the Conservative Party, by a substantial margin. Translating this Labour lead into prospective seats in the House of Commons, the Labour Party would likely win a third straight term in office with a majority of more than 100 in the 655-seat House of Commons—a large majority by historical standards.
Why would Blair and the Labour Party win an election so handily in the face of significant voter unhappiness? There are two principal reasons. First, the British economy continues to be among the strongest in Europe—and it has not suffered the kind of recession the United States has experienced. Voters remain relatively optimistic about their futures. They regard Blair and his chancellor of the exchequer, Gordon Brown, as good managers of the nation's well-being. These perceptions obviously provide an important support for the government.
Second, but just as important, the British electorate does not trust the opposition Conservative Party as a credible alternative government. Put more starkly, the British Conservative Party that won four consecutive elections and governed for 18 years, from 1979 until mid-1997, including 11 years under the leadership of the remarkable Margaret Thatcher, has until now failed to provide a competitive opposition to Tony Blair and his Labour government. In fact, in the view of a number of observers, Tony Blair has had the luxury since he took office of governing without real opposition.
But that said, recent events suggest that times may be changing. The Conservative Party may finally be awakening from what has at times seemed like a political coma. The Conservatives seem to have been jolted back to life by their miserable failure to take advantage of Blair's recent troubles. For many in the party this missed opportunity finally brought their long-simmering frustrations to a head. As a result, this fall, a newly determined majority of Conservative members of the House of Commons suddenly galvanized themselves into action. Within a couple of weeks they voted to oust their much maligned leader, Ian Duncan Smith, and replace him with the much more formidable Michael Howard (who was then shadow chancellor of the exchequer). Formerly a senior member in both John Major's and Margaret Thatcher's cabinets, Howard is an experienced political heavyweight widely celebrated as fully capable of taking on the prime minister. Moreover, Howard was chosen without opposition by his colleagues in the House of Commons, who demonstrated a remarkable degree of unity not seen since the middle years of Mrs. Thatcher's time as party leader and prime minister.
The question now is, Can Michael Howard transform his Conservatives into serious competitors for office in time for the next national election, which will be held no later than mid-2006 and perhaps, if the prime minister wishes, in as few as 18 months?
Certainly Howard starts with several advantages that his predecessors as leader—William Hague and Ian Duncan Smith—did not enjoy. The Labour government is now in its seventh year in power, and as with all governments the political aging process does take its toll, causing it to lose policy focus, suffer from an exhaustion of leadership resources, and generally accumulate political baggage that irritates or even angers the electorate. Blair and his colleagues are showing signs of experiencing this process even as they
continue to enjoy the bolstering effect of a strong economy. Both the Iraq issue as well as festering questions about whether the government can deliver the improvements in public service, including in the areas of the National Health Service, education, and transportation that it has repeatedly promised, are areas of strain and vulnerability that contribute to the governmental aging process.
Also, Howard has the important advantage compared with his predecessors that the politically damaging memories of the crisis-ridden Major government have faded considerably. For years after 1997 it seemed that Labour would never lose the advantage of being able to point with glee to the Major government's policy and personality conflicts and especially its long string of scandals over seven years in power. Howard also has the advantage that the long-running destructive intra–Conservative Party argument over Britain's role in the European Union has receded significantly. Add these changes to the recent dramatic show of unity in electing Howard, and the Conservatives' rebound looks promising.
On the negative side of the ledger, however, Howard's task is still daunting. A Conservative rebound is still speculative. Conservative poll numbers have not yet moved upward. Howard still needs to find some way to recapture the old appeal that for decades allowed Conservatives to boast that not only did they win most elections but that they were in fact Britain's natural ruling party.
How can they do better? It would seem that the Conservatives can find a ready model for their recovery in the experiences of the Labour Party about 10 years ago. Labour, like the Conservatives, suffered serious and repeated electoral disasters (at the hands of Margaret Thatcher) and initially reacted by withdrawing into the political wilderness. The Labourites seemed resigned to being out of power and adopted radical policy positions that further diminished their electoral potential. Over time Labour emerged from its "hole" under the leaderships of Neil Kinnock and later John Smith, who initiated and pressed profound organizational and policy reforms against fierce intra-party opposition. Painfully the Labour Party moved toward the British political center. Tony Blair then took over the party and finished the reform process by once and for all rejecting the party's traditional socialist roots in favor of a previously unthinkable commitment to nearly the whole of the Thatcher-Conservative policy agenda—cast in a more compassionate context, which Blair styled "the third way." Respectability, business support, and then acceptability all flowed from these changes, leading of course to a landslide victory in 1997.
The Conservative Party has actually already traveled some of the same route that Labour followed. William Hague and Ian Duncan Smith as party leaders pressed organizational and policy reforms in an effort to broaden the Conservatives beyond their traditional white, male, middle-England base. As an example, the current list of prospective Conservative candidates for the next election is strikingly different than in the past. Howard, like Blair, now needs to finish the job by convincing the electorate that the Conservatives are broader and more responsive, as well as kinder and gentler than the image Mrs. Thatcher projected. Blair's strategy in effect hijacked the agenda and credit that Conservatives once enjoyed for reviving Britain across many fronts during the 1980s. Conservatives were left with scores of negatives including, besides the memories of the tumultuous Major government, an image of harshness and insensitivity. Howard needs to, in marketing terms, "re-brand" his party as caring and compassionate. He also needs to convince the electorate that the party is unified under strong leadership.
If the Conservative Party can accomplish these reforms in convincing fashion, is it likely to have a real chance at forming a government at the next election? The short answer is still no. It will probably take two elections at least.
The problem is that election arithmetic works against it. The swing in electoral support that the Conservatives need—that is, voters moving away from Labour and toward them—would be greater than any political party has been able to achieve in the history of the British electoral process. Most election experts think that the Conservatives really need two elections to win power back.
Second, it is important to remember that the fortunes of opposition parties depend most heavily on the fortunes of the incumbent governments they hope to replace. In other words, governments tend to lose elections much more often than opposition parties win them. The electorate votes on the basis of how it feels about continuing the government it has. Changes in government occur when voters "throw the rascals out." Remember that Roosevelt in 1932, Thatcher in 1979, and Reagan in 1980 won their elections not because they promised significant changes in policy direction but because the electorate threw their predecessors out of office during especially difficult moments. Roosevelt, for example, did not offer a New Deal during the 1932 campaign; both Thatcher and Reagan based their campaigns on attacking the failures of their opponents. Their watershed policy shifts became salient only after they took office.
The lesson here for the Conservatives' prospects under Michael Howard is that they need to make themselves appealing and acceptable as an alternative government but that they will ultimately depend on the decline of the Blair government. When and how this will happen is obviously uncertain. But as Prime Minister Harold Wilson was fond of saying: "A week in politics is a long time."
Join the Conversation