Immigration & Security: The Survey On Effective Security Reforms
How does immigration intersect with issues of national security? The most obvious answer is border security, but too often that is the only answer. The state of the conversation among policymakers is lacking.
We asked a panel of twenty-five immigration policy experts to review to assess security-related policies which largely focus on reducing immigration of unauthorized people into the United States. Our standard question compares new policy ideas, but we also asked respondents to assess the effectiveness of existing policies. Notably, the majority of respondents are independent scholars, but of those who are affiliated with a political party, five are Republicans and five are Democrats.
Results of the survey confirm that security at the border is considered far less important or valuable than other policies, and the reason is that resources at the border have increased so much in recent years. Other security-related issues are crying for attention.
QUESTION: Which of the following ideas do you agree would be good for US immigration policy? (The percentages of experts that agree noted next to each action).
83%     Legal Status (Deferred Deportation) For Undocumented Immigrants. Allow undocumented immigrants to live and work in the United States with no promise or penalty regarding U.S. citizenship.
78%     Better Performance Metrics. The U.S. Customs and Border Protection should be legally required to provide more data about immigration enforcement, and should generate and report improved performance metrics to be recommended by an independent commission or external agency such as the GAO. The existing measures are insufficient and make policy reform more difficult.
68%     Mandatory E-Verify. E-Verify is a voluntary program that allows private employers to verify the legal status of their prospective employees. (Required for federal employees and contractors.) Require all private employers of a certain size to use E-Verify.
63%     Enforce Penalties Against Employers. Employers of undocumented workers in the U.S. face various fines, increasing for second or third offenses. These penalties should be more effectively enforced.
39%     Strong Interior Enforcement & Deportations. Expanded funding for ICE to apprehend, detain, and deport undocumented immigrants inside the United States.
27%     More Border Security Agents. The number of border security agents has increased from four thousand in 1993 to ten thousand in 2003 to over twenty one thousand in 2013. Apprehensions have fallen dramatically from their peak in the early 2000s, but overtime of agents is high. Should more agents be hired to secure the border?
14%     Complete The Fence Along The Southern U.S. Border. The US-Mexico border is over 1,900 miles long, and over 600 miles of it is fenced. Estimates are that the cost would be $4m per mile to actually seal the border against illegal crossings.

Do you agree with the following ideas for reform of U.S. immigration policy?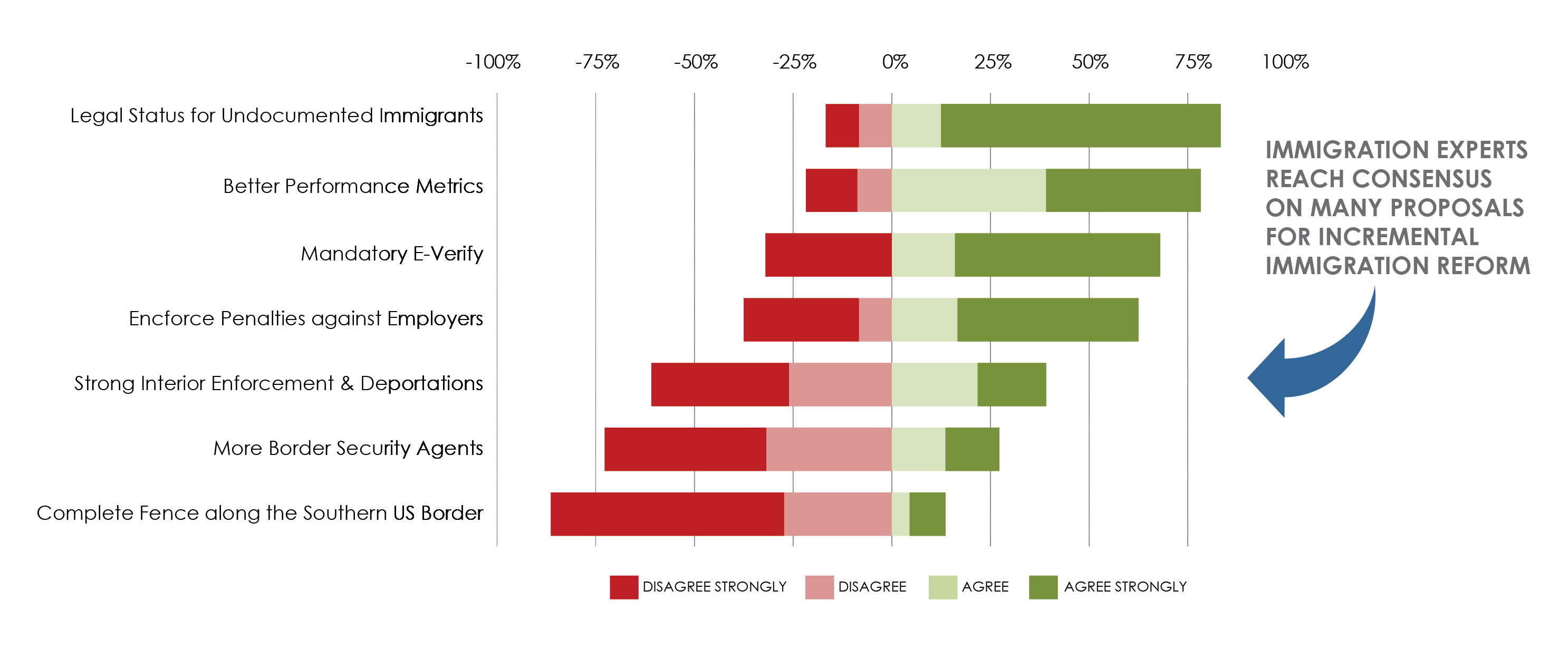 Four of the seven of the policy ideas are deemed by a majority of our scholars to be "good for country"; three fall far short. The idea with the most support is granting legal status to undocumented immigrants. Not only did 83 percent of respondents agree, but 71 percent agreed strongly.
Two other ideas are close behind. Better enforcement metrics were supported by 78 percent of respondents, but less than half agreed strongly. Only 68 percent supported making E-verify mandatory nationally, but most of that support agreed strongly. This idea generates strong disagreement as well. The last idea with majority support is the idea of enforcing penalties against employers of illegal aliens, with 63 percent in favor versus 37 percent opposed.
The idea that most respondents disagree with is completing the fence along the southern US border, often described as sealing the border. Fourteen percent agree with completing the fence, versus 86 percent opposed (59 percent strongly). In the same general category, three-quarters of respondents oppose adding more border security agents. Cracking down on illegal immigrants who are inside the United States was also opposed by a majority of respondents, although 39 percent favor this approach, with greater use of apprehensions and deportations, notably higher than is generally reported in the press.
QUESTION:  If these policies could be implemented, which would be most effective in reducing illegal immigration by 50 percent or more?                                                          
Apparently, our panelists believe that reducing illegal immigration by half is impossible, given a choice among three of the most commonly proposed enforcement approaches. Not a single respondent thinks securing the border would be the most effective policy. A third of respondents believe the most effective policy would be a crackdown on employers. Thirteen percent think a national identification system would be the most effective.
It must be noted that other policies might have been more popular, such as granting legal status or developing a flexible guest-worker program, which would relieve pressure on enforcement agencies to focus on new migrants.

QUESTION:  What is the balance between costs and benefits (economic, budgetary, social, etc.) for the three policies described above?
We were curious to know whether immigration scholars believe the benefits of the big three approaches to security outweigh the costs. For two of three, the answer is no. Only 13 percent of the panel believes a 100 percent secure border outweighs the costs. Only 25 percent think a national ID system is beneficial. This seems at odds with support for E-verify, suggesting there is a difference for many panelists between E-verify as a limited program for work sites and a national identity system. Another reason for the disparity is that E-verify is often framed as necessary to make enforcement against employers work because using E-verify would give employers safe harbor if their workers have falsified their identities and work permits. Exactly half of the panel sees net benefits for work site enforcement against employers; 33 percent think costs outweigh the benefits.

QUESTION:  Please prioritize the following programs in terms of their effectiveness in reducing illegal immigration.
This question was phrased in a way to evaluate existing policies rather than assessing new approaches. All the programs were evaluated as effective by a large majority of respondents.  For example, twenty of twenty-two panelists think that border security at ports of entry is effective, whereas nineteen agree that border security in between entry points (i.e., the border fence) is effective, though neither approach received a single vote as the most effective program. The programs rated most effective are E-verify (eight top votes) and work site enforcement against employers (six top votes).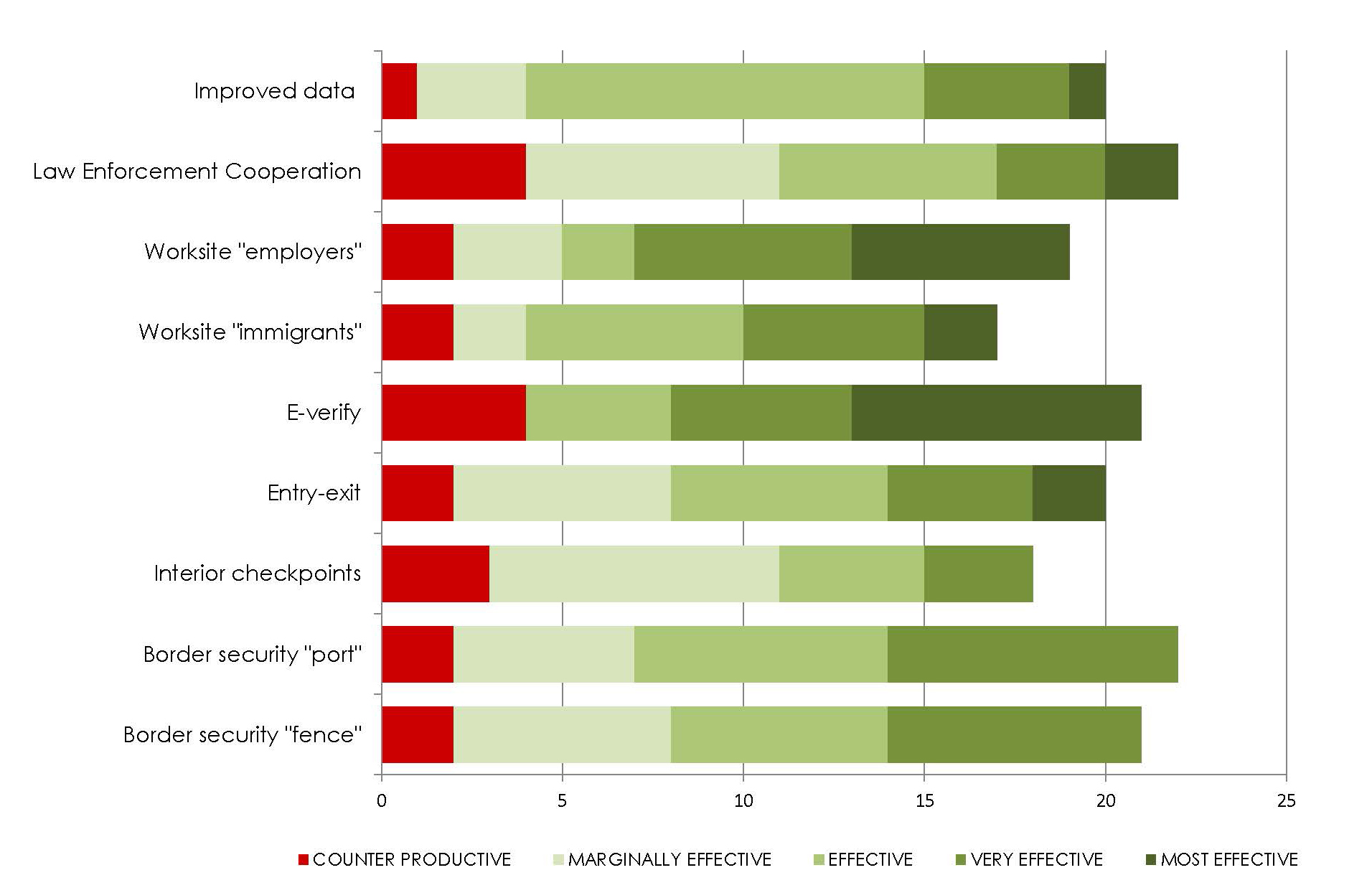 Join the Conversation