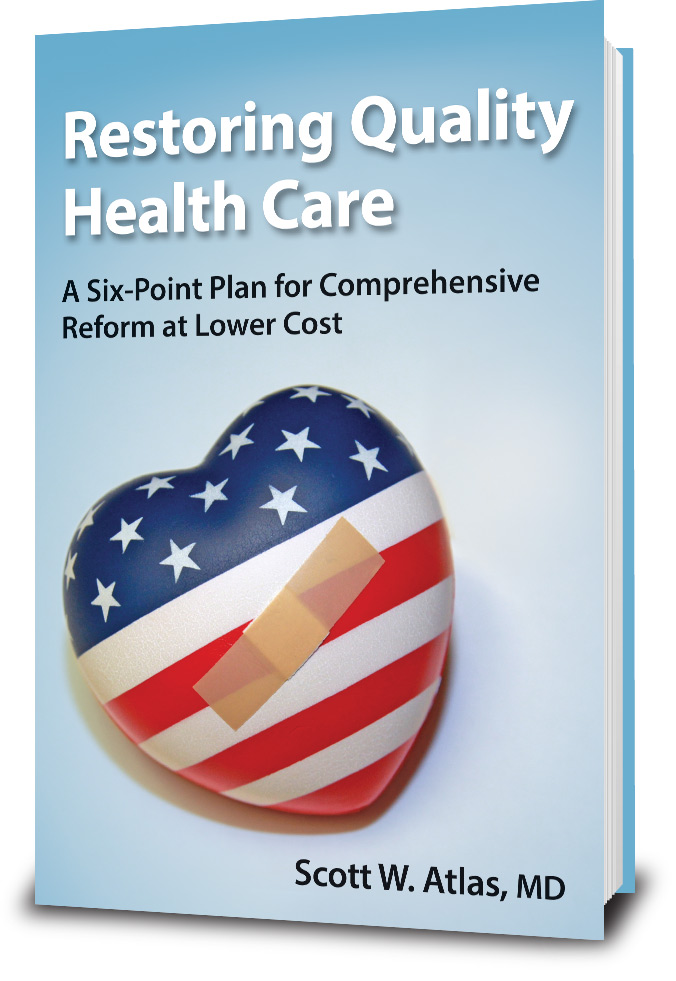 A Six­-Point Plan for Comprehensive Reform at Lower Cost

Time is of the essence. America's aging population will increasingly require medical care at an unprecedented level. Although extraordinary advances in technology offer great promise, the current trajectory of the health system, particularly under Obamacare, threatens both the sustainability of the system and the innovation essential to reaching its full potential.
It is time for a fundamentally different approach.  Instead of framing reforms with the traditional trade-off, that is, "take away benefits, or raise taxes," this plan centers on a different paradigm: restoring the appropriate incentives to increase the quality of health care and simultaneously reduce its costs. The six-point plan instills market-based competition, empowers consumers, and reduces the federal government's authority over health care. It restores the originally intended purpose of health insurance (to protect against the risk of significant and unexpected health care costs), enhances the affordability of twenty-first-century medical care, and ensures continued innovation. Private and federal government health expenditures will conservatively decrease by trillions of dollars during the decade, and access to high quality health care will significantly improve.  Perhaps most important, the reforms in this plan reflect the principles held by the American people about what they value and expect from health care in terms of access, choice, and quality.
What people are saying about the book:
"Too often, health policy sounds like the secret plan of a mystical cult—arcane, complex, and inaccessible.  Scott Atlas is clear, concise, grounded in the facts and a model of elegant simplicity. And it will work!"
Douglas Holtz-Eakin, former director of the nonpartisan Congressional Budget Office; chief economist of the President's Council of Economic Advisers from 2001 to 2002; and currently president of the American Action Forum
"Atlas gives us an informed view of how to achieve high quality in health care while bringing costs under control."
George P. Shultz, Thomas W. and Susan B. Ford Distinguished Fellow, Hoover Institution, Stanford University; former US secretary of state from 1982 to 1989
"Scott Atlas has written a book that is a must-read for anyone with a serious interest in health policy. Valuable insights and critical information appear on page after page. Read it. You won't be disappointed."
John C. Goodman, president of the Goodman Institute for Public Policy Research
"Improving access and excellence in health care and reducing its costs are core goals for all nations. Scott Atlas articulates with great clarity his original views on key US health system reforms to achieve these goals while preserving innovation to deliver on the promise of twenty-first-century medicine."
Elias A. Zerhouni, MD, is president of Global Research and Development for Sanofi, a leading global health care and pharmaceutical company.  He served for six years as the fifteenth director of the National Institutes of Health, appointed in May 2002.
Download PDFs of individual chapters below.
Chapter One: US Health Care ­Today: Setting the Record Straight
Chapter Two: Reform #1: Expand Affordable Private Insurance
Chapter Three: Reform #2: Establish and Liberalize Universal Health Savings Accounts
Chapter Four: Reform #3: Instill Appropriate Incentives with Rational Tax Treatment of Health Spending
Chapter Five: Reform #4: Modernize Medicare for the Twenty-­First ­Century
Chapter Six: Reform #5: Overhaul Medicaid and Eliminate the Two-­Tiered System for Poor Americans
Chapter Seven: Reform #6: Strategically Enhance the Supply of Medical Care While Ensuring Innovation