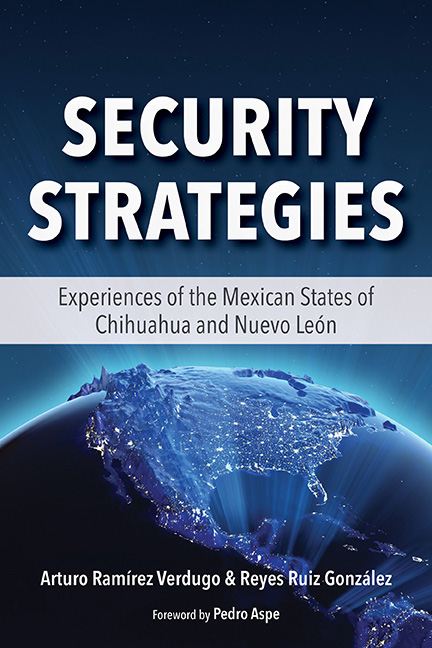 Mexico has struggled to consolidate a solid rule of law. The northern Mexican states of Chihuahua and Nuevo León are notable, however, for having successfully reduced the levels of violence that spiked there in 2010–11. Key pillars of their approaches were: (1) the strengthening of local law enforcement institutions; (2) implementing new procedural criminal (common law) reform; (3) improving social reinsertion for convicted criminals; and (4) enlisting civil society alongside new public policy for crime prevention. In both cases, the most successful policies to reduce drug and organized crime violence were implemented at the local, rather than federal, level. 
This research was undertaken in collaboration with the North American Forum, with the intention of improving understanding and gathering support for similar efforts from partners across Mexico, Canada, and the United States.


FOREWORD
"During the past decade, I have witnessed a sad trend: violence in Mexico is a common subject of conversation both in the country and around the world. This strain of violence is truly atypical and is most damaging to the Mexican society and the image of Mexico in the international arena. Still, at the root of this problem is a structural issue to be dealt with that not only puts stress on public security but also hinders our economic and social development as a country: the lack of a robust rule of law.

This case study, written by Arturo Ramírez Verdugo and Reyes Ruiz González, is particularly valuable in this context for several reasons. First, it is an initial attempt to describe public policies successfully implemented to reduce violence at the state level. In more mature nations than Mexico, regarding their federalism, it is common to see that successful policies are implemented first by local governments and not necessarily imposed vertically by the national government. This document could help in the process of generating more academic research with this view.

Second, the case study approach is appropriate for didactic and analytical reasons in this particular occasion. Given the broad heterogeneity present in Mexican states, finding similarities is not an easy task; once they are found, one should go back to their special local characteristics to properly study them. This document is effective in that process, as it identifies common security strategies implemented by Chihuahua and Nuevo León, and then describes their particular actions and experiences, which come mainly from personal interviews with top-level government officials in both states.

Third, the authors acknowledge their limitations and thus obtained support from subject matter specialists. Ernesto Canales, a dear friend of mine and a promoter of the New Procedural Criminal Reform, kindly agreed to share his expertise. Also, comments and suggestions were obtained from a very enriching workshop held at the Hoover Institution, not to mention the interviews with state officials.

Finally, after reading the case study, one has to recognize that the security strategies were aimed in the short run to reduce and combat violence, but the key to their success was that the measures taken are part of an integral goal of consolidating the rule of law in the long run. This takes me to my initial claim: a solid preeminence of the legal structure and its enforcement is a key to development, economic growth, and social well-being. I hope we can all learn from this and future documents that will further enrich the discussion.

—Pedro Aspe
Former Secretary of Finance, United Mexican States, and Co-chair, North American Forum"
 
ESSAY PREVIEW

AUTHOR BIOS
Pedro Aspe, born in Mexico City in 1950, is co-chairman of Evercore Partners Mexico (EVR), a leading investment bank. Since 1996 EVR has advised in more than three hundred transactions, including private equity placements, mergers and acquisitions, real estate investment trusts, project financing, and municipal bonds. In 2006, Protego combined with Evercore Partners, based in New York, and it became a public company in the NYSE. Dr. Aspe has been a professor of economics at Instituto Tecnológico Autónomo de México (ITAM) and has held a number of positions with the Mexican government: he was founder of INEGI (National Bureau of Statistics), secretary of the budget and secretary of treasury of Mexico. Currently he sits on the advisory board of Inditex Mexico, and the Carnegie Corp., the University of Centro (Mexico) and is co-chairman of the North American Forum. He holds a BA from ITAM and a PhD from MIT, both in economics.

Arturo Ramírez Verdugo is senior managing director at Evercore Partners, responsible for the Public Finance and Infrastructure practice in Mexico. He began his career as an investment banking analyst at Protego Asesores, in Mexico City. He joined Evercore in 2006 as vice presi-dent, acting as financial adviser to Mexican states and municipalities as well as to federal agencies. He has participated in several transactions, including the financial structuring of infrastructure projects, public-private partnerships and concessions, securitizations, and large debt restructurings. Dr. Ramírez holds a bachelor's degree in economics from Instituto Tecnológico Autónomo de México (ITAM), a bachelor's degree in political science also from ITAM, and a PhD in economics from the Massachusetts Institute of Technology (MIT). He currently teaches public finance at ITAM, has been awarded research prizes, and was also the president of the jury of the National Research Prize in Public Finance, awarded by the Mexican congress.

Reyes Ruiz González is an economics PhD student at the University of Notre Dame and fellow of the Kellogg Institute for International Studies. Before enrolling in graduate school, he was director of financial analysis of subnational governments at the Mexican Ministry of Finance. As a public servant, he was part of the analysis team behind the recent fiscal reforms approved in Mexico, contributing predominantly to changes done to the Law of Fiscal Coordination, which establishes the scheme of transfers from the federal government to states and municipalities. Previously he was senior analyst in the Public Finance and Infrastructure division of Evercore Partners, where he participated in debt restructurings, advisory to subnationals, and design of pension reforms. Reyes holds a bachelor's degree in economics and applied mathematics from Instituto Tecnológico Autónomo de México (ITAM).