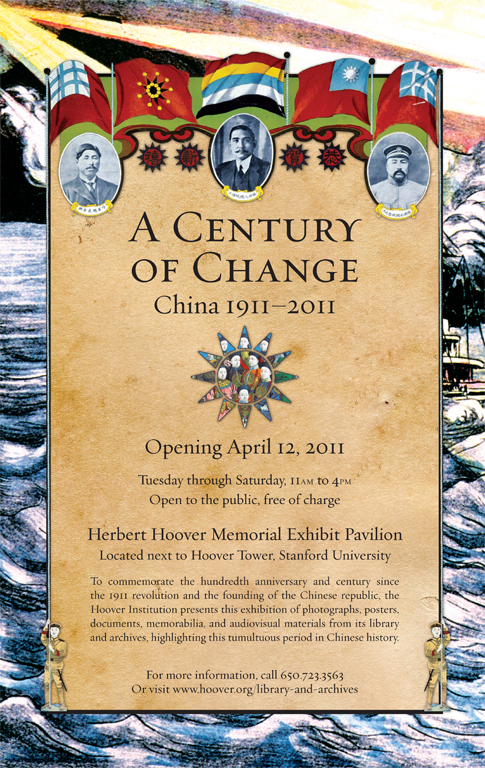 The Hoover Institution's new exhibit, A Century of Change: China 1911–2011, opened Tuesday, April 12, 2011, in the Herbert Hoover Memorial Exhibit Pavilion (next to Hoover Tower) on the Stanford University campus. Showcasing the institution's rich East Asian holdings, the exhibit commemorates the hundredth anniversary of, and century since, the Chinese revolution of 1911, an event marking a significant turn in the course of Chinese history.
The outbreak of the Wuchang Uprising on October 10, 1911, ushered in an age of transformation in China as a nation and as a society by overthrowing 268 years of Manchu autocracy, ending more than two thousand years of feudal monarchy, and establishing a republic. Key events, leading figures, and social and geopolitical repercussions of the revolution are illustrated through documents, photographs, posters, maps, pamphlets, artifacts, sound recordings, and moving images. Highlights of the nearly two hundred items on display include Herbert Hoover's 1900 prediction of a great uprising in China; 1910 photographs of Chinese troops training in the fields of central California juxtaposed to a letter from Sun Yat-sen, the father of the republic, to Stanford alumnus Homer Lea; and a Japanese poster depicting playful Japanese and Chinese siblings next to gruesome images of Shanghai in shambles during the Second Sino-Japanese War and desperate appeals by the Chinese government to Herbert Hoover's administration to stop Japan's invasion. Also featured are documents recently deposited at Hoover by the families of Chiang Kai-shek, T. V. Soong, and H. H. Kung—all three brothers-in-law of Sun Yat-sen—such as minutes of meetings between Premier T. V. Soong and Stalin in 1945 and selections from Chiang Kai-shek's diaries after the Generalissimo met with Herbert Hoover in 1946.
The exhibit is open to the public Tuesday through Saturday, 11:00 am to 4:00 pm and is free of charge. Parking on campus is free on Saturdays. For more information, go to hoover.org or call the Hoover Archives at (650) 723-3563.