Eric Hargan Joins Hoover At Leadership Forum On Health Care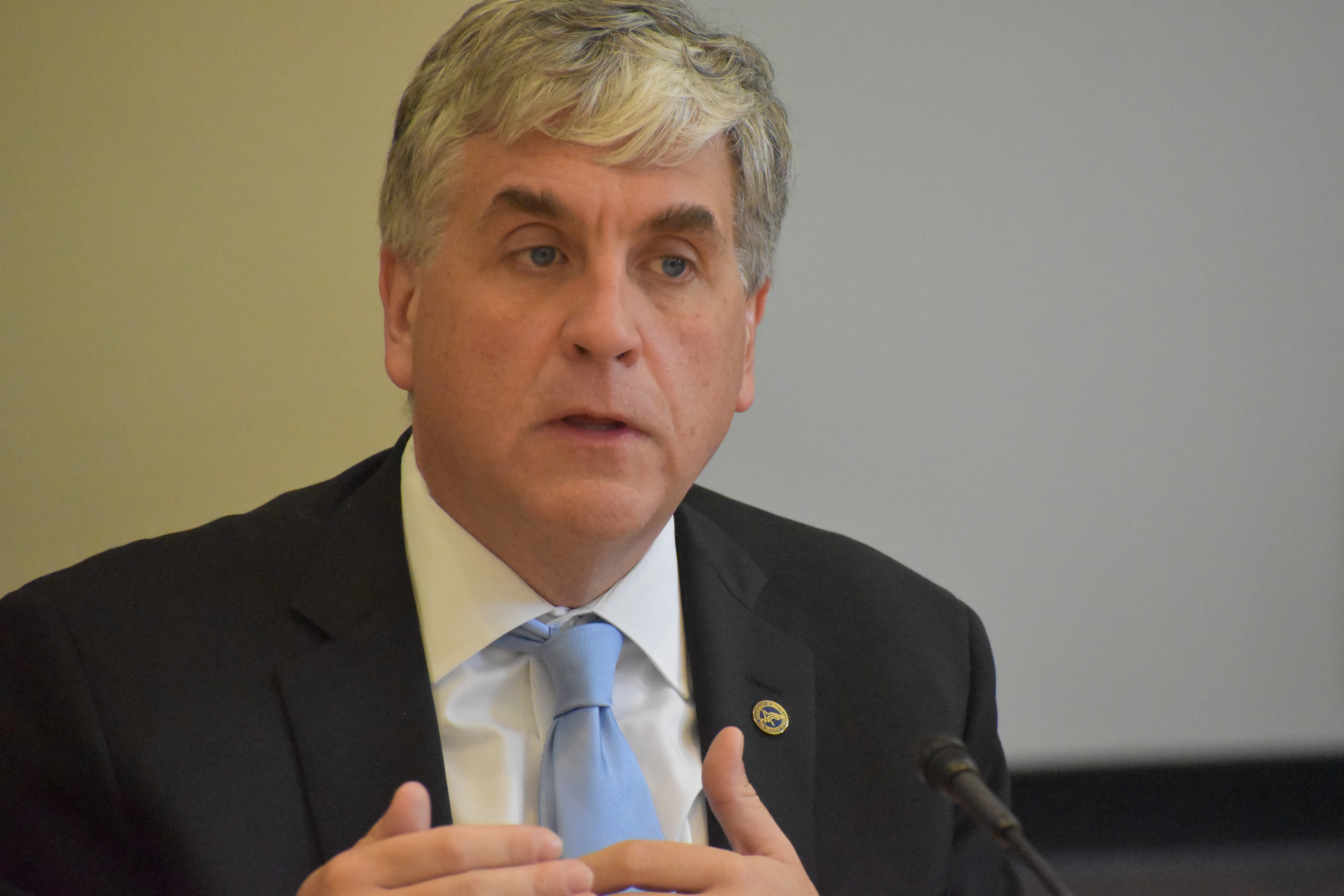 Eric David Hargan, the United States Deputy Secretary of Health and Human Services, engaged in a thoughtful exchange with Hoover fellows about health care issues during a Leadership Forum on April 11. 
The event took place in the Annenberg Conference Room in the Lou Henry Building with a few dozen Hoover fellows in attendance. Hoover fellow Dan Kessler, the moderator, described Hargan as the person who keeps the trains running on time at HHS.
Hargan is responsible for overseeing the day-to-day operations and management of the department in addition to leading policy and strategy development. He talked about his department's continuing efforts to deliver on Secretary Azar's four priorities that were unveiled last year––combating the opioid crisis, lowering the cost of prescription drugs, reforming the individual insurance market, and implementing value-based care. Some of those initiatives have already borne fruit––thanks to $12 billion in savings due to various new measures, HHS led all other federal departments combined by that yardstick in 2018.
The mission of the Department of Health and Human Services is to promote the health and well-being of the American people. HHS boasts an annual budget in excess of $1.3 trillion and employs more than 80,000 employees across 26 divisions.
Hargan also discussed one of his key initiatives, the Regulatory Sprint to Coordinated Care, which focuses on reforming four regulations that he believes impede care coordination for patients––Stark Law, Anti-Kickback Statute, HIPAA, and 42 CFR Part 2. Additionally, Hargan emphasized the work HHS is doing to promote innovation and investment and engage with stakeholders, entrepreneurs, and innovators in the health space. The Deputy Secretary's Office has hosted two summits that directly address these topics––his quarterly Deputy Secretary Innovation and Investment Summit (DSIIS) and the Patient Empowering Technologies Summit (PETS).
Value-based patient care, he said, is a top priority at the department, which involves transitioning the American health care system from fee-for-service, or volume-based, to value-based arrangements that emphasize outcomes. This is commonly referred to as the shift "from volume to value."
Hargan shared his vison for combating the opioid crisis and talked about what HHS is doing on this front. Among other measures, he explained how the department is looking at best practices for patient pain management, and said there needs to be a better integration of health care and human services across the country.
Fellows spoke about the need to reduce the volume and complexity of health care paper work, whether in prescribing medications to patients or conducting clinical trials for new drugs and pharmaceuticals. Hargan acknowledged the need for such reforms, and pointed specifically to how the department is taking a closer look at parallel review with FDA and CMS. One concern is the need to get more effective, safe drugs to the market and patients sooner.
Driving innovation in medical care, treatment and across the health care field is a key HHS goal, Hargan emphasized. One fellow noted the need to encourage states to invoke Section 1332 of the Affordable Care Act, which permits a state to apply for a State Innovation Waiver to pursue innovative strategies for providing their residents with access to high quality, affordable health insurance.
In October 2017, Hargan was sworn into office as deputy secretary of HHS, and immediately served as acting secretary until January 2018 when Alex M. Azar II became the Secretary of Health and Human Services. From 2003 to 2007, Hargan served at Health and Human Services in a variety of capacities, including acting deputy secretary and the department's regulatory policy officer.
In his introductory remarks, Hargan spoke about growing up in southern Illinois and getting a childhood understanding of health care, as his mother was an X-ray technician for 58 years. He is a lawyer, and majored in philosophy in college, receiving his B.A. cum laude from Harvard University, and his J.D. from Columbia University Law School.
Hoover fellows Kate Bundorf, Laurence Baker and Kessler, all of whom attended the forum, have extensively studied health care issues. In a 2018 research study they co-authored together, they found that enrollment in Medicare Advantage, which combines drug coverage with other medical benefits, significantly reduces beneficiaries' likelihood of filling an opioidprescription, as compared to enrollment in a stand-alone drug plans. About half of this effect was due to fewer fills from prescribers who write a very large number of opioid prescriptions, they found.
Hoover's Leadership Forum is one of several unique face-to-face programs that connect Hoover fellows with individuals and groups that make or influence public policy. The program includes leaders from government, business, and international communities, bringing them to Hoover for in-depth roundtable discussions with Hoover fellows. 
The Leadership Forum with Hargan follows in the wake of other meetings with policy makers in the past few years, including Jamie Dimon, chairman and CEO of JPMorgan Chase, Mick Mulvaney, currently chief of staff to the President, and Ben Sasse, US Senator from Nebraska, among many others.
---
MEDIA CONTACTS
Clifton B. Parker, Hoover Institution: (650) 498-5204, cbparker [at] stanford.edu