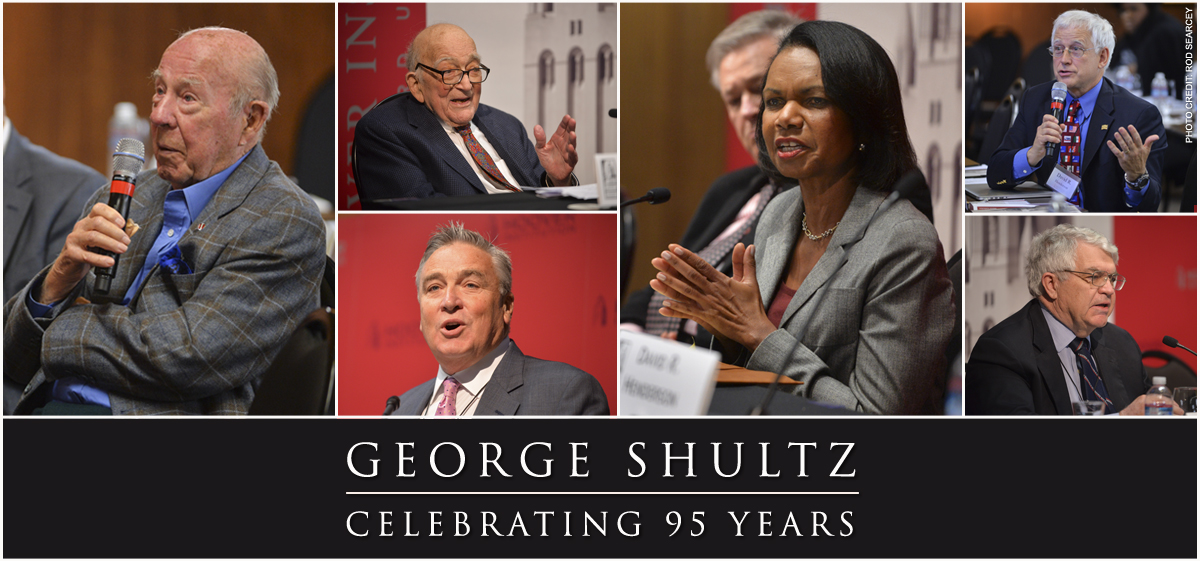 In December 2015, the Hoover Institution celebrated the ninety-fifth birthday of George P. Shultz, former secretary of state, secretary of labor, and secretary of the Treasury; Presidential Medal of Freedom recipient; and the Thomas W. and Susan B. Ford Distinguished Fellow at the Hoover Institution. 
George Shultz's remarkable career has made a defining mark on the world of policy and ideas, from the desegregation of public schools to accelerating negotiations with the Soviet Union and reducing the threat of mutually assured destruction. His academic contributions include teaching at the Massachusetts Institute of Technology, the University of Chicago, and Stanford University and authoring and editing numerous publications, including his most recent book, Issues on My Mind: Strategies for the Future (Hoover Institution Press, 2013).
His milestone birthday was a welcome opportunity to commemorate Shultz's life and career, and the Hoover Institution and Stanford University cohosted a well-attended dinner celebration featuring a keynote address by former senator Bill Bradley.  However, in order to fully appreciate the significance of George Shultz's work, Hoover convened a policy symposium entitled "Learning from Experience," centered on economic policy, national security, social institutions, and the art of policy making.
The following video recordings from this major two-day event feature commentary from top Hoover fellows and policy makers on important episodes in the history of policy and contemporary issues. Informational, but also intimate, the discussions draw on personal stories to demonstrate Shultz's artfulness as a negotiator, insight as a policy maker, character as a colleague, and contagious wit as a friend.
PRINCIPLE, STRUCTURE, AND HISTORY IN PUBLIC POLICY
KEYNOTE SPEECH BY BILL BRADLEY
Speakers
Tom Gilligan, Tad and Dianne Taube Director, Hoover Institution
John Hennessy, President, Stanford University
Bill Bradley, former United States senator and presidential candidate
Recorded during the dinner celebration honoring George Shultz's ninety-fifth birthday, these remarks demonstrate Shultz's remarkable presence at Hoover, Stanford University, and in US politics. Stanford University president John Hennessy introduces Shultz and his wife, Charlotte; Bill Bradley delivers a keynote speech that outlines four guiding principles underlying good public policy and the political structures necessary to uphold those principles. He cites several historical examples to illustrate why, in many areas, political structures have deviated from tenets of sound policy and lessons for bringing them back into alignment.
---
SYMPOSIUM INTRODUCTION
Speaker Tom Gilligan, Tad and Dianne Taube Director, Hoover Institution
In his brief opening remarks, Tad and Dianne Taube Director Tom Gilligan explains the intent of the symposium and the inspiration and leadership Shultz offers to his colleagues at the Hoover Institution. 
---
PANEL 1: LESSONS LEARNED IN ECONOMIC POLICY
Moderator
John Shoven, the Buzz and Barbara McCoy Senior Fellow, Hoover Institution, and director of the Stanford Institute for Economic Policy Research
Panelists
Michael Boskin, senior fellow, Hoover Institution, and the T. M. Friedman Professor of Economics at Stanford University
John Cochrane, senior fellow, Hoover Institution, and research associate of the National Bureau of Economic Research
Caroline Hoxby, senior fellow, Hoover Institution, and the Scott & Donya Bommer Professor of Economics at Stanford University
John B. Taylor, the George P. Shultz Senior Fellow in Economics at the Hoover Institution and the Mary and Robert Raymond Professor of Economics at Stanford University
In the opening panel of the symposium, the participants relate experiences from their work and that of George Shultz at the highest levels of economic policy making, drawing lessons for current economic challenges. Highlights include a story from Michael Boskin about his work with George Shultz and Milton Friedman as early advisers to then-presidential candidate Ronald Reagan and Shultz's personal recollection of his recommendations to Lyndon Baines Johnson for relieving unemployment in the inner city. The panelists also discuss economic freedom and institutions, monetary policy, the minimum wage, and entitlement reform, with George Shultz appearing repeatedly as a defining influencer of the modern economic policy climate.  
---
PANEL 2: LESSONS LEARNED IN NATIONAL SECURITY POLICY
Moderator
Admiral Gary Roughead, an Annenberg Distinguished Visiting Fellow, Hoover Institution, and former chief of naval operations
Panelists
William J. Perry, senior fellow, Hoover Institution, and nineteenth secretary of defense for the United States
Sidney D. Drell, senior fellow, Hoover Institution, and professor of theoretical physics emeritus at Stanford's SLAC National Accelerator Laboratory
James O. Ellis, an Annenberg Distinguished Visiting Fellow, Hoover Institution, former commander of the United States Strategic Command
General Jim Mattis, a Davies Family Distinguished Visiting Fellow, Hoover Institution, former commander of US Central Command
In his opening remarks, Admiral Roughead states that "for those of us involved in national security affairs, George Shultz is a giant." To capture his larger-than-life contributions to international relations and security, the panel brought together Hoover's other preeminent national security strategists to reflect on their experiences and what they've learned from Shultz's work. The panelists explore his early efforts to reduce the threat of nuclear war, pioneering negotiations with the Soviet Union, and pointing out the parallel challenges posed by China, Russia, and ISIS, revealing important lessons for crafting security strategy. During the extended Q&A, other Hoover fellows, including Secretary Shultz and Kori Schake, discuss nuclear negotiations with Iran, integrating the armed forces, cyber security, and human rights. 
---
PANEL 3: SOCIAL COHESION IN AMERICAN INSTITUTIONS
Moderator
David Henderson, research fellow, Hoover Institution
Panelists
David Davenport, research fellow, Hoover Institution
Heather Mac Donald, Thomas W. Smith Fellow, Manhattan Institute
Kiron Skinner, W. Glenn Campbell Research Fellow, Hoover Institution
Condoleezza Rice, Thomas and Barbara Stephenson Senior Fellow, Hoover Institution
The third panel of the symposium analyzes another focus of Shultz's career: social institutions underpinning the American political experience.  Drawing on their leadership of civic, religious, and academic institutions, and their work alongside George Shultz, the panelists examine the meaning and importance of social bonds, trust in American institutions, and strategies for strengthening our social fabric. The engaging discussion incorporates Shultz's foundational work in race and labor relations and his support for democratic and economic institutions abroad, and elicited participation from other Hoover fellows, including Michael Boskin, Gary Roughead, and John Taylor during the Q&A. 
---
PANEL 4: POLICY MAKING IN ACTION
Moderator
David Brady, Davies Family Senior Fellow and the Bowen H. and Janice Arthur McCoy Professor of Political Science at Stanford's Graduate School of Business
Panelists
James Baker III, White House chief of staff to Presidents Ronald Reagan and George H. W. Bush and former secretary of state and secretary of the Treasury
Willie Brown, former mayor of San Francisco and speaker of the California State Assembly
Michael H. Armacost, former distinguished visiting fellow at the Hoover Institution and former ambassador to Japan and the Philippines
This final panel adds a complementary dimension to the previous three: lessons for transforming solutions to economic, national security, and social challenges into public policy. Combining reflections on George Shultz's legendary skill as a negotiator and policy maker with stories from their own work—and a healthy dose of humor—the panelists explain how to overcome political adversity to deliver results for constituents. Highlights include a behind-the-scenes view of James Baker's working relationships with George Shultz, Ronald Reagan, and George H. W. Bush and Willie Brown's unique insights on policy making gained at the state and local level. The Q&A period covers obstacles to implementation after policies are enacted, the evolving organizational tactics of terrorist organizations, and US policy toward Russia and Iran.