Firsthand account also features writings, speeches, and interviews from the late Nobel laureate economist Milton Friedman.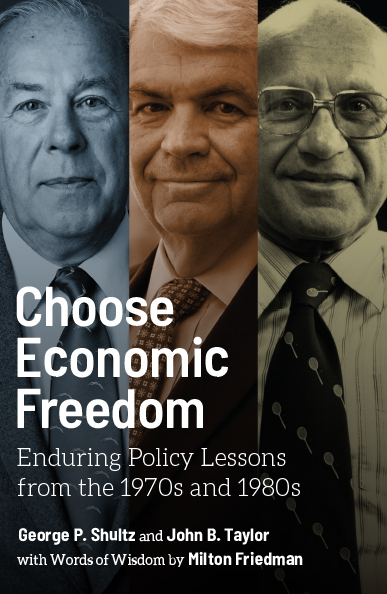 Hoover Institution (Stanford, CA) – The Hoover Institution will publish a new oral history on March 3, 2020, by two of its top economists, George P. Shultz and John B. Taylor, about how the sound, market-oriented policies of the 1980s saved the US economy by reversing the stagnation and hyperinflation of the 1970s.
Choose Economic Freedom: Enduring Policy Lessons from the 1970s and 1980s features recollections from Shultz and Taylor on their own tenures at the highest levels of policy making in the White House; contemporaneous writings, speeches, and interviews about economic freedom from the late Nobel laureate economist and Hoover senior research fellow Milton Friedman; and recently unearthed documents from the vast collection of materials in the Hoover Institution's Library & Archives.
"The decades of practical policy experience and primary research behind this book, as well as the indelible wisdom and intellectual clarity of Milton Friedman, are reminders of the important role history plays in teaching lessons for today—in this case, that good economics leads to good policies, and to good results," said Taylor.
One such example of the lessons of history is the discovery by Shultz and Taylor in the Hoover Library & Archives of a startling June 22, 1971, letter written by then chairman of the Federal Reserve Arthur Burns to President Richard Nixon advocating for the imposition of wage and price controls. Though Burns was considered a philosophically conservative economist, he argued that times had changed, and that such an interventionist policy was now "essential to come to grips with the twin problems of inflation and unemployment." What had been a radical idea just a few years before was suddenly embraced by personalities across the political spectrum.
After President Nixon's decision to implement a wage and price control policy, a prescient Friedman observed in Newsweek: "[President Nixon] has a tiger by the tail. Reluctant as he was to grasp it, he will find it hard to let it go."
Shultz and Taylor show how the economic policies of the 1970s suppressed but did not eliminate inflation, and made matters worse for the economy through regular shortages of basic goods—later underscored when the nation faced the OPEC oil embargo and subsequent skyrocketing prices of fuel. However, they maintain that the Nixon administration's simultaneous decision to end the practice of fixing the US dollar to the price of gold and allowing it to float at a flexible exchange rate with other currencies was a sound one, because the dollar was able to stabilize under the guidance of natural market forces.
Shultz and Taylor hold that the predictability of fiscal and monetary policy in the 1980s created the conditions for the economy to recover and thrive. Federal Reserve chairman Paul Volcker kept inflation in check through steady oversight of the money supply, while the Reagan administration's regulatory reforms and tax cuts supported broad investment and economic dynamism. Policy makers operated within this framework of principles until the early 2000s, resulting in unprecedented growth and stability in the US economy.
"Our hope is that future generations will learn from this book that choosing economic freedom is the path to individual and national prosperity," said Shultz.
Choose Economic Freedom: Enduring Policy Lessons from the 1970s and 1980s is available in hard cover and e-book formats. Click here to purchase.
About the Authors
George P. Shultz is the Thomas W. and Susan B. Ford Distinguished Fellow at the Hoover Institution. He has had a distinguished career in government, in academia, and in the world of business. He is one of two individuals who have held four different federal cabinet posts; he has taught at three of this country's great universities; and for eight years he was president of a major engineering and construction company. He attended Princeton University, graduating with a BA in economics, whereupon he enlisted in the US Marine Corps, serving through 1945. He later earned a PhD in industrial economics from the Massachusetts Institute of Technology and served on President Eisenhower's Council of Economic Advisers. From 1962 to 1969, Shultz was dean of the University of Chicago Booth School of Business before returning to Washington to serve as secretary of labor, as director of the Office of Management and Budget, and as secretary of the Treasury in the cabinet of President Nixon. Shultz was sworn in July 16, 1982, as the sixtieth US secretary of state and served until January 20, 1989. In 1989, Shultz was awarded the Presidential Medal of Freedom, the nation's highest civilian honor. He was editor of Blueprint for America (2016), coeditor of Beyond Disruption: Technology's Challenge to Governance (2018), and, most recently, author of Thinking about the Future (2019).
John B. Taylor is the George P. Shultz Senior Fellow in Economics at the Hoover Institution and the Mary and Robert Raymond Professor of Economics at Stanford University. He chairs the Hoover Working Group on Economic Policy and is director of Stanford's Introductory Economics Center. Taylor's fields of expertise are monetary policy, fiscal policy, and international economics, subjects about which he has widely authored both policy and academic texts. Taylor has served as senior economist on the Council of Economic Advisers, as under secretary of the Treasury in the George W. Bush administration, and as a senior economic adviser for numerous presidential campaigns. He was a member of the Congressional Budget Office's Panel of Economic Advisers and the G20 Eminent Persons Group on Global Financial Governance. Taylor received a BA in economics summa cum laude from Princeton University in 1968 and a PhD in economics from Stanford in 1973. His book Global Financial Warriors (2008) chronicles policy innovations at the US Treasury. He received the Hayek Prize for his book First Principles (2012), and his recent research and writing is on international economics, including Reform of the International Monetary System: Why and How? (2019).
Milton Friedman (1912–2006), recipient of the 1976 Nobel Memorial Prize for economic science, was a senior research fellow at the Hoover Institution from 1977 to 2006. He was also the Paul Snowden Russell Distinguished Service Professor Emeritus of Economics at the University of Chicago, where he taught from 1946 to 1976, and a member of the research staff of the National Bureau of Economic Research from 1937 to 1981. He is widely regarded as the leader of the Chicago School of economics. Friedman wrote extensively on public policy, always with a primary emphasis on preservation and expansion of individual freedom. His most important books in this field are Capitalism and Freedom (1962); Bright Promises, Dismal Performance (1983); Free to Choose (1980, with Rose Friedman); and Tyranny of the Status Quo (1984, with Rose Friedman). Friedman was active in public affairs, serving as an informal economic adviser to Senator Barry Goldwater in his unsuccessful presidential campaign in 1964; to Richard Nixon in his successful 1968 campaign and during his presidency; and to Ronald Reagan during and after his winning 1980 campaign, subsequently serving as a member of the president's Economic Policy Advisory Board. He was awarded the Presidential Medal of Freedom in 1988 and received the National Medal of Science the same year.
Acclaim for Choose Economic Freedom:
"Shultz and Taylor's parable reminds us of a time when Americans suffered greatly from bad economic policy choices. I was there for this story—but I learned much from this book that is new and highly relevant today, and so will you."
—Alan Greenspan, former chair, Council of Economic Advisers and Federal Reserve Board
"Good policy is not about party or ideology; it's all about economics. Facts matter, and as this book shows, the story facts tell is as clear as clear can be: markets work."
—Arthur B. Laffer, former chief economist, Office of Management and Budget, and member of Ronald Reagan's Economic Policy Advisory Board
"John Taylor and George Shultz have done a great service. The book covers a lot of territory—my whole economic career—and a lot of interesting people. The writing is clear and, yes, fun to read."
—Robert E. Lucas, Jr., John Dewey Distinguished Service Professor Emeritus in Economics and the College, University of Chicago, and 1995 laureate, Nobel Prize in Economics
For coverage opportunities, contact Jeffrey Marschner, 202-760-3187, jmarsch@stanford.edu.