An Impasse on Climate Change
The nineteenth session of the Conference of the Parties (COP 19) of the United Nations Framework Convention on Climate Change was held in Warsaw, Poland in November. The Warsaw meeting was designed to develop an international approach for controls on the release of green house gases (GHG) to replace the Kyoto Protocol that expired last year. A key issue is devising compensation for poor countries for the costs of adapting to climate change. With developed countries like the US and those of Western Europe mired in slow or zero economic growth, this is likely to be a tough sell. Even if things were moving along better in developed economies, however, little would come of these meetings.
There are many reasons why this COP meeting, like previous ones, was ineffective. For one, of the 189 countries that have representatives, the countries with major emissions did not send high-level officials—the US President, Chinese Premier, and Indian Prime Minister were not in attendance. Australia sent neither its environmental minister nor its foreign minister. Moreover, the new Australian government elected in September has pledged to repeal the carbon tax enacted by the previous government. Carbon taxes have been an integral part of the agenda for controlling GHG releases for a long time.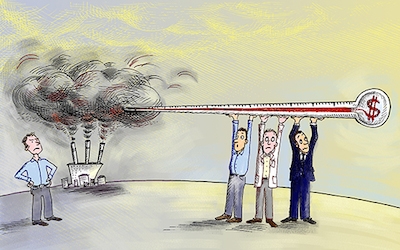 Illustration by Barbara Kelley
Japan, the world's fifth largest emitter, announced November 15 that it will back off on earlier pledges to reduce GHG emissions by 25% of 1990 levels with a new target that will result in 3% more GHG releases by 2020 than in 1990. China, the world's largest emitter, is embarking on the construction of large-scale, coal-fuelled synthetic natural gas (SNG) plants with far greater GHG releases than conventional natural gas plants. Finally, the Polish government is partnering with the World Coal Association to hold a major coal summit while the COP 19 talks are in session. Eliminating coal has been a major objective among past COP delegates.
This lack of progress is not new. There never has been sustained multilateral action on GHG controls. The US did not ratify the Kyoto Protocol of 1997, which was drawn up during the COP 3 meetings. The Protocol called for developed countries to reduce emissions by at least 5% of 1990 levels by 2008-2012.Less-developed countries were exempted at the time. Since 1997, however, total emissions have grown, primarily from exempted developing countries, especially China and India.
What is the underlying problem that makes these annual Conference of Party meetings so unsuccessful? There are four major obstacles. One is extreme scientific uncertainty about GHG emissions, accumulations, impacts on climate, and effects on the environment and world economies. There is related uncertainty about the distribution of any effects across the planet. There also is uncertainty about the correct responses to take, if any, their costs, and the division of those costs among countries worldwide. Another obstacle is pronounced differences in preferences and perceptions of the problem among populations within and across countries. Rich and poor populations have very different views of the need for GHG controls, who should adopt them, and who should pay for them.
Third, there is different information around the world about GHG sources and costs. People across the globe see things quite differently, especially when the benefits of taking action are uncertain and the costs are high—as they will be if there are major shifts in energy sources away from low-cost fossil fuels. Some places might actually benefit from warming, while others may be harmed, although we do not know much about either of these effects.
Finally, there is the problem of enforcement. International treaties are as good as their compliance record, and detection technologies may not be up to the task, particularly given that emissions come from virtually all human actions, from farming to logging, to manufacturing, to generating electricity, to transportation and so on. Further, when sovereign countries are involved, what enforcement truly is available when big, powerful countries, like China or India or the US, do not comply? And if some countries tax carbon releases, adopt cap-and-trade emission controls, or otherwise regulate them, what prevents the migration of businesses and jobs to less-regulated economies or blocks the increased use of fossil fuels in those economies as world prices fall when use is curtailed in regulated countries?
To get a better sense of why these obstacles are so critical in blocking multilateral action, consider each of these in more detail.
Scientific Uncertainty
Scientific uncertainty plagues all aspects of multinational climate change negotiations. In large complex natural systems like the climate and its interaction with GHG accumulations, any damages accumulate in unknown or uncertain ways across time and space. Naturally, not all populations of the countries across the planet assess this damage uncertainty in the same manner. This makes it difficult for citizens in any country to determine how they will be affected under different GHG emission controls. Most of the costs will be up front, whereas the benefits are projected to accrue far into the future, perhaps taking multiple generations. Moreover, the understanding of global and regional climate systems, their interactions, and feedbacks with rising GHG levels is highly imperfect.
The problems of assessing the costs and benefits of action under these circumstances are sometimes referred to as deep uncertainty whereby scientists do not know or cannot agree on key scientific models and the value of alternative outcomes. Analysts rely upon historical weather and climate data and climate models, but climate models cannot provide the equivalent of historical data for future projections. A major challenge is that future GHG emissions will be tied to demographic and socio-economic patterns that will vary across the planet and across time in complex ways.
Many developing countries are growing far more rapidly than are the developed ones that are asked in COP meetings like the one in Warsaw to assume most of the abatement costs. Those growing economies, however, are the major sources of new emissions. Populations in developing countries also are increasing, while in developed ones, population growth is far less and populations are aging with important implications for future economic growth, GHG emissions, and abilities to bear the costs of regulation.
General Circulation Models (GCMs) used to simulate the relationships between GHG emissions and global climate tend to predict similar broad patterns—more warming at high latitudes than low, more precipitation at higher latitudes than in the tropics, and more precipitation around the equator. Regional Climate Models (RCMs), however, perform much more poorly and with less consistency. Natural variability due to shifting cloud cover and other factors is more important at the regional than global scale, contributing to uncertainty about the effects of any climate change at a local level. Moreover, reliable historical weather and climate data for the most vulnerable regions do not exist for linking global and local phenomena. Finally, historical emission patterns are unlikely to persist in regions that are undergoing rapid economic development and demographic shifts.
Accordingly, it is much more difficult to predict future regional climates and the benefits of GHG abatement for specific populations and countries across the planet than to predict global patterns. Yet, what matters for local populations in deciding whether to support GHG controls and their costs is the anticipated impact on regional water supplies, crop yields, sea levels, temperatures, health, and other related outcomes. Regional climate uncertainty makes it very difficult for local and national leaders to forge a political consensus for joining any multilateral action.
There also is uncertainty regarding the costs of mitigation. Investment in new technologies that provide substitutes for fossil fuels in energy generation and consumption is a principal GHG abatement policy. These alternatives are costly and risky. Which ones should be adopted? What role should government subsidies play? If politics gets involved, will the most promising technologies be overlooked relative to those advanced by the most influential lobbyists? If preemptive technology investments are revealed later to be the wrong ones, societies may be locked into mistaken choices and made poorer and less able to address any climate change.
Preferences and Perceptions on GHG Mitigation
 Joining a coalition of countries to control GHG emissions requires domestic political support. But there are critical differences in viewpoints within countries. Public opinion surveys show that populations value addressing local environmental problems that they understand and observe far more than more abstract, global ones. There is little evidence of general support within US and other developed countries for aggressive, sustained international actions. This reluctance reduces the political payoff for country leaders from adopting costly policies to lower GHG emissions. Carbon taxes, tradable emissions allowances (cap-and-trade), energy performance standards, and green technology/renewable energy mandates result in higher prices and lower real incomes, at least in the short run, especially for the poor who consume a greater share of their incomes than do the rich. GHG controls will be regressive. Higher prices for energy-intensive goods also will affect overall demand, production levels, and employment.
Some argue that tax or emission permit auction revenues could be made revenue neutral with the funds dedicated to compensate the poor by lowering their income taxes. The amounts involved are potentially very large. The Congressional Budget Office estimates $1.25 trillion could be raised over 10 years from a carbon tax of $20/ton applied in 2013 and rising in real terms at 4% annually. This amount is equivalent to 54% of the total revenues ($2.3 trillion) collected by the federal government in fiscal year 2011.
Under what circumstances would politicians commit to leaving these funds to compensate a politically heterogeneous and unorganized constituency like the poor, rather than using them to finance narrow and more rewarding political agendas? Indeed, some far more cohesive and powerful industries—like transportation and manufacturing—will be negatively affected by any GHG regulations. Local politicians will be quick to respond to their concerns. Any preferential regulations and exemptions to such harmed constituencies within countries in turn will undermine any global agreement.
Different preferences and perceptions of the GHG problem also arise across countries. World populations differ dramatically in per capita incomes, wealth, consumption expectations, and discount rates. World economies differ in the energy intensity of output, production practices, input mixes, and organizational structures. These differences make it very hard to reach international consensus on GHG abatement.
Further, many argue that citizens of developed countries must assume the greatest costs because of their historical contributions to GHG stocks, even though populations of developing countries are likely more at risk from climate change and benefit disproportionately from GHG mitigation. Current populations in developed countries apparently owe compensation in the neighborhood of hundreds of billions of dollars or more to present and future generations in developing countries. Ethical or moral judgments about international transfer payments of this scale are unlikely to generate much political traction in developed countries where economic growth already is slow, unemployment high, and the future uncertain. Further, there is no historical precedent for such massive international monetary transfers when the objectives are so vague.
There also are thorny and unresolved questions of how payments of hundreds of billions of dollars from citizens of developed countries would be distributed among the populations of developing ones without creating enormous opportunities for corruption on the part of politicians and bureaucrats of recipient countries. Moreover, there is the question of timing, determining when developing countries join developed ones in cutting back their emissions and bear the costs of GHG controls. Finally, any agreement of course will be sensitive to macro economic conditions. If some countries fall into recession their populations and leaders will have little appetite for implementing or continuing costly GHG regulations. But if those countries do not adhere to any international agreement, GHG targets can only be met by stricter controls and higher costs in those countries that do comply.
The Problem of Gathering Information
The key problem is gathering accurate data on historical emissions from individual installations in major emitting countries to project the costs of regulation, to draft regulatory controls, and to determine compliance targets. Local parties have far more information than do central government regulators. They also have incentives to manipulate the data in order to gain greater transfer payments or exemptions, more emission permits (if cap-and-trade is used), or demonstrate compliance.
Enforcement
Finally, there is the problem of enforcement of any international agreement. If countries do not adhere, then global mitigation objectives cannot be met, and new rounds of negotiations become necessary. Global GHG emissions-detection technologies may be insufficient to identify breaches when there are many sources of the GHG that vary in size, location, timing, production technologies, and sectors. National economic recessions could mask a lack of compliance that would be revealed during an economic rebound. There are the politically-sensitive issues of migration of firms and jobs from developed economies to less-regulated developing ones. There is also the issue of greater carbon intensity in developing countries encouraged by falling fossil fuel prices when demand for them is reduced in developed economies.
The major enforcement mechanisms that have emerged in international discussions are carbon tariffs and related trade sanctions on non-adhering exporters in international trade.The use of trade policy to enforce GHG mitigation agreements, however, could strain the international trading structure that has been so globally valuable, yet very difficult to assemble in the first place. Consider how long it takes to negotiate multilateral or even bilateral trade agreements, such as those ongoing between the US and the EU.
Moreover, measurement of carbon content, which would be required for tariffs or sanctions to be implemented, is costly. Most major products include components from many different countries involving many different production practices. Which ones should be the benchmarks? It seems obvious that there is great potential for protectionism and the loss of the many gains generated by international trade.
The Future
What is necessary for international action on GHG to move forward? A major requirement is a more credible demonstration of the benefits of costly emissions reductions. As noted above, public-opinion surveys suggest that individuals are most concerned about local effects. This suggests that reducing scientific uncertainty about regional climatic reactions to GHG accumulations and associated economic damages are critical.
Some of this information may come through observed, harmful localized shifts in weather patterns convincingly attributable to global climate change. Credible linkages between local weather events and broader global climate changes require positive research, not advocacy. Indeed, reduction in regional scientific uncertainty can come from more research on regional climatic feedbacks from GHG accumulations and their economic consequences.
Only when or if politically-influential parties in key emitting countries better perceive the net benefits of international cooperation will political leaders be able to commit to long-lasting mitigation policies. It will also be easier to devise transfer payments to offset differential preferences and perceptions of the problem, internally and across countries. Further, technological innovations (such as satellite monitoring and photography) can make observing and verifying emissions more feasible. Measurement advances also will make identification of carbon content in products easier for enforcing any international agreement. Until the deep uncertainties about the need to take action are resolved and new enforcement technologies are developed, meetings like COP 19 in Warsaw will accomplish little.
Join the Conversation