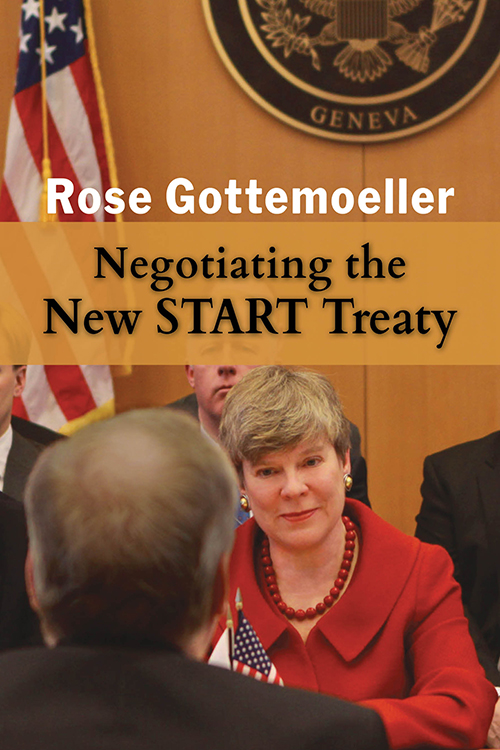 *This book is in the Rapid Communications in Conflict and Security (RCCS) Series (General Editor: Geoffrey R.H. Burn).
Publication: Spring 2021
Rose Gottemoeller, the US chief negotiator of the New START treaty—and the first woman to lead a major nuclear arms negotiation—delivers in this book an invaluable insider's account of the negotiations between the US and Russian delegations in Geneva in 2009 and 2010. It also examines the crucially important discussions about the treaty between President Barack Obama and President Dmitry Medvedev, and it describes the tough negotiations Gottemoeller and her team went through to gain the support of the Senate for the treaty. And importantly, at a time when the US Congress stands deeply divided, it tells the story of how, in a previous time of partisan division, Republicans and Democrats came together to ratify a treaty to safeguard the future of all Americans.
Rose Gottemoeller is uniquely qualified to write this book, bringing to the task not only many years of high-level experience in creating and enacting US policy on arms control and compliance but also a profound understanding of the broader politico-military context from her time as NATO Deputy Secretary General. Thanks to her years working with Russians, including as Director of the Carnegie Moscow Center, she provides rare insights into the actions of the Russian delegation—and the dynamics between Medvedev and then-Prime Minister Vladmir Putin. Her encyclopedic recall of the events and astute ability to analyze objectively, while laying out her own thoughts and feelings at the time, make this both an invaluable document of record—and a fascinating story.
In conveying the sense of excitement and satisfaction in delivering an innovative arms control instrument for the American people and by laying out the lessons Gottemoeller and her colleagues learned, this book will serve as an inspiration for the next generation of negotiators, as a road map for them as they learn and practice their trade, and as a blueprint to inform the shaping and ratification of future treaties.