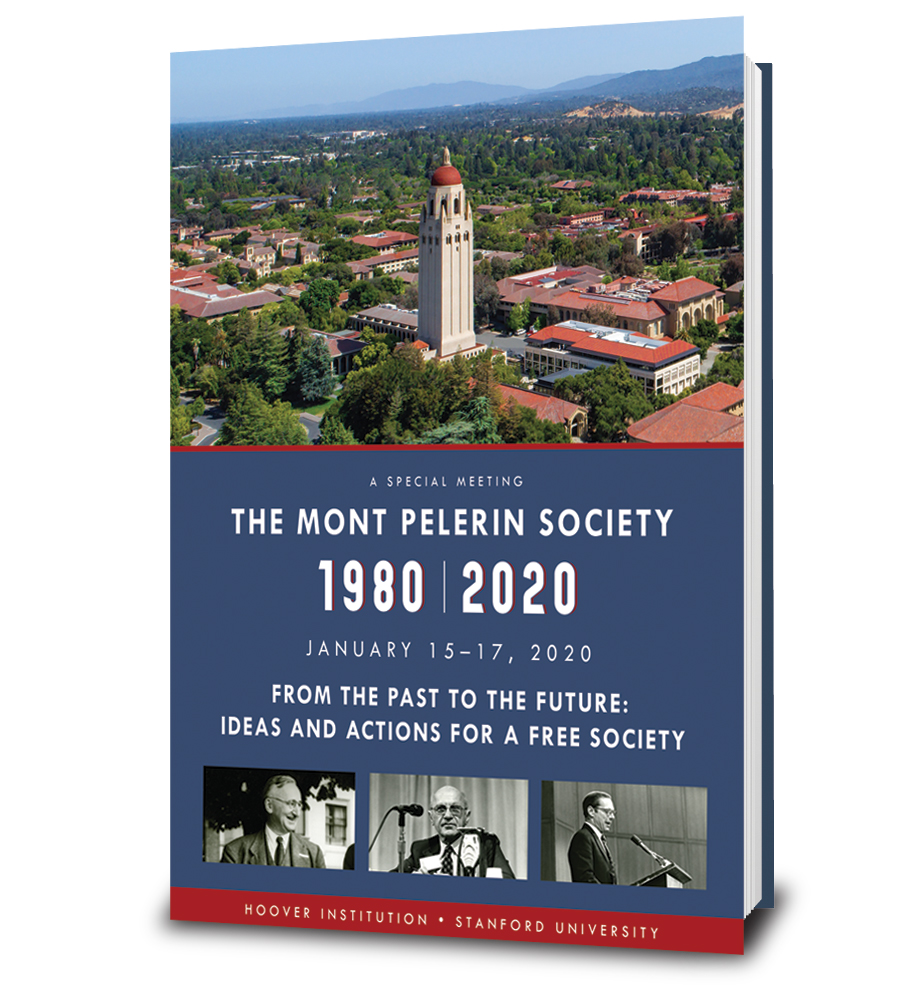 In this collection leading scholars and practitioners discuss ideas about freedom and how to take the ideas into action today. The discussions took place at a January 2020 meeting of the Mont Pelerin Society which was founded in 1947 for the "preservation and improvement of the free society." Today, challenges to the free society are again mounting and threatening economic growth and rising prosperity. We hear calls for a return to socialism, for restrictions on trade, for regulations on firms and individuals that go well beyond cost-benefit calculations.
The theme, From the Past to the Future: Ideas and Actions for a Free Society, comes in three parts:
The Past as Prologue to the Future, which reviews early years of the Mont Pelerin Society when threats to freedom were initially overcome, and recent years of reversal and staying the course.
Ideas for a Free Society, which delves into the rule of law, restraints on government, and dealing with socialist-like forces that lead to regulation of price, quantity, and quality of what is produced.
Actions for a Free Society, which looks for ways to bring ideas into action featuring practical experience in global communications, in central and local governments, and in the private sector.
---
TABLE OF CONTENTS
Part 1. Past as Prologue to the Future
An Opening Conversation
Chapter One: Why Choose Economic Freedom?, by George P. Shultz and John B. Taylor
Free to Choose: 1980 to 2020 and the Network
Chapter Two: Introduction to Free to Choose 1980 to 2020 and the Network, by Robert Chatfield
Chapter Three: Milton, Rose, Me and Poetry, by Robert Chitester
Removing Obstacles on the Road to Economic Freedom: 1947 to 1980
Chapter Four: Removing Obstacles on the Road to Economic Freedom, by Eamonn Butler
Chapter Five: Milton Friedman: The Early Years, by Jennifer Burns
Chapter Six: Mont Pelerin 1947, by Bruce Caldwell
Chapter Seven: The Road Not Taken of "Nuovo liberalismo," by Alberto Mingardi
Spread of Free-Market Ideas in the 1980s
Chapter Eight: The Reception of Free to Choose and the Problem of Tacit Presuppositions of Political Economy, by Peter Boettke
Chapter Nine: The Spread of Free-Market Ideas in the 1980s (With a Nod to the Late 1970s), by David Henderson
Chapter Ten: Ideas of Freedom and Their Role in Active Policymaking, by Condoleezza Rice
Lessons Learned from History for the Future of Freedom
Chapter Eleven: Assaults on Freedom and Citizenship, by Victor Davis Hanson
Chapter Twelve: Fed Chair Agonistes, by Amity Shlaes
Chapter Thirteen: Keynes v Hayek: The Four Buts…, by Robert Skidelsky

Part 2. Ideas for a Free Society
The Role of Law as Protector of Liberty
Chapter Fourteen: Capitalism, Socialism and Nationalism: Lessons from History, by Niall Ferguson
Chapter Fifteen: Magna Carta, The Rule of Law, and the Limits On Government, by Jesús Fernández-Villaverde
Chapter Sixteen: The Commerce Clause, the Takings Clause, and Due Process, by Douglas Ginsburg
How to Deal with the Reemergence of Socialism
Chapter Seventeen: The Rise and Fall of Environmental Socialism: Smashing the Watermelon, by Jeff Bennett
Chapter Eighteen: Understanding the Left., by John Cochrane
Chapter Nineteen: Economic Systems Between Socialism and Liberalism and the New Threats of Neo-Interventionism, by Lars Peder Nordbakken
Measures of Economic Freedom
Chapter Twenty: Economic Freedom Matters & Charts, by Anthony Kim
Chapter Twenty-One: Economic Freedom: Objective, Transparent Measurement, by Fred McMahon
Chapter Twenty-Two: The World Bank's Doing Business Indicators, by Valeria Perotti
Restraining Expansions of Government
Chapter Twenty-Three: Common Sense Approach to Addressing America's Entitlement Challenge, by John Cogan
Chapter Twenty-Four: Key Milestones in Regulation, by Susan Dudley
Chapter Twenty-Five: A Quest for Fiscal Rules, by Lars Feld

Part 3. Actions for a Free Society
Taking Ideas to Action around the World
Chapter Twenty-Six: Turning Freedom into Action: Some Reflections on Reforming Higher Education, by Ayaan Hirsi Ali
Chapter Twenty-Seven: Culture and the Free Society, by Samuel Gregg
Chapter Twenty-Eight: Taking Ideas to Action Around the World, by Bridgett Wagner
What Happened in Chile?
Introduction
Chapter Twenty-Nine: Presentation I, by Axel Kaiser
Chapter Thirty: Presentation II, by Ernesto Silva
Chapter Thirty-One: Presentation III, by Arnold Harberger
Taking Ideas to Action: Making the Case for Freedom
Chapter Thirty-Two: Restoring Liberty for American Indians, by Terry Anderson
Chapter Thirty-Three: The Effect of Economic Freedom on Labor Market Efficiency and Performance, by Lee Ohanian
Chapter Thirty-Four: Making the Case for Liberty, by Russell Roberts
Taking Ideas to Action in Central Governments
Chapter Thirty-Five: Brexit: Taking a Good Idea into Action, by Jamie Borwick
Chapter Thirty-Six: Taking Ideas to Action in Central Governments—The US Case, by Tyler Goodspeed
Chapter Thirty-Seven: Ideas and Actions for a Free Society, by Ruth Richardson
Taking Ideas to Action in the Private Sector
Chapter Thirty-Eight: Public Policy, Private Actor, by Dominique Lazanski
Chapter Thirty-Nine: Libertarianism is Dysfunctional but Liberty is Great, by Joe Lonsdale
Chapter Forty: The False Promise of Medicare for All, by Sally Pipes
A Closing Conversation
Chapter Forty-One: China, Globalization, Capitalism, Silicon Valley, Political Correctness, and Exceptionalism, by Peter Thiel and Peter Robinson