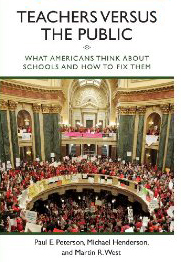 A comprehensive exploration of 21st Century school politics, Teachers versus the Public offers the first comparison of the education policy views of both teachers and the public as a whole, and reveals a deep, broad divide between the opinions held by citizens and those who teach in the public schools. Among the findings: 

• Divisions between teachers and the public are wider and deeper than differences between other groups often thought to contest school policy, such as Republicans and Democrats, the young and the old, the rich and the poor, or African Americans and whites.

• The teacher-public gap is widest on such issues as merit pay, teacher tenure reform, impact of teacher unions, school vouchers, charter schools, and requirements to test students annually.

• Public support for school vouchers for all students, charter schools, and parent trigger laws increases sharply when people are informed of the national ranking of student performance in their local school district.