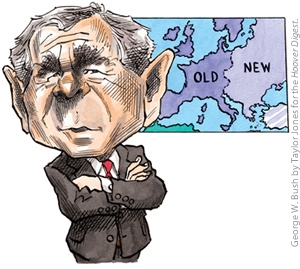 Putting American relations back on track with important European allies
such as Germany and France needs to be a high priority in the early days of
the second Bush administration. Although conflicts with these countries over
Iraq served useful domestic political purposes for a few years, the damage done by cross-Atlantic arguments has now become more of a liability to American interests than a domestic political asset. Going forward, the lack of a cooperative relationship with our important European allies is hurting our ability to solve the Iraq dilemma as well as a myriad of other problems in the Middle East.
Witness the situation in Iraq since the arrest of Saddam Hussein. Once embarked on a nation-building project in Iraq, the United States needed the help that France and Germany could provide, using the advantages that flow from their long historical, economic, and political relationships with Iraq and in the region. Colin Powell acknowledged this point repeatedly in
recent months, coupled with his calls for Western allies to put their disagreements
with the United States behind them and pitch in to help. The United States has a very long list of needs: political support for the efforts in Iraq, which can add to the credibility and legitimacy of our efforts with other
countries in the region; forgiveness of debt; financial support for rebuilding
Iraq's infrastructure; training police and military support to provide sorely missing security; and advice about how to manage our efforts
taking into account the historical, economic, cultural, and political realities
we don't understand as well as the Europeans do. That the administration now acknowledges that our allies have help to offer in Iraq confirms quite clearly how handicapped the United States has been, relying on a coalition that was much weaker than the one we enjoyed during the first Iraq war.
During the Cold War the United States operated from the premise that
our West European allies were crucial partners in our struggle with the Soviet
Union and the communist bloc. Disagreements within the alliance were common, but working out an understanding was normally a prerequisite for taking action. During those Cold War disagreements the notion that American leadership was paramount and that the United States had the power ultimately to do what it wanted was always an overhanging but largely unspoken reality. Indeed Europeans often did (and do) resent this reality, understanding that they have no effective veto over U.S. policy. Yet there existed a beneficial confidence that the allies shared a consensus about the nature of the enemy threat and were agreed on a strategic approach to dealing with that threat. It was understood that the United States would exercise the greatest restraint when acting outside the context of the alliance.
The events since 9/11 have been a roller-coaster ride, going from impressive solidarity with our European allies following 9/11 and the Afghanistan war to the unprecedented rancor over Iraq. We now know how damaging it is for the alliance to suffer such disarray. The Bush administration needs to work flat out to repair this damage. America cannot succeed in Iraq or in the war on terror without this change.
Join the Conversation